<![CDATA[
As I experienced, the Fulbright program is a great help to discover the American culture and encourage exchange. Nevertheless, there are always things you can do yourself to get to know the country in which you are a guest.
For example, my year in the U.S. would have definitely not been as interesting – and fun! – without my flatmates. Most of my friends in the graduate program lived on-campus with other international students. I was as lucky to find a room in a great apartment in the centre of Cambridge, which I shared with two Americans. Adam, from the west coast, was a graduate chemical engineering student; Massachusettsian Isaac interned as a paediatrician. Me being a Belgian law student, the three of us sure made a nice combination of backgrounds, stories and interests.
Adam and Isaac were my closest source of information, help, and exchange. Firstly, they provided a relaxed, informed, and unbiased atmosphere to discuss all kinds of big news or themes, ranging from the differences between European and American education systems to the presidential primary. Moreover, the everyday interaction, the stream of invaluable advice they provided (shopping, banking, travelling – and explaining baseball time and again), the occasional dinners or late evening talks, and the people they introduced me to were the most valuable exposure to American life I had. It prevented me from involuntarily staying in an "international bubble", and I am still impressed by the openness that characterizes many Americans, and certainly them.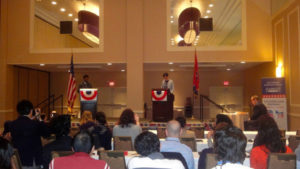 Exchange does not only depend on the people you end up living with. Although all international students have a lot of schoolwork going on, you can always find at least a minimum of spare time to do something different. So, in the Spring term, I participated in the activities of the Boston Debate League, which offers opportunities to middle and high school students in the Boston public school system to develop and train debating skills. This was another great way for me to get to know American society outside of the university environment. In addition, it allowed me to contribute something myself: as a lawyer, I am quite used to organizing arguments and thinking about persuasion techniques.
It was amazing to see that debating is not only a widespread and organized extracurricular activity, but also an important tool for many teenagers to develop professional skills. For many of them, it is even a way to improve college applications. Surely, my participation exposed me to U.S. life as it is – if only by making me visiting American high schools. It is a shame I only discovered the BDL during the second half of my stay and was only able to attend a few competitions. The talent of many of those young students really impressed me, and I noticed some intriguing differences between their debating strategies and what my teachers at home had taught me about that.
Surely, my year would have lacked valuable exchange opportunities if I had not been living with Americans and had left campus as often as possible. The first goal of foreign students or researchers is obviously academic development, but it is only part of the story!
Toon Moonen
]]>