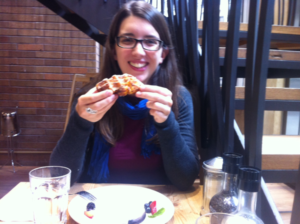 Dear readers,
Time passes by quickly and both New York and Columbia University are very exciting places. Writing blogs has thus so far not been my priority. I am sorry for having kept you waiting so long!
Let me give you an insight in my encounters in the USA: the people I meet, the academic environment and my daily-life interactions. In the beginning of my stay, I learned how beneficial it is to have some pre-existing acquaintances in the city you move to. Before coming to New York, I e-mailed some people who later on proved to be extremely gentle and helpful. They smoothened my integration and helped me handling the stress of the first days. I feel blessed with such friends!
Soon enough my network in the city expanded. First of all, I was lucky to have the best roommates. At meetings of international students, I often heard that many of them had problems connecting to American students. Hence, here is one advice: make sure you go to live with Americans. Although international student accommodation may sound exciting, there is no better way of learning about American culture but by interacting with an American roommate. Moreover, if you are lucky like I was, your roommates introduce you to their friends, creating a "snowball effect". The circle of people that take you out for activities and care about your well-being enlarges and your social life gets enriched.
Furthermore, I didn't find it very hard to connect to my classmates. I joined a Dual Degree program that starts in New York, but continues in London. I think that the knowledge that we will spend the next two years together made us grow close very quickly. Although our trajectories inside the program are very different – we are almost entirely free to elect classes that suit our interests – we make an effort to come together, to share our experience, and to ventilate our feelings about the program. I remember very well the speeches of former Belgian Fulbrighters, who warned us that studying in the USA would be a demanding task. Well, that was not a lie. In comparison with Belgium, students here have to work much harder during the year. Especially at top institutions such as Columbia University the workload is very high. It is comforting to hear that your classmates go through the same struggles, but it is also nice to pursue the same goals.
At the same time, the university's support is very high. International students' workshops, health services, personal advisors, professors, teaching assistants, writing centers and librarians are there to enable you to succeed. This was all very new to me in the beginning. In Belgium they expect you to figure things out yourself. I still hear professor Aerts, during the first class of historical heuristics, say: "Don't you ever bother a librarian with questions about your assignments. These people have a busy job. Make sure you find your own way through the library!" Here they tell you: "Ask a librarian!" They even have an "Ask a Librarian" button at the library's website.
It is easy to get overwhelmed in the beginning, but a stable network of people you can trust eases the transition. I am grateful for the people I have met so far. I also feel very supported by Fulbright Belgium and by the Institute of International Education in the USA. The numerous cultural activities by One to World – an organization designated by the U.S. Department of State as the official coordinator of Fulbright enrichment programs in the greater New York area – give opportunities to live this intercultural experience to the fullest extent. I am proud to be part of all this.
All my best,
Sara
PS 1: You must be wondering how I survived the storm. Where I live, uptown in Harlem, the storm did not hit that hard. Luckily… But I was shocked by the damage Sandy caused downtown. I feel for the people who were severely affected by the storm and hope that their lives soon return to normal.
PS 2: Today is Election Day in the USA. By the time this post gets published we may already know the winner. So far it is still very uncertain. The presidential campaign lacked the energy we saw in 2008 and everything is still possible. I clearly have my preference, but unfortunately I cannot vote.