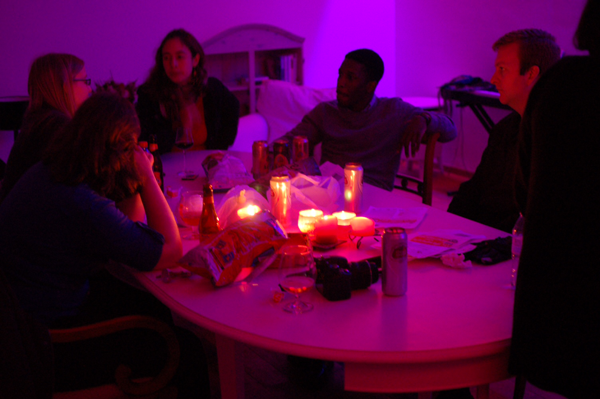 Last week the Fulbrighters in Belgium got together for the Election Night Party put on by the American Club of Brussels. The party itself was a lot of fun, with a straw poll, some great entertainment, and of course, a talk by Ambassador Gutman. It is always a treat to hear the ambassador speak, because, in spite of his own political leanings, he has a very well-rounded worldview, and more than anything else, genuinely seems to care for the well-being of Americans and the American-Belgian relationship.
Every American that I asked had managed to submit an absentee ballot. And it was clear that we have all been following US politics quite closely. Each of us had our own anecdotes to share from the campaign season, whether it was a lively political discussion with a Belgian co-worker or shopkeeper, or a presentation for some Belgian students on the inner workings of American politics.
After Ambassador Gutman's talk, the party put on by the American Club started to die down, but we wanted to spend more time together and try to stay up for the first results. Nicholas invited all the Fulbrighters to his apartment, and so we headed there after picking up snacks and drinks.
After arriving at the apartment, we engaged in our own lively debate. I was pleasantly surprised to find that, in our small group, we had Republicans, Democrats, Libertarians and Independents. We discussed the pros and cons of the various parties, as well as the highlights of both campaigns and the three presidential debates. I think that the general consensus was that both candidates had run a great campaign, and that both platforms had strengths and weaknesses.
By three or four in the morning on Wednesday, most of the swing states had reported in and it was clear that Obama would likely win the election. I am glad that we did not try to stay up until all of the results were in, because the final results from Florida have only just now been reported – several days after the voting took place.  I was excited to see that the election turnout was almost 60%, and I hope that in the future, even more people will participate. I headed for home, glad to have played my part as one of the many thousands of Americans to vote from abroad, and happy to have been able to spend time with my colleagues and friends.
I think all of my fellow US Fulbrighters in Belgium will join me in welcoming Barack Obama back for a second term, and in expressing our profound gratitude to the Fulbright Commission in Belgium for giving us the opportunity to observe and participate in this election from a truly unique viewpoint.
Photo Caption:Fulbrighters debate US politics. Photo by Kellen Plaxco. Clockwise around the table: Heather Siegel, Becca Marion, Isa Haviland, Tosin Agbabiaka, and William Runge.