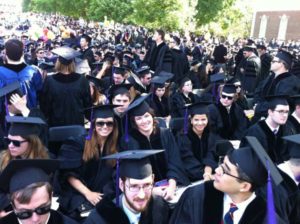 I recently started my traineeship at Crowell & Moring in the areas of Competition and Media & Technology Law. I was not aware of this combination as it is not part of the traditional law curriculum at the University of Antwerp. It was after a couple of summer internships that my interest in this area was triggered. Competition Law is an area that caught my eye during law school. I decided that those were the two areas I wanted to learn more about, and that I wanted to do that in the United States. Quick research indicated that the United States was in the forefront of this area of practice.
When I was researching LLM programs in the US, I found that, at the University of Virginia, professor Nachbar teaches both Communications Law and Antitrust. My decision was made. I was going to spend a year at the University founded by Thomas Jefferson. The University is situated in the adorable city of Charlottesville, situated two hours to the south of Washington D.C.
I enjoyed living in that calm yet vibrant city and studying at a University that has so much history and, first and foremost, an excellent law school. From the huge selection of courses, I was able to design a program with courses that perfectly matched my wish to specialize in Media & Technology and Competition Law. I took the general Antitrust and Copyright law classes, a comparative Competition Law class and specialized classes on Cybercrime, Communications Law and Privacy & Surveillance.
When I was exploring my options to enter private practice after my LLM, I discovered that Thomas De Meese, a partner at the law firm of Crowell & Moring in Brussels, focuses his practice on Competition and Media & Technology Law. The law firm provided me with the opportunity to take part in its summer associate program in Washington, D.C., prior to my start in Brussels. It was a tremendous opportunity! I lived and worked in Washington, D.C. for 10 weeks. During the internship I was able to put the theory I learned at UVA into practice. Also, I was able to work and get to know the lawyers in the Washington office, so that, in the true Fulbright spirit, I became more and more a bridge between the USA and Belgium.
***PLEASE NOTE: Belgian Fulbright grantees are allowed to stay in the United States after their studies to pursue Academic Training (AT). The academic training must be in a field that is relevant to the purpose of study listed on the grantee's DS-2019 and it must start within 30 days of the grantee's academic program completion. The training may be paid or unpaid and it can last no longer than 18 months. Completed Academic Training Forms and support documents must be submitted to your IIE Regional Contact at least four to six weeks prior to the completion of your approved academic program. More information about academic training for international student Fulbright grantees may be found here: https://foreign.fulbrightonline.org/current_stages_training.html ***