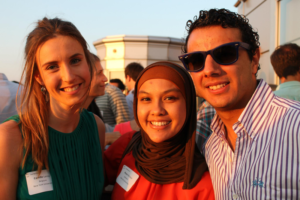 Thursday, August 2. That is the day my American adventure began. I was so excited I did not even mind the 100 °F hitting the City that day when I got out of JFK. A big smile on my face and a single thought on my mind: I made it, NYC!
After seeing amazing things for four days where I followed my American friend around, I was already back at the airport: direction Pennsylvania, Harrisburg. The Fulbright Gateway Orientation I attended at Dickinson College that week did not meet my expectations; it went far beyond them! I had the chance to get acquainted with the American way of life while having fun with 65 persons from 47 countries, as far away and different from Belgium as Mongolia, Argentina or Libya!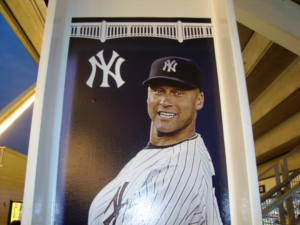 Once back in NYC, I started settling down in my new apartment with my roommate from Luxembourg. The two following weeks went by at a dazzling speed. From 9 till 3.30 I would be in class learning about the particularities of US Law and meeting my fellow LL.M.s. Combining those classes and the readings they required with the daily discovery of hidden restaurants with amazing food, dazzling views from various rooftops and jazz concerts in sunny central park required quite some energy. However, the excitement could only prove stronger than the tiredness when it came down to watching the NY Yankees play against the Boston Red Socks! I now actually understand how some people can consider Derek Jeter as a god.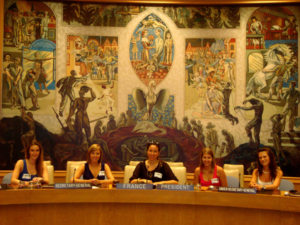 After putting in some hard work for the final exam, I was rewarded by a private tour of the United Nations Headquarters with some friends. Seeing the Security Council and General Assembly up close was quite amazing for us since we all participated in Model United Nations conferences during our studies back home. The following days we kicked off the new term with a series of Orientation receptions at NYU allowing us to discover the Law School better. On Tuesday, August 29, I attended a Fulbright event on the Upper West side. The sunset view on the Hudson River we enjoyed was extraordinary! Eventually, the US Open games I got to attend on the last day of August made my already extraordinary first month legendary.
Camille Leroy