<![CDATA[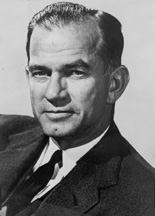 When the late U.S. Senator from the state of Arkansas, J. William Fulbright, sponsored legislation establishing the Fulbright Program (that was signed into law by President Truman on August 1, 1946), he saw a world devastated by war. Remembering his own overseas experience as a Rhodes Scholar, the young senator reasoned that people and nations had to learn to think globally if the world was to avoid annihilation. He believed that if large numbers of people lived and studied in other countries, "they might develop a capacity for empathy, a distaste for killing other men, and an inclination for peace." The unique feature of the Fulbright Program is its global system of binational exchanges, each between the U.S. and a partner nation. True binationalism was a primary objective of Senator Fulbright. "I had not wanted this to be an American program", he wrote. "In each country, binational commissions were to develop the kind of program that made sense to them, what kinds of students or teachers and professors should be selected, what kind of research work…" Belgium, together with Luxembourg, was one of the first countries in Europe to sign a bi-national agreement on October 8, 1948, thus establishing the U.S. Educational Foundation in Belgium. Today, on Tuesday, October 8, 2013 , the Fulbright Commission in Belgium will celebrate its 65th anniversary. We encourage American and Belgian Fulbright alumni alike to make a tax-deductible 65 euro donation to the Fulbright account at the King Baudouin Foundation to celebrate. Payments can be made to the order of the Koning Boudewijnstichting / Fondation Roi Baudouin (bank account n° 000-0000004-04) with the reference "Fulbright Fund – FAAB." Since the King Baudouin Foundation manages many different funds, it is essential that the reference "Fulbright Fund – FAAB" be mentioned with your bank transfer. If paying from abroad, the IBAN and BIC codes for the King Baudouin Foundation are the following: IBAN: BE10 0000 0000 0404; BIC: BPOTBEB1. Donations will be used to help sponsor more scholarships for US-Belgian exchanges in the next 65 years! In an additional effort to celebrate, we recount some of the Commission's achievements over the past 65 years:
Since 1948, 2,549 citizens of Belgium and Luxembourg and 1,114 U.S. citizens have participated in the program as graduate students, post-doctoral researchers, secondary school teachers and administrators in some of the most renowned universities on both sides of the Atlantic. Notable Belgian/Luxembourger alumni include ministers of state such as Willy De Clercq, François-Xavier de Donnea, Herman De Croo, Alexander De Croo, Melchior Wathelet, and Luc Frieden. Belgian universities and research institutes include innumerable Fulbright alumni on their professorial and research staff.
In 1952, the Fulbright Alumni Association in Belgium (FAAB) was founded by Willy De Clercq, Pierre De Raedt and Herman Liebaers and as such, is the oldest Fulbright alumni association in the world and still one of the most active today. The 50th anniversary of the FAAB was celebrated in style with an audience with King Albert II at the Royal Palace.
In 1980, the Foundation for Scientific Research and Educational Exchange was established. Today, that Foundation is known mainly for its Fulbright Alumni Association of Belgium Scholarship, which uses alumni donations to fund current grantees' experiences in the United States today.
In 1991‑92, the US Department of State paired with what is now the European Commission's Directorate General for Education & Culture to sponsor the first exchanges under the Fulbright Schuman Program .
In 2012-2013, 63 grants under the Fulbright Belgium and Fulbright Schuman programs sent grantees to 35 different cities throughout the United States.
We hope that, on this day – the Commission's birthday – all alumni will donate 65 euros to the FAAB scholarship fund to keep the educational exchanges going and that you will stay up-to-date on alumni affairs by visiting
www.faab.be
and connecting with us on
LinkedIn
, too!]]>