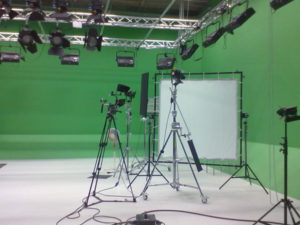 On the 28th of June, three Fulbright interns, along with the Executive Director of Fulbright, travelled to a beautiful town named Kortrijk to visit the University College West Flanders at Howest. A huge campus made up of several buildings and countless facilities provided, University College West Flanders is truly the ideal college to be at. We had a very warm welcome from Isabelle Pertry, the International Mobility Coordinator, who introduced us to Rik Leenknegt, the program coordinator of the Digital Arts and Entertainment department. Both Rik and Isabelle were very friendly to talk to, and soon enough, we were comparing and contrasting the Flemish and the American higher education systems over freshly made sandwiches and chilled soda. Soon, we were joined by Sofie De Grave, who works at the Industrial Product Design sector. After we were finished with our snacks, Rik was kind enough to give us all a tour of the brand new (We were the first non-staff members to see it!) Digital Arts and Entertainment building.
The design of the building itself is unique; we started off with the meeting room's innovative design, followed by the "Red Box" concept. Rik says that he'd like to keep everything open-minded—He wants everyone to see everything and learn as much as possible. He added, with a chuckle, that the staff there didn't rely on email: If they had to say something, they simply spoke to the person face-to-face. After this, we walked down a long staircase; this staircase, Rik said, is designed by the same person who was in charge of the moving staircases in Harry Potter's Hogwarts! With most of the group being a "Potterhead", this fun fact got us very excited. Rik pointed out that every class had walls made out of glass, and that's because he wants openness; by creating an environment where everything was open to one another, students would be more aware of their surroundings and learn better. The pre-production classes, as they are called, were huge rooms filled with amazing sketches of various characters and settings. The students in this department are artistic; they have the power of conceptualization, the techniques to build the audience's perspective, and use lights and shadows to grasp the gamer's attention. Rik then explained that he and his department would like their students to feel like they are a part of the gaming world instead of the educational world, and in order to do that, they have an interactive floor in the building where students can exchange and generate ideas that will produce successful games that will be played. After getting pictures taken with Rik, Isabelle and Sofie at the Digital Arts and Entertainment department's very own green screening studio, Rik concluded the tour by telling us that he doesn't want the students' ideas to be limited. And in order for that to be possible, the department has every technology that a student may need to ensure that every idea with potential can be implemented successfully.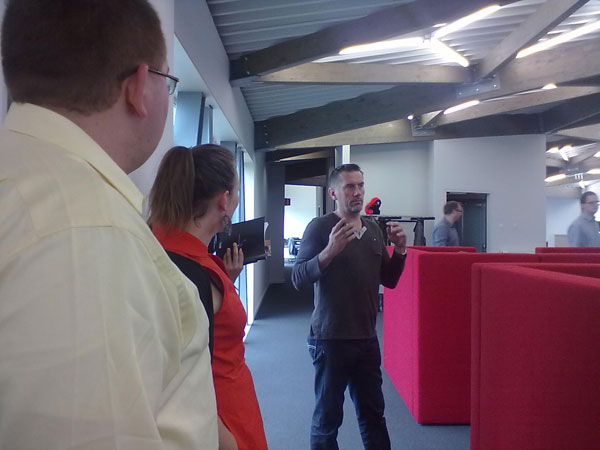 Our team, now accompanied by Isabelle and Sofie, went to another building of the Howest campus, the Multimedia and Communications Technology building. Here, we had three presentations explaining the three types of programs this department offered: NMCT (New Media and Communication Technology), Digital Arts and Entertainment and Devine. The first presentation was by Klaus Delanghe, a lecturer at NMCT; He explained about how their department collaborates with industrial companies on a regular basis; NMCT has a strong partnership with many leading global companies such as Cisco, VMWane, Microsoft Innovation Center, Adobe Partners by Design, and so on. NMCT likes to empower their students into becoming better individuals by offering multiple facilities such as the Quindo radio station, where students communicate with one another, encourage journalism to improve communication skills and have the Talent Factory Awardshow ("The Oscars of Howest", as they like to call it). We then looked at NMCT's annual trip to Silicon Valley, a time when 140 NMCT and Devine students get to visit IT giants such as Adobe, Apple, Cisco, Ebay, Google, Facebook, HP, Microsoft, WBC and Pixar, to name a few. Every year, five students present to Adobe, followed by winning the contest and getting rewarded. This is an amazing opportunity for the students to learn more about ICT in the real world and a chance for them to experience it in real life.
The next presentation was given to us by Johan De Gelas, who told us about the Sizing Servers lab, a research lab at University College West Flanders, whose role is to apply theoretical knowledge about IT services into practical, efficient practices to ensure that the IT processes are smooth and environment friendly. Sizing Servers makes sure that they use Green Software, reduce the Operating System's power by more than a half, make good choices about their hardware, and keep virtual and physical cluster out of the way. Johan talked to us about vApus, a stress-testing framework that informs the people who developed a web application if any changes have been made. Sizing Servers uses vApus to ensure that all the recommendations made to the users are verified and reliable. The final presentation was given to us by Geoffrey Dhuyvetters who works at the Devine department. He introduced what Devine is, how they want students who know about to both design (Which includes using Adobe Photoshop, graphics, etc.) and develop (Using HTML 5, CSS 3) in order to integrate a program. He then showed us various student-produced works that we were all impressed by, mainly because of the amount of effort and passion the students put into their work and after the end of the presentation, we were all in awe. The works produced by the students in this building were all very remarkable and praise-worthy.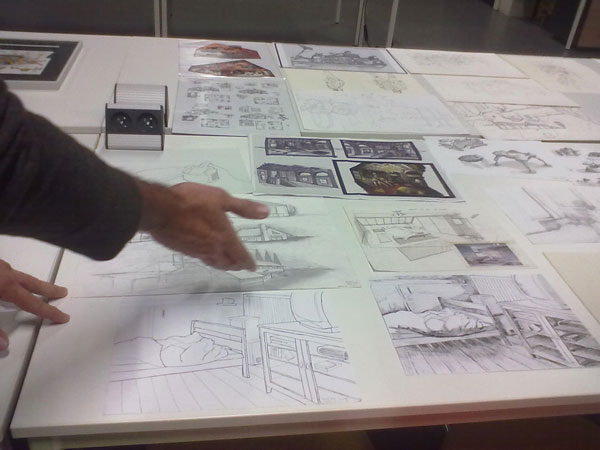 The final building that we visited, the Industrial Product Design building, was led by Sofie. She showed us the bottom floor of the building, which was dedicated to building objects out of wood and metals. The machinery used here was very hands-on and fun to work with, and the familiar smell of sawdust and metal was present throughout the building. We saw many objects that were created by the students using 3D printers and saw how much effort they had all put in into making the product look presentable and be functional and useful. The floor above had a long hallway lined up with objects such as bicycles, desks, and even table cleaners! Sofie explained that these are products that are manufactured in real life by companies, but the prototype was created by the students here! The top floor was a place where students exchange ideas and opinions about creating objects, a place where one could think peacefully and create a prototype that is well-designed and purposeful. Sofie and Isabelle (Who joined us once again!) then insisted that we visit the art expo a few blocks away to see some of the works that the students here produced. After visiting the expo and seeing how beautiful yet useful the objects were, we agreed that the students of University College West Flanders were extremely talented and knew where their strengths lied. Visiting this university was a very positive experience, and we're hoping to visit it again!
– Aayushi Mishra, Fulbright intern