The Commission for Educational Exchange between Belgium, Luxembourg and the U.S., along with WBCampus and Flanders Knowledge Area, hosted an alumni relations workshop on Wednesday, June 25th at the U.S. Embassy Belgium that was attended by over 60 representatives from various universities, hogescholen, haute écoles and government officials from the Walloon and Flemish Ministries of Education. The workshop was an opportunity for innovative educators and alumni professionals to learn about American systems of alumni relations and to create an open discourse concerning the existing or potential future of similar alumni networks within their own institutions and regional communities.




U.S. Ambassador to Belgium Howard Gutman kicks off the workshop

We were most fortunate to have opening remarks from U.S. Ambassador to Belgium Howard Gutman. Ambassador Gutman shared his own personal experiences as an Alumnus, and the importance which his alma maters have played in his personal and career development.


Patricia Baron, Dr. Thierry Leterre and Keira Williams discuss the basics of alumni relations

After Ambassador Gutman's remarks, the first panel discussion of the day began on The Basics of Alumni Relations and Institutional Giving. Participants on the panel were Dr. Thierry Leterre, Dean and Professor of Political Science at Miami University's Luxembourg campus; Patricia Baron, Intern at Fulbright Belgium and undergraduate student at Mount Holyoke College ('14) with content provided by Salomé Cisnal de Ugarte, Harvard Club of Belgium and President of the Fulbright Alumni Association of Belgium; and Keira Williams of the Council for International Exchange Scholars in Washington, DC. The panel discussed, among other topics, the importance of alumni development and alumni relations with respect to internationalization. Similar to Ambassador Gutman, Keira Williams shared her own experience as an alumna of The Ohio State University to demonstrate the personal significance and impact of alumni outreach. Dr. Lettere was able to employ his knowledge of both the American and French alumni outreach traditions to draw distinctions between their differences, highlighting a need for European institutions to put greater focus on showcasing areas of specialization.
The proceeding panel discussion focused on the topic of Engaging Alumni and Donors. Cory Leonard, Assistant Director of the David M. Kennedy Center for International Studies at Brigham Young University stressed the importance of engaging alumni with their local community using examples of BYU and their personal effort in involving the local Church of Latter Day Saints community with their alumni. Charli Taylor, International Recruitment Manager of the Samuel Curtis Johnson Graduate School of Management at Cornell University, emphasized a need to consider a candidate's desire to join their alumni community as part of the admissions process. Both Mr. Leonard and Ms. Taylor further elaborated on the relationship and transition of current student to alumnus and how it is a common perspective of U.S. institutions to not view their alumni as previous students, but rather to view their current students as future alumni. Ms. Taylor and Executive Director of Fulbright Belgium, Erica Lutes, went on to discuss the value and benefits of engaging alumni abroad. Sharing their own professional experiences, they gave the audience examples of how engaged alumni in other countries can serve as 'global representatives' for a university, a highly valuable asset in internationalization initiatives. As a Cornell Alumna herself and member of the greater Cornell Community, Ms. Taylor shared the importance of gratitude expressed in alumni relations and the she feels 'forever indebted to Cornell.'




Charli Taylor of Cornell University & Bart Hendrickx of KULeuven

Over a brief networking lunch, participants had the opportunity to discuss ideas and also, to give brief video interviews at the U.S – European Media Hub.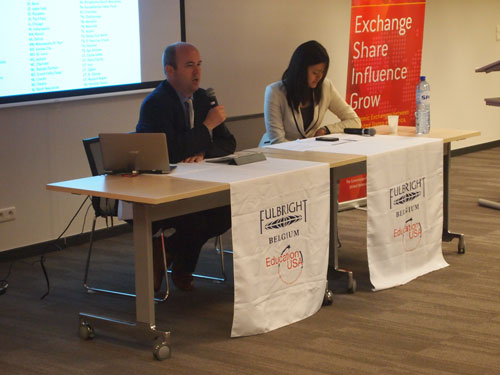 Patricia Baron of Fulbright Belgium & Cory Leonard of BYU
Lunch was followed by an informative panel discussion on the essential component of alumni outreach, Data Management. Patricia Baron of Fulbright Belgium and Cory Leonard of BYU, along with content provided by the University of Dayton, Ohio, discussed the benefits of keeping accurate and up-to-date alumni data for effective alumni outreach. By exchanging views on the tools and resources used for data management, such as customer relations management systems and social media, the panel provided the audience with ideas as to tailoring outreach initiatives to specific alumni interests and needs.
International Video Conference

The final panel discussion of the day on the topic of Measuring Success was conducted as online video conference with Amanda Coates Lich, Senior Director of Development at Western Kentucky University, and Elise Moersch, Executive Director of International Development and Alumni Relations at the University of Pittsburgh. Topics involved setting goals and priorities for alumni outreach, using indicators for measuring their success, having set tracking and evaluation mechanisms in place. Ms. Moersch stressed the necessity of resourcefulness in combatting obstacles to success and provided the personal experience with her office in creating a China-specific social media account, which once received over 300,000 hits within the span of a single day.
Breakout session for institutions of Flanders, led by Flanders Knowledge Area
The day was concluded with two breakout sessions hosted by WBCampus and Flanders Knowledge Area, for educational institutions within the respective Walloon and Flemish ministries, followed by a regrouping to discuss lessons learned by the group. During the Flanders Knowledge Area breakout session, participants agreed that universities in Belgium must develop the infrastructure and capacity to develop alumni programs in addition to more extensive work on instilling a sense of pride within university communities. The WBCampus group had similar ideas in increasing opportunities for campus life in Belgium. All schools present agreed that common obstacles to the development of successful alumni relations include low tuition fees, open admission, and recent university name changes.
Overall, the Alumni Relations Workshop was a great success for everyone involved. Representatives from already established alumni outreach programs were able to share advice and best practices with those looking to develop programs of their own. Along with the various informative panel discussions, the audience was able to take time to share what they had learned and how they could work together in the future in achieving these common goals. The Alumni Relations Workshop took place shortly after another successful "Taste of Belgium" higher education event co-hosted by Fulbright Belgium, WBCampus, and Flanders Knowledge area at the NAFSA Conference in St. Louis, Missouri this May.