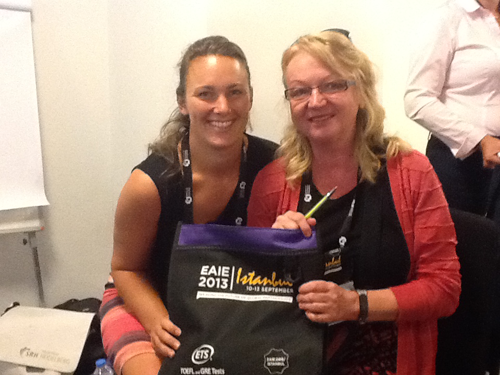 The Commission's Executive Director Erica Lutes attended the European Association of International Educators' Conference in Istanbul this week to learn more about upcoming trends in European higher education and mobility and to strengthen the Commission's European and American relationships. She met with Anne Dibbern, former Fulbright Denmark officer and current International coordinator at the Copenhagen School of Design and Technology and Artemis Zenetou Executive Director of Fulbright Greece, which sends the Commission an increasing number of Fulbright-Schuman applicants each year. Erica attended the conference's opening ceremony with Jenny Hallen-Hedberg and her colleague Stephanie from University of Luxembourg and visited with Laura Rumbley, Associate Director of the Center for International Higher Education at Boston College and planning member for EAIE at the opening reception.
On Thursday, Erica started her day on a run with Theresa Kaiser from American University's School of Law. She then attended a networking workshop led by Christopher Medalis, EducationUSA's Regional Educational Advising Coordinator for Western Europe, with one of the EducationUSA advisors from Slovakia, Dasa, and longtime colleague Maria. EducationUSA exists in approximately 440 locations around the world, and the opportunity for network members to meet and discuss local and pan-European trends, opportunities, and challenges is priceless. Erica continued this same conversation during the session entitled "Challenges and Opportunities in Global Higher Education." Top universities in East Asia, the Middle East and Latin America are challenging the positions of the old universities in Europe and the USA, and this session discussed the implications of this fact for the current European higher education field.
Erica met with Fulbright Board Member Magalie Soenen from the Flemish Ministry of Education at the "Study in Flanders" event and Nicholas Dufays and Sandrine Yodts from WBI at the "Wallonie-Bruxelles International" stand before attending the session, "Trends in US higher education: challenges and innovations," presented by NAFSA and Linda Tobash from IIE. There, Erica learned about current major immigration issues being considered by Congress, including:
– The Dream Act, or the American legislative that proposes to legalize immigration for children of illegal immigrants who pursue US higher education opportunities.
– H1B visa provisions for people who go to the US to obtain a higher education degree. Canada already offers work permits to recent international graduates of its universities, and the US may fall behind in welcoming international students if it continues to limit their ability to live and work in the US after graduation.
– Proposed changes in requirements for J-visas, including removal of the requirement to prove that a student will return to his/her home country after finishing his/her US exchange
Erica attended several other informational sessions and networking events, and met up with Fulbright friends from Howest and Hogent and Swantje and Philippe from Intrax, who will be hosting a presentation on internships at local Belgian haute ecoles and hogescholen later this fall. It's always inspiring to see how many Belgian university officials are active in the realm of European and American higher education – over forty representatives from universities and university colleges – striving to bring new opportunities home to their students. The presence of American institutions was significantly higher compared to four years ago in Madrid where only a handful of schools were represented.