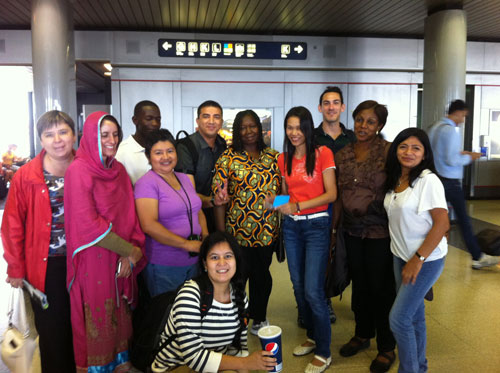 Last week the US State Department welcomed 30 participants from 25 different countries to the University of Illinois at Urbana-Champaign.  Overall it is a wonderful group of teachers, eager to learn and explore American culture. On Monday, June 17th, the group officially opened its program with a round-table discussion on the "American Dream" co-facilitated by Academic Director, James Anderson, and Academic Coordinator for Resources and Pedagogy, Jeff Friedman.  This was followed by a welcome reception for the participants.  The group was greeted by the Mayor of Champaign, Don Gerard, remarks were made by Director of the Center for Global Studies, Edward Kolodziej, Associate Provost for International Affairs, Wolfgang Schloer, and James Anderson gave the keynote address on the aspirational nature of the "American Dream" and touching upon points such as how most Americans subscribe to the "American Dream" regardless of whether or not they believe they are able to realize it.
Participants have already attended seminars, panels, and workshops with 17 different speakers and have had two convocation sessions where they worked on curriculum development and pedagogy with six local secondary teachers. Participants particularly enjoyed Wednesday's sessions in which they learned about American diversity.  The panel featured Gigi Secuban, Associate Vice Chancellor of Student Affairs, and Director, Office of Inclusion and Intercultural Relations, James Ralph, Rehnquist Professor of American History and Culture at Middlebury College, Liv Thorstensson Davila, Clinical Assistant Professor of Curriculum and Instruction, Francisco Baires, Community Programs Director, University YMCA, and was moderated by Academic Director, James Anderson, Gutgsell Professor and Head of the Department of Education Policy, Organization and Leadership.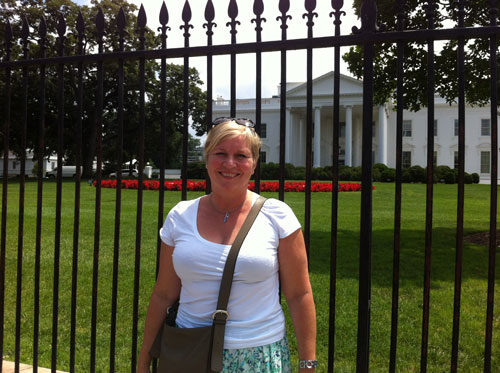 Over the weekend 12 of the participants went to see the Piatt County Rodeo in Monticello, Illinois.   A true American-West experience: http://www.pctrailblazers.org/rodeoinformation.html
Here's what Belgium's participant – Ms. Anja Lerno from Heilig Hartcollege in Lanaken – has to say about her experience so far:
"At the moment, the second week has already passed as well. It is really wonderful. Unbelievably impressive. We've had a first week of lectures and workshops at the University of Illinois (Urbana-Champaign). The lecturers are all very good. They have been able to teach us a lot about the early history of the United States already. Next, we were taken on a trip to Boston, where we walked the Freedom Trail and visited Boott Mills (19th century industry) and Plymoth Plantation (Pilgrim settlers). This trip was a great illustration of the lectures we had had so far.
Now, we are in Washington DC. We have been invited to the Department of State, after which we will be welcomed by an Illinois Senator. Tomorrow evening, we will be going to a musical. I have already been to a rodeo and a live stand-up comedy night.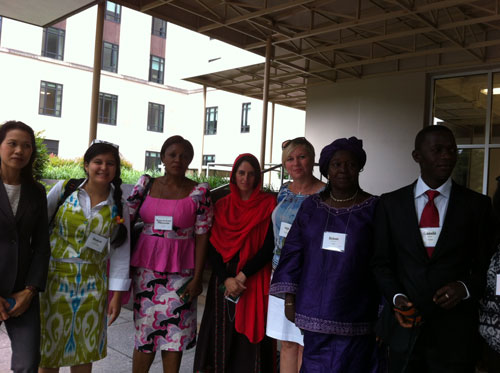 Together with 29 other teachers of EFL, we are exploring the 'American Dream'. The diversity of the group (some 25 different nationalities) also gives us the opportunity to get acquainted with so many other nationalities! You can tell all these people (teachers of EFL) have come here to make the most of this stay: there are many cultural differences, but everyone is really interested in each other's stories as well as in the story of the US.
We have been given access to such a wide range of (free) resources that it will probably take me months to explore them.
This is a wonderful opportunity! I would advise any one who has the opportunity to apply for this programme, to do so!"
Teachers interested in applying for the Study of the United States Institute (SUSI) in Summer 2014 may find more information and submit an application here: http://www.fulbright.be/fulbright-awards/secondary-teachers/