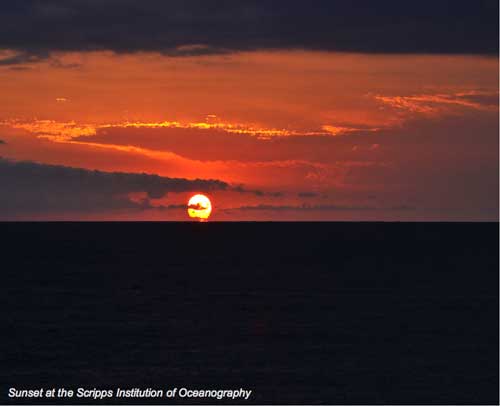 1. The weather is just great here! It nearly never rains and the sun comes out every single day. This is incredible! Such a huge difference with Belgium and so enjoyable. The downside of this weather is that California is hit by a serious drought for the moment and we actually need desperately some rain…
2. The Scripps Institution of Oceanography is worldwide renowned for its high quality research. It is an amazing place to work. The research that goes on here spans from studying the tiniest organisms – such as cyanobacterias and dinoflagellates – to worldwide global effects of currents, water-movements and climate. Everything related to the ocean is thoroughly studied here.
3. Meeting people is really easy. Everybody is very friendly, open and welcoming. I also had the chance to meet numerous people through Fulbright, some of them became very good friends of mine.
4. Outdoor activities. People here are very active! Surfing, kitesurfing, paddleboarding, kayaking, snorkeling, diving, biking, hiking, running, camping, climbing, … are just some of the many things you can easily do around here. I started climbing and surfing and love being outdoors and in the ocean.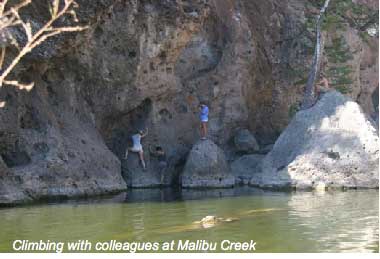 5. The food. I thought, I would not find nice restaurants here. I was very wrong. The food is amazing! My absolute favorite dish is Fish Taco's. Delicious!!!
6. The beer. Another nice surprise awaited me, when I started discovering the local beers. I thought, that as a Belgian, I knew a lot about beers, and that America could not keep up whit our Belgian brewed. I could not have been more wrong… In San Diego you can find a lot of microbreweries that create each their own flavorful beer.
7. The ocean. I love the ocean. I love working and living close to the ocean. Having that fresh breeze every day, being able to observe the very diverse marine life is just wonderful and taking a refreshing dip in the water is just amazing.
I started a postdoctoral Research year at the Scripps Institution of Oceanography (UCSD) at the end of 2013. Life here can be really sweet! But sometimes life here can get as well a little bit sour… The people I meet are most often postdocs or PhD students who are, like me, not on a fixed schedule. I saw already so many people leave, go back to their country; and I know that several will follow in the coming months. This is quite a sad experience…
Last but not least, I want to give you one good advice: Think about your arrival here in the US very carefully and prepare it in every detail. This is probably more applicable to postdocs and PhD students.
I wanted to take advantage of the 30 days period before the start of my grant. But it was then not absolutely clear to me that I would not be able to work here. Maybe I was a little bit naïve…
The other thing is, that you need to understand your status. In my case, I am listed as a Research Scholar on my DS-2019. But in the paperwork provided by my Belgium Institution, my status is Postdoctoral Researcher. These two tiny words written on some piece of paper (at least this is what it felt like) put me in a lot of trouble… UCSD could not process my paperwork as an Exchange Visitor, but needed to do so as a Postdoctoral Researcher, which is way more difficult and stringet from an administrative point of view. It was really annoying and difficult to get the paperwork done. In the end, everything worked out well and I can enjoy at the fullest my postdoctoral research year here at SIO/UCSD.
So far I can say, that being awarded a Fulbright grant is the best experience that could happen after my PhD. I can learn new interdisciplinary skills, broaden my scientific knowledge and build a worlwide network with colleagues in my field and related areas. In my next entry, I will talk more precisely about my work here.
— Annick Bay, Fulbright grantee 2013-2014