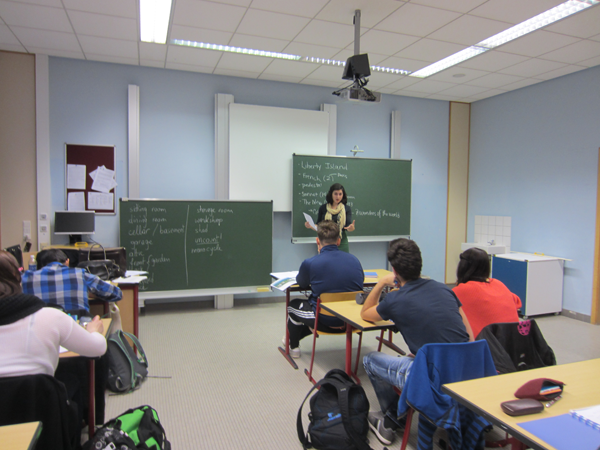 Learning a foreign language is challenging. Teaching a foreign language is perhaps even more of a challenge—especially when you don't speak two of your students' three languages. And yet, it's this intensely multilingual environment that makes being an English Teaching Assistant in Luxembourg so engaging.
On a typical day at the Lycée de Garçons when I prepare a lesson for my Deuxièmes (equivalent to American juniors), I have already refreshed my memory with all the French equivalents of pertinent vocabulary, just in case an English definition does not suffice. Sometimes, however, the French translation of a Shakespearean term is not enough (try "fenny snake"), and so the teacher I'm working with resorts to German or Luxembourgish to explain. Eventually there is a chorus of "ahhh"s when one sharp student explains to the rest that "it's a snake that lives in a bog." And we move on to the next verse of trochaic tetrameter.
The chain of translation becomes more complicated when you consider the student demographics. The variety of student backgrounds in my classroom in the southwestern corner of the country reflects the diverse nature of Luxembourg's population, meaning that sometimes translation into a mother tongue aside from Luxembourgish, French, or German (such as Portuguese or Italian) is necessary for full comprehension, especially for my first-year students (Sixièmes). Explaining a traditional Thanksgiving treat entails explaining a tarte à la citrouille, Kürbiskuchen, torta di zucca, and torta de abóbora, and not just pumpkin pie.
My experience as a teaching assistant in University of Luxembourg's English literature program is slightly different than that at the high school level. Because the students enrolled already have a proficient level of English, my role is to help expose them to classic pieces of English (that is, Anglophone) literature like Heart of Darkness and Frankenstein and to reflect on pertinent themes and contextual questions. (Where do we draw the line between being civilized and uncivilized in a colonial context? What makes a monster a monster?) In so doing, the goal is to introduce the students to a potentially new way of studying literature—complete with periodic debates, presentations, and student-led classes—that will prepare them for the different learning methods they may encounter during future studies at an American or British university.
Immersion in these multilingual and international environments ensures that teaching English is a two-way linguistic and cultural exchange. Talking about everything from tongues of fenny snakes to the definition of a monster challenges me continuously to reflect on how and why learning the English language and studying its literatures is relevant and interesting in this linguistic and cultural melting pot.
– Natalie Boll, 2014-2015 U.S. Fulbright grantee to Luxembourg / English Teaching Assistant