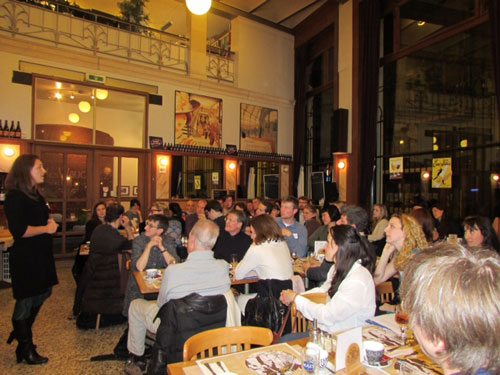 At the kick-off event for a Seminar on European Union and NATO for Fulbright Grantees, on February 10th 2014, the staff of the Commission for Educational Exchange between the U.S., Belgium & Luxembourg were joined by all U.S. Fulbright Grantees and Fulbright Schuman Scholars, as well as some special guests at a reception in the Horta Brasserie at the Comic Strip Museum in Brussels. Similar to Executive Director Erica Lutes' comment when addressing the Fulbright grantees, "You all are here as multipliers", the evening can be described as one of multipliers.
The Fulbright grantees all individually spoke about their course of study, work and research.The broad range of topics covered by the grantees depicted the diversity, and the comprehensiveness of the Fulbright Program. The diverse academic backgrounds and academic pursuits of the grantees showed the tremendous strides that program has taken to divulge not only American ideas but also promote more cooperation between the US and Europe in answering today's most pressing issues. Also, the motivation that each grantee had to both learn and teach throughout the European continent depicted the success that the Fulbright program has had in inspiring a more collaboration between US and EU citizens.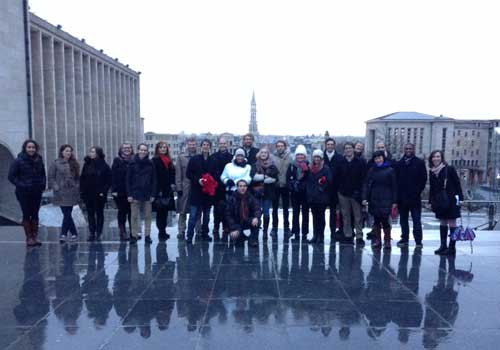 It was also an evening of multipliers as Dr. Jerome Sheridan, a board member on the advisory committee for Fulbright Belgium, and Director and Professor of American University's Brussels Center imparted his knowledge and expertise on the politics of the European Union. His discourse served as a multiplier, inciting challenging questions and discussions.
Finally, the hard work and effort of Fulbright Staff showed through as the successful turnout of the reception. The event set the tone for a week filled with professional opportunities the grantees!