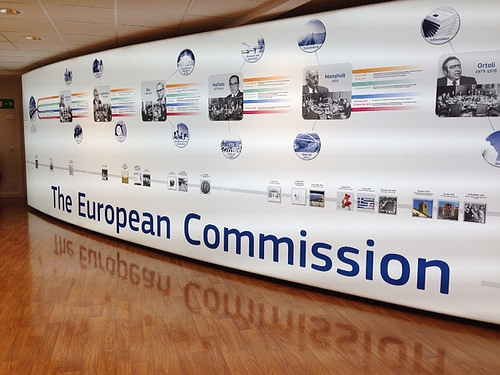 Tuesday February 11th Fulbright Grantees continued the Seminar on the European Union and NATO. All Fulbright Grantees spent the morning at the European Commission, which was initially hosted by Mr. Jo Vandercapellen, a member of the Directorate General Communication Team at the European Commission. Mr. Vandercapellen gave the group a brief history of the European Commission, and discussed the competencies of the Commission as an institution in the political arena.
Fulbright Grantees also had a chance to hear from two Fulbright Alums. First, Mr. Richard Cawley who talked about the Multiannual Financial Framework of the European Commission and the trends of the budget and its break down for 2014-2020. Lastly, Ambassador Mara Marinaki, Managing Director for Global and Multilateral Affairs for the European External Action Service spoke to the group emphasizing the important role of the managing external relations in enabling more cooperation between other countries and the European Union. The Ambassador touched upon major issues such as water diplomacy, human rights and climate diplomacy, which are all at the forefront of the external relations.
Lastly, a particular important part of the day was the Mid-Year Meeting of Schuman Grantees who converged during a lunch session to discuss their work and research thus far.
Fulbright Grantees ended their visit to European Commission on a very positive note and embarked for a trip to the College of Europe in Bruges. Today's events and renowned speakers served to give Fulbright Grantees a more in depth understand of the inner workings of the European Union as a whole.