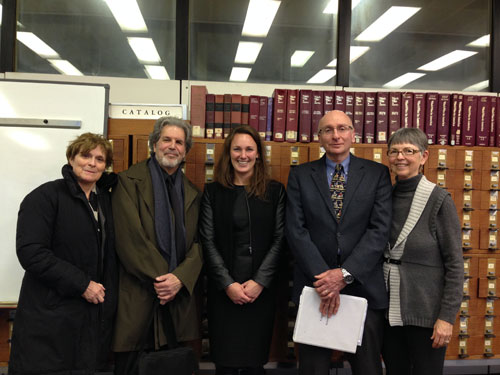 Fulbright's Mid-Year Meeting took place on Tuesday February 4th in the Royal Library. All US Fulbright grantees and lecturers, as well as Mrs. Margaret White from the U.S. Embassy joined Ms. Lutes and her staff for an evening filled with eye-opening intellectual presentations. Each Fulbright grantee presented their topic of study and research and shared their experiences of living abroad.
Some of the highlights of the evening included hearing Mr. Bruce Michelson explain this teaching topic and explain and how his best writing evolved from conversation.
U.S. Fulbright grantee Samantha Lopez stated that "the best way to discover Belgium is to eat Belgium". Particularly relevant in here, the mecca of cuisine and gastronomic delicacies, Ms. Lopez's studies and research is contributing to the research and knowledge that is needed in order to stop the growth antibiotic resistance organisms that are affecting the foods we consume.
In the department of psychology in UCL, Maggie Balk has started researching the link between diabetes and rare condition that inhibits people from thoroughly expressing their emotions.
Abigail Newman told the group about her artistic exchange between Flanders and Madrid and how Fulbright and her work has allowed her to hone in on her language skills not only in Dutch but also in Spanish, French and other languages. The richness of Belgium's diversity showed through her experiences.
Nathan Hoffman, an English Teaching Assistant, shared his experience and how teaching courses about American history, teaching graduate students, and coaching students in oral presentations have allowed him to reflect a very positive image of the USA in Belgium.
He spoke about this experience implementing American style teaching in a European setting. He stated that being young and close in age to the students he was teaching allowed him to overcome the cultural barrier that normally makes Belgian students refrain from giving their opinion in class and allowed him to more easily and naturally encourage more engagement in the classroom.
Myles Creed, also an English Teaching Assistant, shared his experience and how teaching American jargon, pronunciation and American Cultural geography have allowed him to gives Belgians a clearer and more all-encompassing picture of American culture. Mr. Creed's Courses in translations and linguistics have also allowed him to enhance his own skills while being here.
Blaise Holden, 
creator of RAM-PAGE, a video game that allows people to augment their cognitive awareness subconsciously through games. His background in psychology mind has pushed him to pursue further studies in trying to understand how the human minds grasps concepts and ideas with ultimate goal and skill of mastering knowledge. He stated that this idea to understand this better is because there is evidence showing that the way to test knowledge which is through standardized testing, works counter to the goal of mastering knowledge.
The group as a whole was particularly interested in understanding the student experiences in Belgium, the difficulties of meeting and building connections with Belgians and the cultural differences of American style versus European style teaching.
Photo: Ms. Lutes smiles for picture with U.S. Fulbright Lectures Mr. Bruce Michelson and Mr Burt Kimmelman with their wifes.