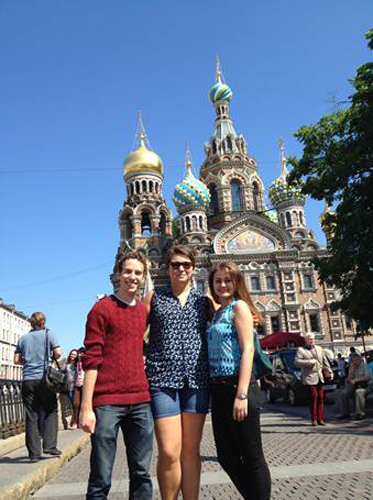 For a long time for me, "networking" always had a ring of corporate sterility to it, of utilitarian connections forged for the sole purpose of future material gain. The idea seemed to imply a competition in which the goal was to stuff your business card into as many people's pockets as possible in the hope that these superficial "networking moments" would provide future professional benefits. This year as a Fulbright grantee has completely overturned my perspective; the number of connections I have made this year that began as professional acquaintances and soon blossomed into true connections of real human meaning surpass my ability to count them. From Fulbright seminar events to academic meetings of minds to office buddies, what may have first seemed no more than simple networking opportunities have provided me with dozens of new friends all over the world.
One of the most revelatory connections I have made this year began in the form of a "business" acquaintance. My good friend Sydney is doing a Georgetown Law internship with ECHA, the European Chemical Agency, which is based in Helsinki. I decided to visit her and make a trip across the Russian border to one of the most raved-about cities we have heard of: Saint Petersburg. The world-famous Mariinsky Ballet that we had discussed at length in our music major educations, the psychedelic culture-clash of the Church of Our Savior on Spilled Blood, the enticing imaginings of the aromas of fresh-cooked blini (which, by the way, Russians insist on calling pancakes when they speak English) — all beckoned us to pass through the specter of the iron curtain into a realm as odd as backwards N's and R's (/i/ and /ja/ in Russian respectively) and as familiar as an American buzzcut (which every Russian male seemed to sport).
Before leaving, the Executive Director of Fulbright Belgium, Erica Lutes, offered to connect us with EducationUSA contacts in Saint Petersburg. I heartily accepted, assuming an older Russian or two would recount a brief history of the city, bring us to a good coffee place where we would discuss some of the finer points of U.S. higher education, and that would be it. How surprised was I that Sunday morning to find two girls no older than I waiting in our hostel's lobby! What then ensued was one of the most fun days of my life.
Ira and her former intern Kate both spent only a year in the U.S. while in high school — with briefer trips more recently — but their English was impeccable. (A fact not true for almost every other Russian, leading to a number of endearing interactions and an improvement of my interpretative sign language abilities.) Smiling and laughing through the sunny streets of St. P., passing buildings which retain all their 19th-century luster and romantic idealism, we chatted about life in the U.S. and Russia in such diverse locations as a coffee shop called "Happiness," a boat tour narrated exclusively in Russian and simultaneously interpreted by Kate, in the shadow of that psychedelic church, the top of Saint Isaac's Cathedral, and over a number instances of good food and drink. We learned about their American-style road trip the two of them took last summer through Florida, across Texas, and into California, about their first authentic Mexican food and the nostalgia for it that resonates within me as well.
We also glimpsed some fascinating insights into Russian politics, including explanations as to why Putin is so generally beloved in his own country — Ira and Kate cited efforts in education, healthcare, and pan-Russian unity as convincing reasons for their support of the president, though they seemed uncomfortable with activities in Ukraine.
Our 12 hours together concluded with a fittingly international bout of laughs over Russian Baltica beer, delicious dried squid snacks, BuzzFeed posts, and YouTube videos — this is a kind of globalization I can support! This wonderful day dispelled any doubts I had about compatibility between Americans and Russians and demonstrated yet again just how fun "networking" can be — at its best, it really means cementing new friendships with people who share your interests. I can't wait to visit Russia again!
Nathan Hoffmann is a Fulbright English Teaching Assistant in Mons, Belgium. Check out his blog at http://nathanihoff.wordpress.com/
Find out more about EducationUSA in Russia