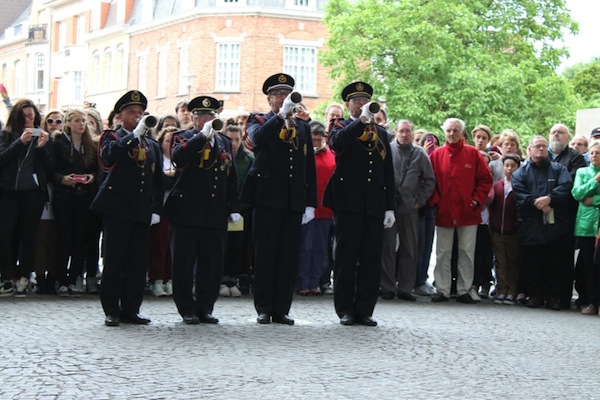 Schedule:
· 9.00: Departure by bus at Brussels North train station (We're meeting in the Vooruitgangsstraat / Rue du Progrès (next to the Eurolines coach station) and the company is "Reizen Muylaert).
· 11.15: Arrival in Ypres: Battlefield coach tour: northern salient
· 13.15: Lunch in Oude Kaasmakerij – Passendale (drinks not included) – http://www.deoudekaasmakerij.be/en
· 14.30: CWXRM workshop (group 1) + walk on the ramparts (group 2): The Workshop: http://www.comingworldrememberme.be/
· 15.15: CWXRM workshop (group 2) + walk on the ramparts (group 1): The Ramparts: http://www.toerisme-ieper.be/en/page/332-336-365/ramparts.html
· 16.15: visit museum "In Flanders Fields": in the Cloth Hall of Ypres – The museum: http://www.inflandersfields.be/
· 18.00: Dinner in Ypres city centre: Les Halles (one drink included) – Dinner: http://www.marktcafe-leshalles.be/
· 20.00: The Last Post, programme: http://www.lastpost.be/en/calendar-day/15-11-2014
· 20.45: Departure
· 22.45: Arrival in Brussels
We leave with a group from Brussels North train station and we will pick up the people who wish to go to Ypres by train at the train station at 11.15. There is some walking involved in this tour. The prices per person: 5€ for the workshop/7€ for the museum/29€ for the two meals: 41€ pp. Please note that no refunds possible once you're registered.
Please register by using the form below. Registration will end on November 7, 2014. After you click the "Submit" button, please make sure to click on the "confirm registration" button on the next page! Otherwise your signup will not be registered.

Enrollment is not final until payment has been received. Please pay by depositing  41 euro per participant on Fulbright Alumni Association bank account BE79 2100 0848 5633 / BIC GEBABEBB before November 10, 2014.  Please include your full name, number of participants and 'FAAB-fall event" in the reference field. We cannot link enrollment and payment if you do not include this reference!
[SINGLEEVENT single_event_id="3-543283e19cce4-3-543283e19cce4″]