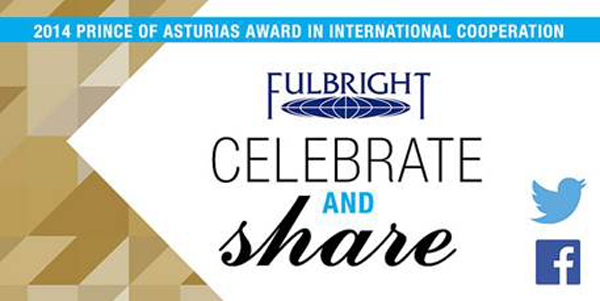 Join the Celebration & Spread the Word!
— Friday, October 24, 2014 —
The Fulbright Program will receive the 2014 Prince of Asturias Award for International Cooperation!
We invite the Fulbright Community to Create a Twitter Surge using these hashtags: #Fulbright #PrinceAsturiasAwards #premiosprincipe
Join the Global Watching Party:
The Award Ceremony will be broadcast live from Oviedo, Spain on the Spanish TV channel TVE with ECA Assistant Secretary Evan Ryan accepting the award on the behalf of the Fulbright Program at 18:30 in Oviedo | 16:30 UTC/GMT | 12:30 EDT. You can watch TVE in Belgium om the following channels: Telenet 181, Belgacom/Proximus: 290, and Voo: 194.
The live stream links to watch in English or Spanish can be found at http://eca.state.gov/fulbright/about-fulbright/prince-asturias-award (this link will go live by October 24).
What is the Prince of Asturias Award?
The Prince of Asturias Foundation was established in 1980 at a ceremony presided over by the then Prince of Asturias and heir to the throne of Spain, now King Felipe VI. The Foundation has convened the Prince of Asturias Awards since 1981 with the aim to encourage and promote the scientific, cultural and humanistic values that form part of mankind's universal heritage. The Awards are presented each year in Oviedo, capital of the Principality of Asturias, Spain. In 2014, the ceremony will be held on Friday, October 24.
The Award for International Cooperation
The Prince of Asturias Award for International Cooperation is conferred on the individual, institution, group of individuals or institutions whose work in areas such as public health, universal education, environmental protection and social and economic development, among others, constitutes an outstanding contribution at the international level.
To The Fulbright Program Worldwide
The Jury for the 2014 Prince of Asturias Award for International Cooperation conferred the 2014 Prince of Asturias Award for International Cooperation on the Fulbright Program for educational and cultural exchange that enhances and strengthens links and mutual understanding between the world's citizens.
The Jury prized the international nature of the Program, the will to improve the overall education of young people by providing access to institutions of academic excellence, and the ability to engage civil society in each of the nations in which it operates.
This collective effort over more than half a century has resulted, among other things, in the creation of an extensive network of alumni who have contributed to the betterment of society, increasing collaboration and the exchange of ideas in a multicultural context.
Please join in a worldwide celebration of the prestigious Prince of Asturias Award for International Cooperation to the Fulbright Program!