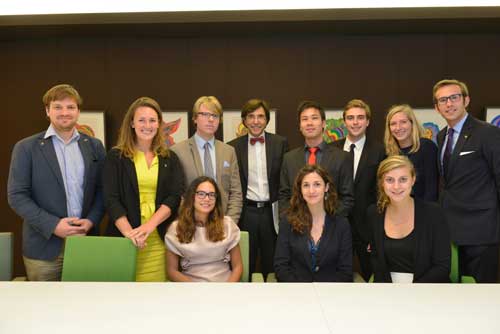 This Thursday, Belgian Prime Minister in office Elio Di Rupo held an informal breakfast meeting with Belgian students. A delegation of Belgian Fulbrighters from New York and D.C. attended the meeting. Mr Di Rupo was in New York for the Annual General Assembly of the United Nations and, despite a busy timetable, he took the time to meet with us and share his memories about his life as a student in Mons and his experience as an international student in Leeds, U.K.
When I received the email from Fulbright announcing that I was invited to meet the Prime Minister on a Thursday morning in N.Y., I did not hesitate more than 30 seconds to say yes. Indeed I am studying at Georgetown in Washington, indeed I have class on Thursday at 7.45 pm, and indeed it's going to be a short return trip to New York. No matter, I am going to make it to New York. Those kind of opportunities are the ones that you should not hesitate to seize. This is the Fulbright experience.
I took a bus in D.C. at 1.30 am. I arrived in New York at 5.30 am. I met the P.M. at 8 am. I left N.Y. at 1.30 pm. I was back in D.C. at 6.30 pm. This is crazy you think? Not as much as the experience itself. Because at the end of the day, along with 20 other students from my country I met with the P.M. who spoke freely with us about his experience, his career and his views of international exchanges.
He insisted on the quality and the great assets of Belgian Universities and the recognition of Belgian scientists and researchers around the world. But he also looked back at his own career: "It's all about putting in the work" he says, "we must never forget that the best improvisation is the one we prepared". P.M. also talked about the "success": you are successful because the community recognizes your competence. You may be very clever but you still have to interact with the community. The most important is what you bring to your community". In that respect, international exchanges matter particularly to him. And I truly believe that the Fulbright experience helps to build long-lasting bonds and friendships.
Elio Di Rupo then took the time to chat with us individually and to take some pictures.
I personally appreciated the fact that the P.M. took the time to meet and talk with 20 students. This is a unique moment that I could not have experienced without Fulbright…and that showed me, in one day, what it is to have a minister's agenda!
– Nicolas Vanderstappen
More photos of this event can be found on our Flickr page.