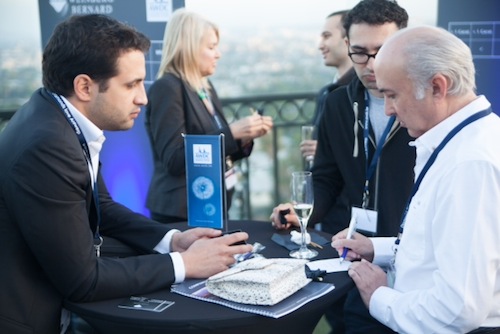 At the Antwerp World Diamond Centre, the umbrella organization for the Antwerp diamond industry, we are constantly striving to boost the business for more than 1700 registered diamond dealers. Part of my role as events manager in the Pr&Communications Department is to set up networking events abroad for these companies. Since the beginning of the modern diamond industry, the destinies of both the U.S.A. and Antwerp have been inextricably intertwined. The Antwerp diamond industry plays a key role as one of the U.S.A.'s largest and most reliable suppliers of polished diamonds. Simultaneously, the U.S.A.'s jewellery market is the most important Antwerp export market for polished diamonds.
On 27 May, the Antwerp World Diamond Centre (AWDC), kicked-off its US networking tour, with stops in Miami, Los Angeles and culminating at the JCK fair in Las Vegas. The tour proved successful in facilitating access for Antwerp companies to numerous US jewelers and retailers, helping to build closer relationships and leading to new business opportunities.
At the exclusive Raleigh Hotel in Miami, Antwerp companies had the opportunity to meet with potential clients in the gateway city to South American trade. In addition to acquiring useful information about developments in the US market and upcoming hot-spots for trade, they met with potential business partners. In Los Angeles, at the iconic London West Hollywood, companies met with retailers and jewellers from this West Coast diamond stronghold, where numerous business connections were made.
I was granted a French Fulbright FLTA scholarship at Gettysburg College during the academic year 2009-2010. Following my return to Belgium in July 2010, I have worked for various international organizations, both in Belgium and abroad. For the past 3 years I have been working for AWDC, promoting the Antwerp diamond industry, both in Belgium and abroad. Infinite thanks goes to the commission for educational exchange between the United States of America, Belgium and Luxembourg,for offering me a launch pad to an international career by granting this scholarship.
Best of luck to all current and future Fulbright Scholars!
Pieter Van Bocxlaer
Want to know more about the Antwerp Diamond Industry or job opportunities in this brilliant sector?
Check out our website: www.awdc.be