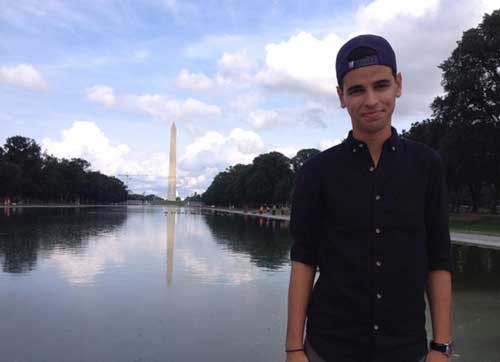 Towards the later part of the program, I had the privilege of visiting Washington D.C. One of the main reasons for this visit is to experience a different part of the United States. We stayed at a magnificent hotel (Melrose) in George Town. I had the luxury of visiting some of the Smithsonian museums, Jefferson Memorial, Martin Luther King Memorial, Roosevelt Memorial, and the Washington Monument, just to name a few.
Allow me to elaborate about my experiences.
During my free time, a couple of the Fulbright Scholars and I visited the Arlington National Cemetery. We saw John F. Kennedy's burial site as well as the Tomb of the Unknown Soldier, where I was fortunate to witness the changing of the guards. This visit caused me to realize the severity of the cost of war. Even though I know a lot of people died during the WWI and WWII, I was overwhelmed when I saw all the soldiers honored.
In the back of my mind, I thought these wars were distant stories that happened long ago, but to some degree, wars have been and are still continuing to this day, and this realization has truly moved me.
We also visited the Environmental Protection Agency (EPA) in Washington DC. They spoke to us about the agency's objectives and the P2 program. The main objective of this particular program is to prevent pollution directly at the source and conserve natural resources. They discussed the research they have conducted and how it has benefited them. In that moment, I realized something important: today there is a huge amount of information available; information or research conducted by previous generations. I think that one of the biggest challenges for my generation is to find the correct information in the midst of all of the clutter of information and act on them, based on conviction.
During one of my walks in DC, I stumbled upon Georgetown University. I came across a student and asked him whether he attended the school. He was so nice and he gave me a tour of the university, and we discussed about different topics from campus accomodations to campus tuition. It was really nice being able to draw comparisons between Kansas State University and George Town University.
Before I knew it the program officer handed each of us our certificates and it was time to head back to Belgium. Never, ever, did I expect to meet such amazing people during this Summer Institute. I want to thank directors, David Carter and Kristina Snyder. In times of eagerness and selfishness they showed us heart, love and compassion.
All the people I met gave me something invaluable during this summer institute: hope. The hope and courage that I can mean something in someone else's life. That I can help others. If I can be only half as genuine and pure as the amazing people I've met during this summer institute, that truly would be a blessing.
The name of the program is called the Summer Institute for European Student Leaders on Environmental Stewardship. Do I define leadership as this inaccessible thing destined just for a few of us? No, I've learned that a leader is a person who helps people go place where they wouldn't have gone to by him/herself. I aspire to lead in that way. I aspire to be an environmental steward in that way. I know that now, because of this program.
To the summer that summers from here on will be compared to.
Thank you Fulbright!
– Moustapha Echahbouni