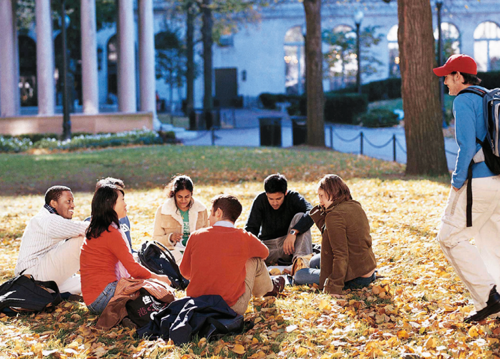 The United States has a strong tradition of community colleges. There are currently more than 1,100 accredited community colleges, which are mostly two-year schools that offer associate degrees.
Community college fields of study that are especially popular among international students include business, computer science, computer graphics, Internet technology, multimedia, hotel management, restaurant management, psychology, accounting, early childhood education and environmental conservation.
What are the top 10 reasons for attending a community college in the United States?
1. Lower cost
Tuition and fees at community colleges are significantly lower than at four-year colleges and universities. Students can often lower the overall cost of a bachelor's degree by earning the first two years of course credits at a community college.
2. Excellent transfer opportunities
Most community colleges have articulation agreements with four-year colleges and universities, which allow students to use their community college credits toward a university degree. Community colleges offer programs in all major fields of study that can transfer to four-year colleges and universities. Some community colleges also offer bachelor's degrees in specific fields of study.
3. Flexible English proficiency requirements
Because community colleges provide their own assessments and often offer Intensive English Programs (IEPs) to students who need additional English proficiency, standardized English language proficiency test scores, such as Test of English as a Foreign Language (TOEFL), are not always required for admission to a community college.
4. Focus on teaching and student success
Community colleges emphasize teaching rather than research as the primary responsibility of faculty. Community college students can enjoy a great deal of personal attention from their professors; extra help and support are available when you need it.
5. Small class sizes
The average community college class size is between 15 and 20 students, which allows professors to devote more time to individual students and students to interact with each other.
6. Additional year of hands-on training
International students with F-1 visa status may be eligible to complete one year of practical training in their fields of study immediately following completion of an associate degree, and a second year of training immediately following completion of a bachelor's degree.
7. The latest technologies
Because of their strong ties with business and industry, many community colleges have state-of-the-art computer and other technology in classrooms and facilities.
8. Flexible admissions requirements
Many community colleges do not require standardized admissions tests and many allow students to enroll throughout the year.
9. Opportunities to experience U.S. culture
Like other U.S. campuses, community colleges have strong ties to their surrounding communities, which offer international students both a rich academic environment and an opportunity to experience many aspects of life in the United States — both on and off campus.
10. Excellent student support services
Community colleges are committed to attracting a diverse student population and ensuring that all students succeed.