<![CDATA[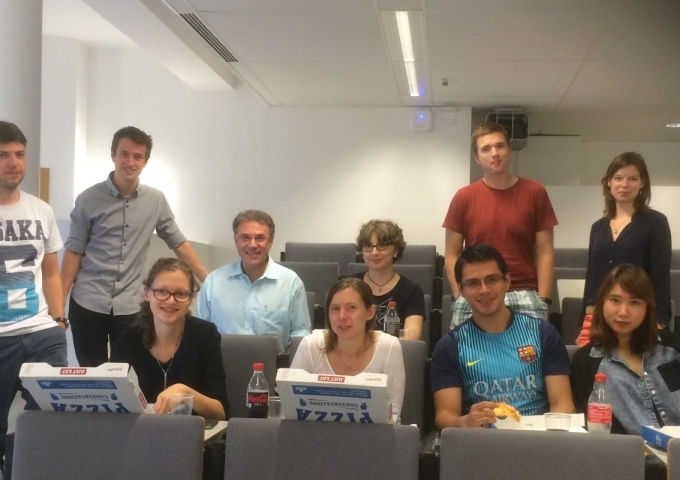 What a wonderful opportunity—intellectual rigor, cultural exploration, and chocolate! My two weeks as a Fulbright Specialist at KU-Leuven are extremely valuable and special. My host, Professor Jan Vanthienen, has provided a marvelous experience for stimulating interactions with his KU-Leuven colleagues and doctoral students in the data analytics area, as well as time to explore some of the sights in Leuven, Brussels, Maastricht, Gent, and Mons. Jan's special touch in seeing the Mundaneum Museum (knowing about my background in knowledge management viz Paul Otlet's work on a central database system in the 1930's) and Jan's welcome dinner at his house with his wife, Marlene, and family, along with my wife, Janet, made this Fulbright visit even more special. Of course, being able to live in the Groot Begijnhof from the 13th century over my two weeks was also a European delight.
It was great timing too as we were able to visit the Royal Palace in Brussels (it was open just during the month of August). Visiting with the Fulbright-Belgium/US staff in Brussels was also very enjoyable and helpful.
Over my two weeks, here are some of the activities that were accomplished:
Organized a new book on Data Analytics Applications in Education with Prof. Jan Vanthienen and Prof. Kristof de Witte (KU-Leuven), to be published by Taylor & Francis;
Attended a preliminary defense for one of the doctoral students at KU-Leuven;
Discussed opportunities for PhD Researcher Assistantships at KU-Leuven from students in the U.S.;
Visited the Dean of the Faculty of Economics and Business at KU-Leuven in exploring Visiting Professorship Program opportunities;
Attended the MIS Quarterly Big Data workshop held at KU-Leuven;
Confirmed the hosting of Prof. Jan Vanthienen on November 7-9, 2015 in Washington, DC for a talk at my university;
Explored opportunities for joint research in the analytics/intuition-based decision making and health IT areas;
Met with the doctoral students in analytics on a one-on-one basis, along with some meetings with the IS professors;
Discussed possible educational collaborations (programs/courses/student-faculty exchanges);
Toured Leuven, Brussels, Mons, Maastricht, and Gent (previously visited Brugge);
Discussed the possibility of refereed conference proceedings in Procedia-CS (that I serve as Editor-in-Chief for Elsevier); and
Gave three talks on "Big Data, Analytics, and Intuition: the Triad"; "How to Get Published: An Editor's Perspective"; and "Intuition-Based Decision Making: A Complement to Analytics".
I will always remember my Fulbright Specialist stay at KULeuven. I believe it is the start of future collaborations, and I even picked up a few words in Flemish! by Dr. Jay Liebowitz Distinguished Chair of Applied Business and Finance Harrisburg University of Science and Technology Harrisburg, PA Dr. Jan Vanthienen (Host) Professor of Information Systems Head, Research Centre for Management Informatics (LIRIS) KU Leuven Leuven, Belgium]]>