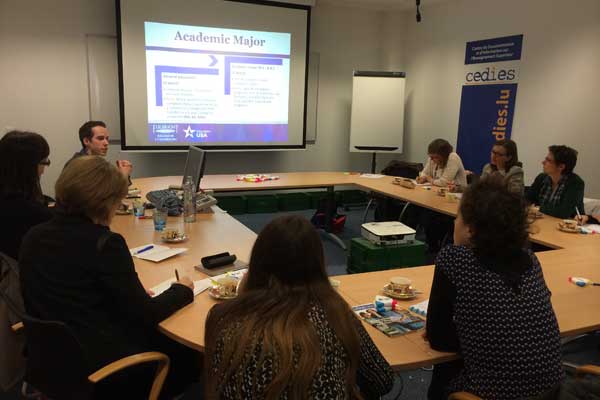 Since administration of the Luxembourg Fulbright grants recently entered again into the responsibilities of the Fulbright Commission in Brussels, cultivating relations with students and schools in this country has become all the more important to the Commission. It was in this context that Nathan Hoffmann, Program Manager and EducationUSA Adviser, conducted an educational training in Luxembourg this past week. On April 28, he was welcomed at the Centre de Documentation et d'Information sur l'Enseignement Supérieur (CEDIES) by a group of school counselors, psychologists, and teachers as well as CEDIES representatives.
With Stephanie Shaheen from the US Embassy to Luxembourg, the presentation mostly concentrated on general challenges that international students face when they apply to American universities. They focused on applying to US schools, how to talk to students about the application process, deadlines, and Nathan showed off the new EducationUSA website as well.
Information was mostly for students applying at the undergraduate level, though some was included some for graduate and post-graduate as well and a bit on internships. Nathan finished with an overview of Fulbright grants available to Luxembourgers.
The Fulbright Commission looks forward to a higher frequency of such trips to Luxembourg in the future!