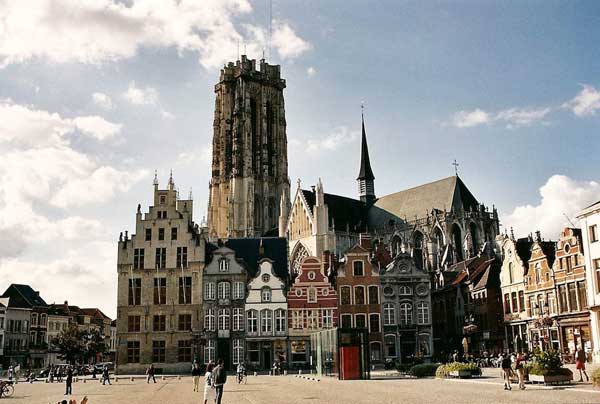 Something is happening in Mechelen. State of the art city planning, new ways of traveling and living, taking into account sustainability. Mechelen is a good example of renewal and smart city planning. Mechelen on the move, let's move ourselves. Let's hope Mechelen will move you, too!


10:15 Meeting @ Thomas More Campus De Vest
Zandpoortvest 60, 2800 Mechelen – www.thomasmore.be
Free parking  in between the Campus premises, or on parking staff. Please inform Cecilia if you come by car. Train commuters just take the main exit train station, turn right, keep on walking straight on and walk across a pedestrian bridge before reaching  Campus De Vest (10-minute walk).
10:30 Welcome to Thomas More 'Moves Your Brain' University College
Visit Campus Thomas More with special attention to Tourism & Leisure Management (& classroom of Cecilia) . Introductory session 'Mechelen on the Move' by Mon Schepers, fellow colleague of Cecilia.
11:15 Walking around @ 'Mechelen on the Move'
www.mecheleninbeweging.be

Have a look at the deep pits on the construction site of  the train station. Explore and see how  a smart urban master plan will move up a depressing traffic- stricken area  into a green and liveable area.
12:30 Lunch @ Travelers' Café Via Via
Zandpoortvest  50, 2800 Mechelen – http://www.viaviacafe.com/nl/mechelen
Get the feel of moving around in the world in the Travelers' café Via Via.  Enjoy a delicious lunch and sample local beer. For those having different tastes, water is served as well.
14:00 Time to Move….
Start and end of tour: Via Via  Discover Mechelen by (foot propelled) scooter.  Two local guides will make us move around in Mechelen  and will show us some well-known but also hidden treasures. Prior physical training is not requested. Please wear comfy shoes.
16:30 Did Mechelen Move You?
To round up, let's sample (again) one of the famous beers from Mechelen. And if  Mechelen really moved you, why not already plan a new visit to Mechelen?
Cost per person(all-inclusive:  lunch + drink, guides, rent of scooter, afternoon treat) = € 45. Please transfer the total amount due to the following bank account: BE79 2100 0848 5633 under the name "Fulbright Alumni Association.
Registration for this event is now closed.