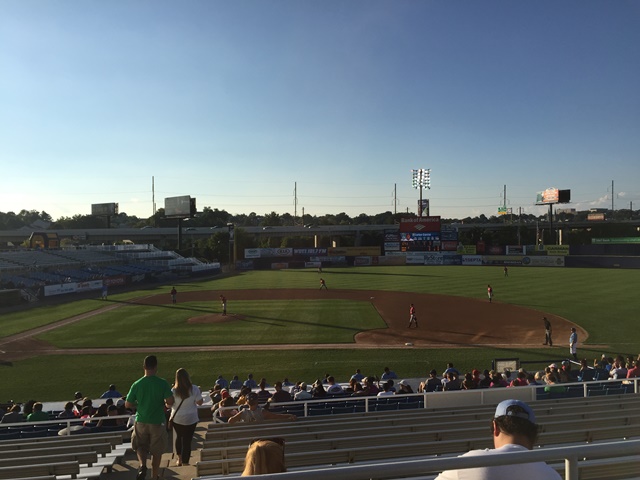 Last week, I celebrated my one-month anniversary in the U.S.: time really flies. However, it feels like I have been here for much longer, since I have integrated quite quickly into my new environment.
Shortly after my arrival, I went to my Fulbright Gateway Orientation Week at the University of Delaware. I spent five days with other Fulbright Grantees from all over the world and enjoyed it a lot. Going to my first Minor League Baseball game was one of the many activities but one that probably felt the most like a real American experience.
It was great meeting so many interesting and smart people that are pursuing careers outside of my field and I am sure I will stay in touch with them throughout my stay in the U.S. and beyond.
Back in New York, I moved in with two American girls and I am quite happy about it because it gives me the opportunity to engage with Americans on a daily basis. My roommates do everything to make me feel at home in New York, which made my integration really easy. We usually spend a lot of time together especially in the evening, cooking dinner and discussing American traditions, politics and policies. Also, we are already planning our Thanksgiving, for sure the most typical American holiday. It is my first time in New York, so I still have lots of things to explore. At the moment, I prioritize outdoor activities, like crossing the Brooklyn Bridge by foot, as long as the weather is still very nice.
My courses at university have already started and I am really excited about it. I had a lot of freedom in designing my schedule and I have a variety of interesting courses. The teaching style is very different from the typical European lecture style and I am convinced that I will learn a lot. My LL.M program being very international, I had no trouble meeting new people from all around the world.
I am looking forward to other great experiences this year.
– Laure Kieffer
2015-2016 Luxembourgish Fulbright grantee to the U.S. (LLM at Columbia University)