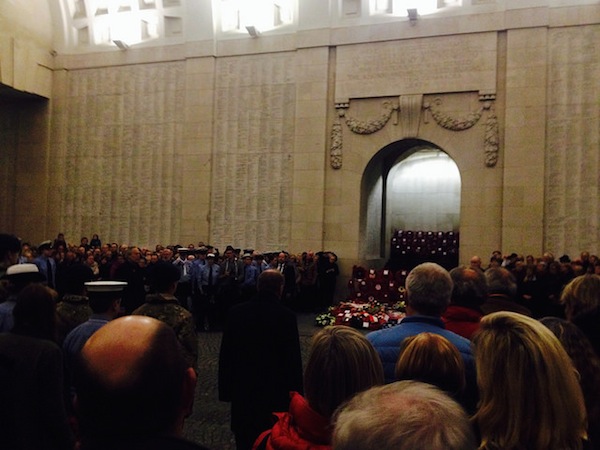 In addition to my research at KU Leuven, with which comes the experience of living in Belgium, Fulbright has offered the opportunity to visit Ypres and Normandy during milestone anniversaries of the World Wars. We saw and learned so much that is impossible to recount it all here. For us grantees, however, these trips might also bring into relief the difficult matters of the origins and purposes of the award, and so motivate us to wonder about our place in international exchange.
In mid-November of the centenary of World War I, we visited Ypres and the surrounding area, including those places known since as Flanders Fields. It was cold and rainy, so we felt some of the sticky, heavy soil that was itself responsible for many casualties. There, each cemetery and memorial has a style according to the tradition of its homeland—oaks often surround the German sites and Maples mark the Canadian, for example. Some, containing a few plots, are among fields recently plowed up for winter; others, like those at Passchendaele, are a few acres of similar gravestones surrounded by thick walls.
Our guides through the fields, memorials, and museum, gave us facts about the war that filled our experience there. Still, we felt the distance between this world and our own. The cavalry wagons with thick ironwork laid over lumber, somewhat preserved in the museum, might have been the Trojan horse herself, especially as nearby sat the strangely more familiar flame-thrower and anti-aircraft shell casings. The trip ended with the Last Post ceremony at the Menin Gate in Ypres.
One month earlier, we had joined the Council on International Educational Exchange (CIEE) for a trip through Normandy. It was seventy-five years after the invasion of Poland and seventy since the battle on the beaches of Normandy. The weather was warm and clear, in contrast to Ypres. Driving through the countryside's small villages, we approached the coast, going first to Pointe du Hoc, then down to the beach, now known as Omaha. Some of the craters, trenches, and artificial sea wall created during the invasion remain. It is difficult, however, to transpose onto the now quiet place those images of the sky filled with bombers and paratroopers, both of which often missed their targets and fell throughout the same villages where we had driven, and the sea with countless landing crafts and soldiers that may have never reached land or home. We ended our visit with a walk through the American Cemetery above Omaha beach.
To be sure, thinking about these events at these places finds the limits of imagination and understanding. But sometimes here, in this experience of limitations, we are nearest to—and so might see more clearly—that toward which we are reaching. If we remain thoughtful, our search for meaning, through the events, to which the places belong, appears.
From the current of these wars, the Fulbright program was established to promote good will. When applying for this award, we each explained how our particular research requires certain laboratories, archives, or schools within Belgium, and also how we will bring back to the United States what we have gained therein. We prepared ready answers and intend to remain true to them. Perhaps now a different task has emerged, however: to understand how our experience itself might be a source of good will. And if, as we visit these places, both wonderful and terrible, we continue to ask why we visit them, we might at least begin to reach beyond our own satisfied curiosity, beyond our own projects, toward their meaning. For then, I think, we must also listen to others, especially the displaced, who can teach us. In this way, we may be prepared in that good will we hope to promote.
– Andrew Barrette