<![CDATA[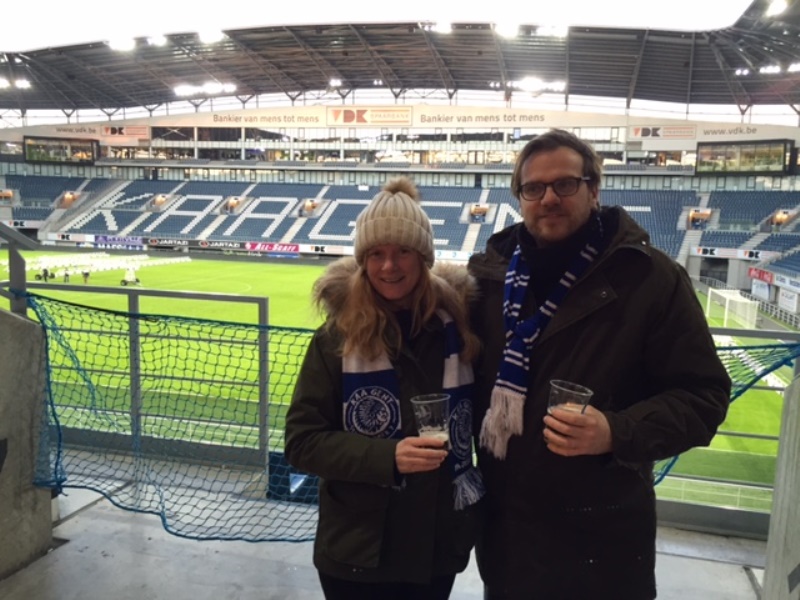 I taught at the University of Ghent! When I began the Fulbright application process I was pleased to discover a new opportunity: the Fulbright-Terra Foundation Award in the History of American Art. I immediately contacted the art history department at the University and soon made the acquaintance of Professor dr. Steven Jacobs. He and I both had a very limited time to discuss the prospect of my teaching at UGent so we met (and I was interviewed) on the train as we both traveled to Antwerp. It was an engaging conversation and at our arrival in Antwerpen Centraal station I had a letter of invitation in hand. The thrill of being accepted by the Faculty of Arts and Philosophy defies words. I was honored to teach at this storied academy. To teach and live in Ghent, one of the prominent centers of Western art history was the opportunity of a lifetime. While in Ghent, I was able to combine research with my love of teaching…and what better to teach art history students in Ghent: a class on Modern art and New York City! I hold a full-time faculty position teaching art history at Baruch College in NYC, a city that became the art capital of the western world after World War II. It still remains a vital site and one that I assumed most of my students at UGent would visit some day. I was assigned to teach the Fundamenten course – a required course for the 100+ students who had declared a concentration in art history. I designed the class chronologically as well as geographically creating a virtual walk through the many and diverse neighborhoods of Manhattan. It was a joy to teach them about the city I love and know so well. In my lessons I shared stories of what it was like to be in Penn Station the Wednesday before Thanksgiving (horrific) and the craziness of Manhattan during Santacon when thousands of drunk Santas roamed the avenues. I was so happy that the students loved the class. I had been forewarned that it would be difficult to get students in a lecture course to participate in class discussion, but I found that a highly animated redhead from New York City (via California, Ohio, North Carolina, and, if I am being truly honest here, New Jersey) was just the energy they needed. They shared stories with me about Ghent and about themselves and the small towns from which they came (so many from Bruges!). I discovered that the practice of university students taking laundry home on the weekends was still alive and well. I confess to a thrill each time I was referred to as Prof dr. Shelby. I was surprised to learn that not only did I not write the final exams, I did not grade them either! While it was a relief in terms of workload, I had a feeling of disconnect and was terribly sad at the end of the class. But I was mollified by a round of beer with students on the last day. They were so pleased to take me to a small dive bar near the university, but it was clear that my choice of beverage was to be within their budget. No Duvel or Westvleteren for me (try pronouncing that last one!) My other course, a seminar for M.A. students, incorporated my Terra research.
The class examined the collecting practices of American art by Belgian (in this case Flemish) private collectors and institutions such as S.M.A.K. (Stedelijk Museum voor Actuele Kunst, Gent). The study is being written up for publication in IL CAPITALE CULTURALEL Studies on the Value of Cultural Heritage. Unexpectedly, through the collaboration and friendship of Ann Cesteleyn, a plan for an exhibition project and symposium also resulted from this research. Ann and I also collaborated with Dr. Aurelie Daems and Steven Jacobs to organize a trip for UGent students to NYC in Fall 2016. For some of these students it will be from Bruges to Brooklyn as they see many of the sites discussed in the Fundementen course. It was lovely to have several of my worlds collide during one Thursday evening lecture. I invited a former colleague from Baruch College, Nadine Helm a Berliner and doctoral candidate at the University of Zurich, to give a talk, which coincided with Open Class day for high school students at UGent. After attending some theater history courses, 17 year old Anäis Maes sat in on my Fundamenten course and afterwards, while having drinks at Vooruit, impressed the doctoral candidates and professors with her knowledge and maturity. I felt like a proud mama.
And on the Hoogpoort, near my local grocery store, I ran into a man wearing a Baruch College sweatshirt! I was lucky to find a lovely apartment near the center of Ghent. I lived around the corner from the 12th century Gravensteen (the castle of the counts) in a 17th c. house. My extremely kind landlord was Tristan Charlie Benjamin Vanderwalle (Charles, for short), a native Gentian whose father, Ben ter Elst (full name Bernardus Johannes Marinus ter Elst!), founded Studio Skoop in1970, the first art house movie theater in the city. A sweet ginger kitty, walking from apartment to apartment along the gutters, visited several times a day making feel right at home. I flooded my Facebook page with photos of the lovely Ghent canals, bridges and buildings with family and friends from all over oo'ing and ah'ing over the beauty…except for 16 year-old Elise Maes who thought all of these comments were so silly – "everything in Belgium looks like this!" she said. The views from my attic rooms were of the Gravensteen, the Belfort and Sint-Baafs Cathedral (consecrated in 942!), the site of Jan Van Eyck's Altarpiece of the Blood of the Lamb (or as we simply say: the Ghent Altarpiece)(1432). Living in Ghent is an art historians dream. I was pleased to discover that Kris Martin, the Flemish artist whose work is a new focus of research, lived right in Ghent! His amazing Altar (2014), which consists of the empty outline of the Ghent Altarpiece, was first installed at the sea in Oostende, just north of Moere, where I visited the Maes's, my Flemish "family," in West Flanders. The work is also located at W. 24th St. on the High Line serving as both a historical frame for Flanders and New York City. These two site-specific locations brought together both of my homes. There was even an art installation on the Universiteitsforum (Ufo) at the university (Thomas Lommée (2015)). This art historian could not have been happier.
The initially confusing streets that twisted and turned from tram thoroughfares to tiny alleys (steegjes) became familiar and with a rusty green bike I soon felt at home. I was told I was truly a Ghent citizen after I fell from my bike (those pesky tram tracks!) on Gebroeders Vanveldestraat (the Vanvelde Brothers' Street) while rushing, in the rain, to get to the Delhaize grocery store before it closed at 8:00! It was an embarrassing, if a bit proud, moment. Even as a seasoned biker in New York City, which is not for the faint-hearted, I was daily intimidated by those tram tracks and the uneven cobblestones. From Ghent I was able to visit the Antwerp Cathedral and Ruben's Descent from the Cross (1612), the MAS (Museum aan de Stroom – or Museum on the River) and MuKHA (the Museum of Modern Art, Antwerp). In Brussels I saw the art museums with so many masterpieces in the pantheon of art history including – be still my heart – David's Death of Marat (1793). I was able to re-visit World War I sites and learn of cemeteries and museums with which I was unfamiliar. I attended a sobering Armistice Day observance under the shadow of the IJzertoren, a partisan monument erected to only the Flemish soldiers in the Belgian army, in Diksmuide at the Belgian Front and walked through countless British cemeteries in the Ieper (Ypres) Salient. Through Ann Cesteleyn and artist and curator Wim Waelput, I was exposed to the wonderful KIOSK Art Gallery, a small gallery with a big agenda, located within KASK (the School of Arts of the University College Ghent). Through Wim I learned of the rites, rituals (and politics) of KAA Gent – and why, exactly they were called the Buffaloes – the voetbal team of the city. Lunch with new friends Aurelie, Ann, Steven and others kept me social. It was lovely to have the women at Barista, the café where I enjoyed too many warme chocolade met slagroom (hot chocolate with whipped cream) remember my name and help me procrastinate during the afternoons when I was camped out writing. And throughout the semester were sleepovers with the Maes family in Moere (Marvin Gaye lived there for several years in the early 1980s!) and the odd assortment of animals including chickens, geese, a sheep, two donkeys, four cats, a dog, birds and a hamster named Shelly. On many weekends I suffered through their friendly ridicule of my Dutch pronunciation. By the time I left Belgium, I was able to fake it well enough that when a conversation continued in Dutch at a service counter, I had to fess up to my acting skills.
During my four months in Ghent, I had several "pinch me" moments where I just could not believe that I was living in this friendly and beautiful town in one of the prolific regions of artistic production. With the art, spectacular city and rural views, and five (and sometimes more) chocolate spreads for sale in every grocery store, what's not love? — Dr. Karen Shelby 2015-2016 Fulbright Terra Scholar to Belgium]]>