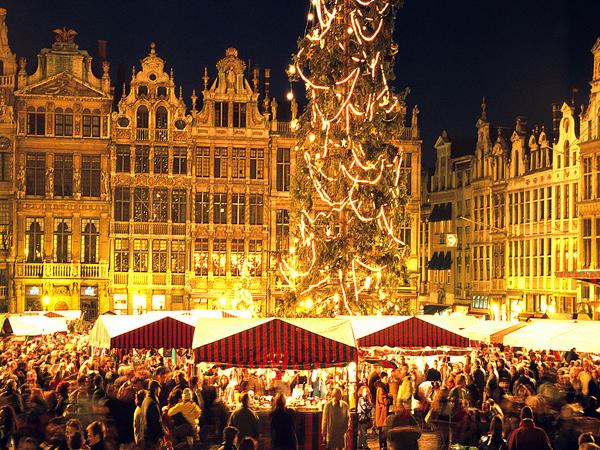 Join Fulbright alumni and current grantees in December 2016 for holiday events organized in your area! The Fulbright Alumni Association will be organizing visits to Christmas markets across Belgium: in Brussels on 3 December, in Ghent on 9 December, and in Liège on 10 December. The event is free and open to grantees, alumni, and their guests!
Read more about the event schedules and register below.
Brussels on Saturday 3 December
15:00 – Visit to Belgian Comic Strip Center (optional)
The Belgian Comic Strip Center is features the art from stories of Tintin, the Smurfs, and countless other characters, truly making this an event for the entire family! Please note that entrance to the museum costs 10€ for adults, with discounted rates for seniors, youths, and children under 12.
Belgian Comic Strip Center, Rue des Sables 20
17:30 – Meet at Brussels Central Station
17:45 – Brussels Winter Wonders Christmas Market
The Winter Wonders Christmas Market is located in the heart of Brussels and is Belgium's largest Christmas market. It features over 250 wooden chalets where grantees and alumni can enjoy amazing food, drinks, and more. Special aspects of this market are the Origami Lights that will be displayed on the Sainte-Catherine Church, a 22-meter tall Christmas tree located in Grand Place and a Christmas parade on the 11th of December. The Christmas market also features an ice skating rink and ferris wheel.
Ghent on Friday 9 December
19:00 – Meet at Korenmarkt
19:15 – Gentse Winterfeesten
The Gentse Winterfeesten is an authentic holiday market in the historic center of Ghent. The more than 140 chalets offer food and drink as well as the opportunity to do some gift shopping with your choice of scarves, mittens, candles and so much more!
Liège on Saturday 10 December

16:00 – Visit to Museum of Wallonian Life (optional)
The recently-renovated museum invites you to discover life in Wallonia from the 19th century until now. A sophisticated scenography depicts objects and archival material and mixes ancient and contemporary elements. The five themes encountered focus on Walloon society, people, ideas, and know-how… Lots of discoveries, emotions and surprises! Please note that entrance to the museum costs €5 for adults, with discounted rates (€4) for seniors, youths, and children under 12.
Cour des Mineurs, 4000 Liège
18:00 – Meet at Place St. Lambert
18:15 – Village de Nöel de Liège
Now in its 30th year, the Village de Nöel de Liège is the largest one of its kind. Rather than a mere marché de Nöel, the Village de Nöel embraces the spirit of an authentic holiday village, complete with a mayor and village council! The chalets offer a variety of culinary delights and special games and activities for children make it ideal for the whole family.
While there's no need to pay in advance, we do ask that participants register online at https://goo.gl/forms/ZRqIt99wZOnPHYfA3