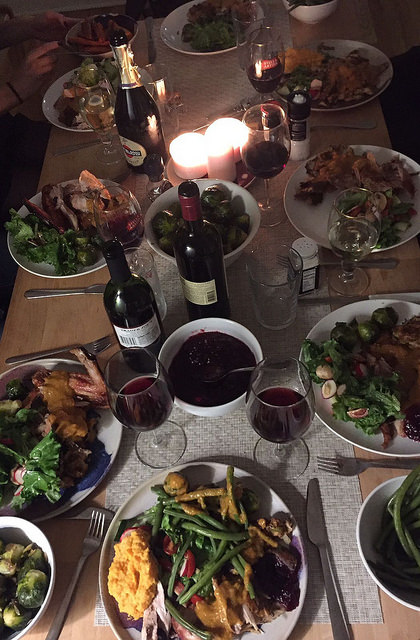 Thanksgiving weekend is only just over, and already New York City's organised chaos is being lit up by Christmas lights and dreamy decorations. Americans are in their usual rush to celebrate their favourite holiday – although the average American's enthusiasm for any kind of celebration does make it hard to discern which holiday they hold closest to their heart. One thing is certain: Thanksgiving represents the authentic American spirit and has not yet infiltrated other cultures around the world – if we don't count the Black Friday sales that are associated with it, obviously. It was therefore a special weekend for all the international students in my program – a Masters in Law at Columbia – and we were truly thankful to experience it in person.
True to tradition, a made-from-scratch dinner was organised – turkey and apple pie included. Most American students, who are not originally from the city, return home over the weekend and take the time to be with family. For those who stayed, it felt exactly right to celebrate with the friends we made since our arrival in New York. We sat together as a surrogate family and in that moment, it was clear to us we could not be more grateful for the opportunities this year has given us. If living in New York isn't already exciting enough in itself, I find myself surrounded by inspiring, determined, intelligent and compassionate people. There must be something in the air at this time of year – or the food, perhaps the wine – that inflicted that realisation on each of us and we took turns around the table to express what we were most thankful for, a tradition for American families as well.
Besides family and food, Thanksgiving is also a moment for engaging in public service: a way of giving back to the community and creating a feeling of inclusion for all people, particularly those less fortunate. Earlier during the week, a number of Columbia students took some time off studying, got on a bus, and drove to Rikers Island jail complex to serve Thanksgiving dinner to young men detained on the island. I volunteered to go with them, in part to remind myself we live in a city where the standard of life varies incredibly from borough to borough, and remaining aware of life outside of our Ivy League bubble is vital to truly appreciate what we have. More importantly, however, I wanted to do something for the teenagers interned at Rikers. New York still prosecutes all children older than 16 when they are accused of a crime. The fact that young 16- to 17-year olds are held at a facility notorious for its brutality appals me. Specifically, Rikers had been on my mind since I read Kalief Browder's story in The New Yorker some years ago (see http://www.newyorker.com/magazine/2014/10/06/before-the-law), and I took the opportunity to see it for myself and do something for these boys – however little that might have been in the grand scheme of things.
At Rikers, we were directed to a sports hall where the temperature was not much higher than outside. Our way to the hall was slow, as we passed sliding door after bolted door, and an instant feeling of dread came over us as we were ushered into the soberly decorated hall. Think any American movie or series featuring orange uniforms and you get the idea. The intention was to serve food and sit down with the boys to talk, to make them feel valued and remembered during the holiday season. Someone was playing piano – religious tunes – and a couple of boys were already quietly sitting at small tables. They were all of colour. Spirits seemed to lift a little when a pastor delivered a passionate speech in which he showed understanding for their situation and asked the boys to believe they were better than the circumstances they were in today. There was a stirring moment in which he asked them to repeat after him: "I AM somebody!" and the boys followed suit with conviction. After a while, I had the opportunity to sit down and share some conversation with two boys. We talked about sports, animals and family. I was struck by how young and vulnerable they seemed, and by how they reminded me of my own little brother who is about the same age. At that point, it did not matter what they were being accused of. There was only the heart-breaking feeling that these children represented the face of injustice, that they were too young to be subjected to the same treatment as adult men. One said: "If I were an animal I would choose to be an eagle." I asked why. "When you are a predator, no one chases you."
For me, Thanksgiving in the U.S. was filled with contradictions. From the loneliness of Rikers to the festive dinner with friends, from the sales extravaganza on Black Friday to 'Giving Tuesday' – the last day of festivities during which everyone is invited to support charity. It continues to invite for reflection and I hope sharing this story gives everyone a little food for thought.
— Jasmine Rayee, 2016-2017 Fulbright grantee