From all the American chick flicks I've seen, I created the impression that every American college student is engaged in some sort of student organization. So when preparing to go to the USA, I had the idea I would join a club, an idea I pursued! Upon arriving at the George Washington University, I found out there are many student organizations. At the end of August there was a big student organization fair on campus where most of the clubs presented themselves, there were probably 150 student clubs present! It left me a little overwhelmed, but eventually I chose 3 clubs to join. Two of them are educational/social, and the other one is a sport team.
As for the educational student organizations, I'm a member of the association of forensic science students and the student organization for forensic psychology (I am pursuing a M.A. in forensic psychology). Although they sound the same, they are quite different. The association of forensic science students includes not only psychology student, but also people from M.S. in crime scene investigation, M.S. in forensic molecular biology… The whole squad from TV shows such as CSI or Criminal Minds! The meetings are both educational and social, this year we already had a speaker on the role of private forensic laboratories and a ghost tour! But many other things will come up, last year they had tours in the Pentagon and the headquarters of NCIS, speakers who provided analyses on well-known murder cases,… It's a very nice way to learn more about the broader field of forensic sciences. If I'll end up doing police/intelligence work, it's an advantage to know more than the psychologic part of it. The student organization for forensic psychology is a new club that only started this year, so we have not had an official meeting yet. The plans for it are big though, we'd like to organize our own internship fairs (walking into a normal internship fair with the idea that you will find a place to work with criminals is not a fruitful endeavor), create our own magazine, bring in speakers on psychologic topics, create strong relations with people from the FBI, CIA,… It should be fun once we get started!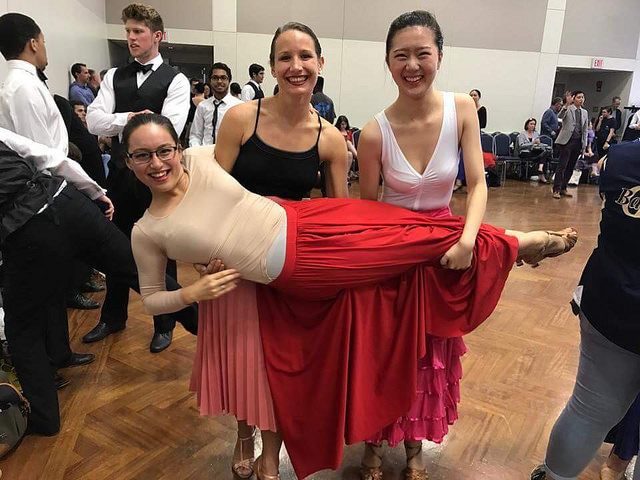 As for the sport team, I joined the GW ballroom team. I've been dancing since kindergarten but never tried ballroom, but since I always envied people on Dancing with the stars, I figured this would be a great opportunity to learn it! I'm very happy I joined the team, it's tons of fun learning new moves and the group spirit is lovely. The more advanced team members are engaged and always willing to help or answer questions, and the people I'm learning to dance with are really fun and kind. And we don't just practice, but go to dance competitions as well! I've only competed in Washington DC, but the more advanced I get, the more I'll be able to travel around to compete. Something to look forward to for sure!
And although it's technically a student organization, I would like to mention that spending time with other Fulbright students is one of my major after school activities as well. We are a big group in Washington DC and try to meet up every week. It's lovely to meet grantees from all over the world or close to home, share experiences with them and just have fun together. We help each other out with practical issues as well, everyone is very helpful and motivated. Some of the grantees are friends I met during my Gateway Orientation so it's especially nice to see them frequently and hear about how they are achieving their goals.
Taking all of this together, I understand why many college student join clubs. They simply are tons of fun and also educational. They broaden my point of view and comfort zone, I've learned a lot from them already, not only about educational topics but also about the American lifestyle since I'm surrounded by American citizens most of the time. And they learn something from me as well, so I've been told. Cultural differences come in all shapes and sizes, and being in student organizations makes me discover and appreciate tons of them!
– Heleen Raes
2016-2017 Fulbright grantee at The George Washington University