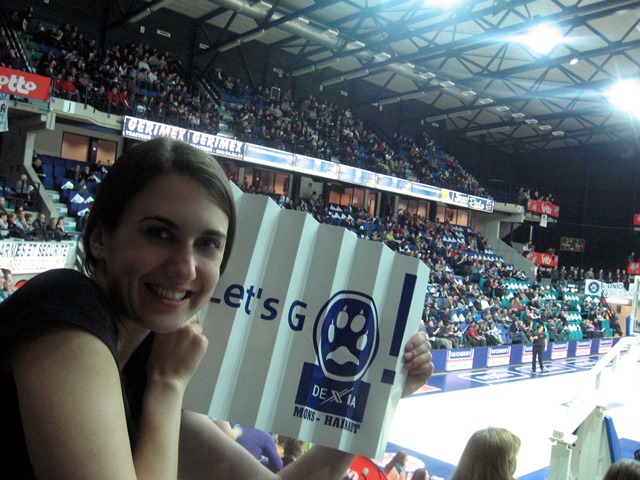 My Fulbright ETA grant officially ended in July, 2011 when, after having closed my bank account, returned my residence card, and sold my Ikea furniture to my landlord, I boarded a flight from BRU to ORD to begin my post-Fulbright life in the U.S. Though the country that had become my home for the past nine-months faded behind as I crossed the Atlantic, I suspected the impact of the time I had spent within its borders would last. As I now approach my five-year anniversary of submitting my grant application, I am reminded of the continued influence that my Fulbright experience has had on the professional, academic, and personal aspects of my life.
Immediately upon returning to the U.S., I started a position in the admissions office at Kalamazoo College, where I worked for three years before beginning a Master's program in Rhetoric, Writing, and Linguistics at the University of Tennessee. With the presentation and communication skills I had used while teaching American Civilization at the University of Mons, I easily transitioned into my new admission counselor duties, which included interviewing prospective students and leading information sessions on-campus and at high schools nationwide. Now a graduate teaching associate in the English department at the University of Tennessee, I still find myself relying on practical knowledge I acquired during my time in Belgium. Having already developed a course curriculum, prepared lectures, led classroom discussions, and graded written assignments as an ETA, I felt prepared to begin teaching college composition courses in the fall.

My Fulbright experience has also influenced my academic trajectory in ways I didn't initially anticipate. Having graduated with my B.A. in French three months prior to leaving for Belgium, I was excited to immerse myself in the language full-time by living and working in Wallonia. Once I arrived in Mons, however, I began to notice the nuances between the French my new friends spoke and that which I had been taught in school. These observations, which spurred an interest in the intricate link between language and identity, led me to eventually choose a graduate program with a focus in rhetoric and linguistics. Living in Mons, home to multiple UNESCO-designated site and practices, also piqued my interest in cultural tourism, community, and representations of heritage. Un-coincidentally, I am now embarking on a Master's thesis that examines the UNESCO heritage program more closely through a rhetorical lens. While my current research does not focus on Belgium specifically, the time I spent living in an area rich with World Heritage Sites has definitely impacted the passion and perspective I bring to my work.

Perhaps the most prominent take-away from my time as a Fulbright grantee for me personally, though, are the relationships I developed with those I met abroad. Since my grant ended, I have reunited multiple times with Fulbright-friends, on both sides of the Atlantic. When people hear that I completed a Fulbright grant, they often ask what I did while away. The short answer is that I "taught English at a university in Belgium." The fuller answer, though, includes volunteering with a local scout troop, participating in English conversation nights at the local pub, giving a lecture about the American higher education system at a neighboring university, organizing a line-dance performance for the school's English Night, cheering on the local soccer team in a crowd on the town square, and ultimately creating my own international community of both friends and colleagues.
To stay in touch with and support the organization that supported me throughout this experience, I recently became a lifetime member of the Fulbright Association and will be attending my first-ever Annual Conference in Atlanta this November. As I reflect on the impact my Fulbright grant has had on my own life, I look forward to connecting with and learning from others whose distinct projects have positively impacted their own lives and the work they are doing in the world.
– Katie Williams
2010-2011 U.S. Fulbright grantee to Belgium