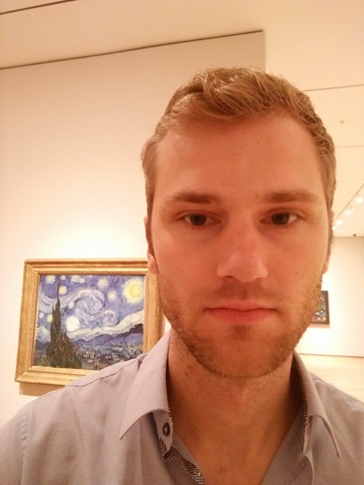 MoMa is the place to be for art lovers in New York. On Fridays, admission is free and people are queuing up to enjoy MoMa's vast collection. If you feel up to the task, you can join the throng and fight your way up to the masterpieces such as The Stary Night of Van Gogh. Maybe you can even take a picture of Les Demoiselles d'Avignon with only a few heads of random people cluttering your photo.
I said no to that and yes to the invitation of Fulbright/BelCham to join them on a private tour after hours. We had an incredible enthusiastic guide, with hair in disarray and shoes from the sixties. She really looked the part of a PhD in art and took us on a journey through the fifth floor of MoMa. We were able to enjoy the art collection in an inspiring peace and quiet. Our guide painted a picture of the 20th century where Picasso, the most talented painter ever, is first part of the avant-garde, introducing cubism, but later despises abstract art. We saw Matisse's response to Picasso's five most ugly women in art history; the dance. It is an joyous anticipation of perfection, of unity and harmony. The colors breathe and you cannot suppress a smile while watching the painting. Finally, we had to end with a US artist and we admired Pollock's energetic work.
No private tour without a beer and thus we plunged into the after-work bar-life. It is only my second week in New York but it turns out to be as magical as promised!
— Dr. Jonathan De Roo
2016-2017 Fulbright Visiting Research Scholar at Columbia University, New York, USA
Ghent University, Ghent, Belgium