Last August the moment was finally here; I was moving to New York City. A dream come true for a Broadway enthusiast like myself. I learned very quickly that the U.S. was full of wonderful opportunities for professional growth and fun events, you just have to share your enthusiasm with other people and ask them directly for help.
I met other students during my orientation at Columbia and many of them were adjusting to life in New York City just as I was. Native New Yorkers gave us newbies useful tips to explore the City of New York on a smaller budget. I figured out how to score relatively cheap Broadway shows and I have honestly seen so many during this year that I had to stop counting. Many shows sell their last-minute tickets early in the morning when their ticket office opens for a fixed price of typically around $20 (also those are usually some of the best seats in the room). My favorite Broadway show this year was Lerner and Loewe's My Fair Lady and seeing it live was a dream come true for me as this was the shows first return to Broadway in 25 years.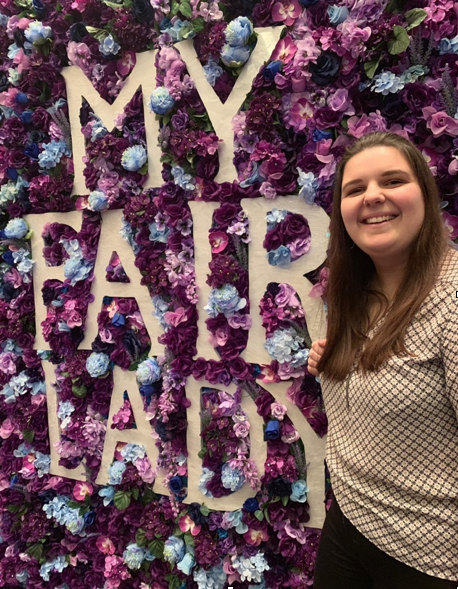 However, there is so much more to do in NYC besides spending all your money on fantastic Broadway shows. People in the US love to celebrate their holidays big, so I obviously could not miss out on one of the biggest events of this sort: the Macy's Thanksgiving parade. I again relied on the tips of native New Yorkers, so I got there very early and was dressed as warm as possible since this was one of the coldest Thanksgiving Days ever recorded in New York City (lucky me).
I even ventured out of the big apple on a few occasions and for example, went apple picking. To my surprise, the train system in New York State is well organized and allows for cheap day/weekend trips out of the city. Apple picking turned out to be so much fun as they had an entire small festival there. There was live country music, a selection of deep-fried food well beyond my imagination (deep-fried Oreos? Why?) and the apple cider was EXCELLENT.
Another great way to explore not just New York but also the rest of the country was visiting other Fulbright grantees and attending Fulbright events organized in the U.S. I went to see a Fulbright grantee in Boston which was a wonderful opportunity to catch up with her and see more of the East Coast (another little travel tip of mine is to use the long-distance bus system in place as those tickets can be very cheap compared to train fare). One of the Fulbright events I attended was a celebration at the Luxembourgish Embassy in Washington D.C. It was a great privilege to meet the Luxembourgish ambassador and a welcome opportunity to speak my own language again, even if it was just for one evening. I highly recommend future Fulbright grantees to take full advantage of these events and explore this country as much as possible.
Lastly, I learned the same lesson when it comes to my academic and professional growth: Just share your excitement with others and ask people around you directly for new opportunities. U.S. universities have so many options available to students to further explore their interests and build professional skills, but you need to be proactive. I found that professors often value if you just come and talk to them directly about your interest. This did not come naturally to me as such close contact to professors is not always the norm in Europe. It took a little more convincing but finally, I approached faculty members directly and got to know them a bit more. It is a privilege to hear more about their projects and these connections have been one of the most valuable additions to this experience. Luckily, I got multiple opportunities to work with faculty this year and even got to accompany one of my professors to a conference in Tunis as his research assistant. Coincidentally I will be returning to Tunis this summer for an internship, an experience that was only made possible through connections of a Columbia faculty member.
Therefore, the biggest lesson I learned is to actively seek out opportunities, listen to the advice of people around you and try as many new activities/places/etc. as possible. These steps have made my experience so unique, gave me many beautiful memories and wonderful friendships.
Lisa Krecke is a 2018-2019 Fulbright Student in public health to Columbia University. Lisa Krecké was born in Luxembourg, where she also grew up. She moved to the Netherlands in 2015 and attended Leiden University College The Hague. There she obtained a Bachelor of Science in Global Public Health.

Articles are written by Fulbright grantees and do not reflect the opinions of the Fulbright Commission, the grantees' host institutions, or the U.S. Department of State.