Even though I had been looking forward to studying in the United States for such a long time, I was still surprised by how amazing the experience was of pursuing a Master of Laws (LL.M) at Harvard Law School.
In the first place, Harvard Law School is an incredibly stimulating intellectual environment. I mainly took courses in corporate law and finance, but the way the law is taught is very different from what I was used to. I had quite a lot of seminars, where the focus is not on the professor presenting a lot of material, but rather on a debate between fellow students – all of whom are incredibly intelligent and knowledgeable. In addition, many of the courses did not have exams, but required several response papers where you had to comment on the papers on the reading list. As an academic (I was in the middle of my PhD in corporate law before coming to Harvard Law School) I loved this approach, because it stimulated a lot of discussion about the rationale behind legal rules.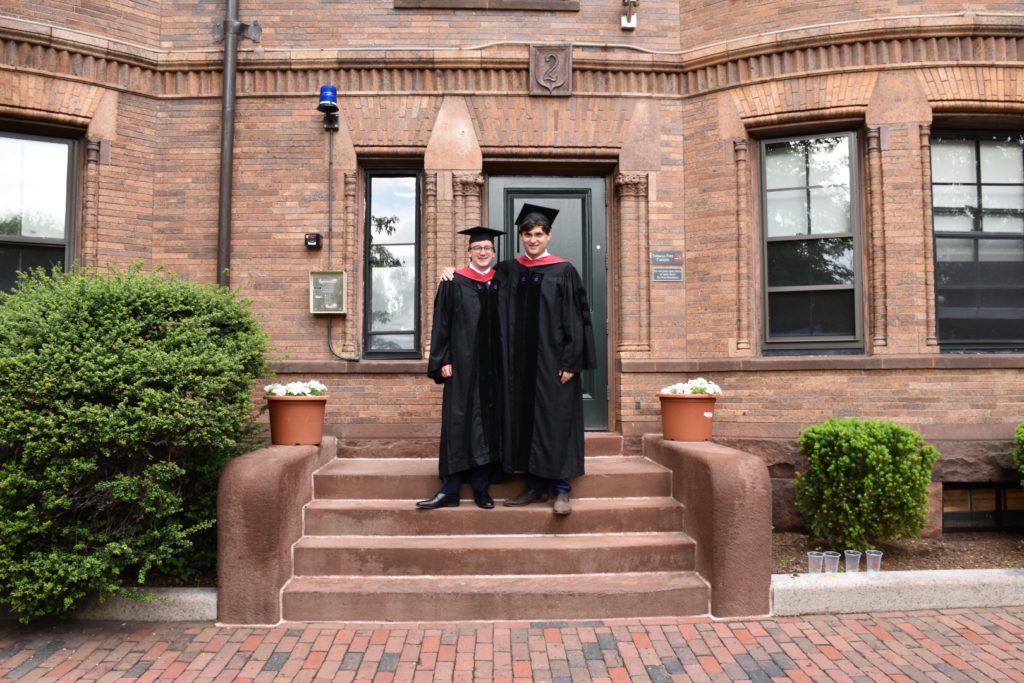 My time at Harvard Law School also allowed me to acquire new skills. I followed two courses on empirical research, which is becoming increasingly important in legal research and which I want to use in my own research. I could also immediately put my newly acquired empirical skills into practice by doing empirical legal research for the paper that is required as part of the LL.M degree. I was lucky enough that two professors at Harvard Law School, Jesse Fried and Holger Spamann, had just co-authored a paper that introduced a new theory that was extremely relevant for the topic of my PhD research (which was one of the reasons why I wanted to come to Harvard Law School). Therefore, I decided to collect empirical data to test their theory in my paper, and both professors gave me a lot of advice during the research and writing process. In the end, the paper was awarded the Victor Brudney prize at Harvard Law School for the best paper in corporate governance, and I also received a summer academic fellowship to continue working on my paper after my graduation, something which was only possible because of all the support that Harvard Law School offers to students pursuing academic research.
But the amazing experience that Harvard Law School offers is not limited to the classroom. For example, Harvard Law School offers a wide range of student organizations, and I was involved in a couple of them, from the more serious (such as the Harvard Business Law Review, a student-edited academic journal) to the slightly less serious (such as In Vino Veritas, Harvard Law School's wine club). The most rewarding experience for me, however, was my participation in the Harvard Mediation Program. Harvard is famous for being a pioneer in the research and teaching around negotiation and mediation, which has always interested me a lot. In the Harvard Mediation Program, we first received 32 hours of training in being a mediator, after which we were sent out to mediate real-life court disputes. I was assigned to the small claims court, where I helped people resolve conflicts regarding, for example, rent, employment or small commercial contracts. I cherished this opportunity to put the knowledge I acquired into practice and give back to the community, and I got to know a lot of people with a similar passion as mine.
However, only focusing on my academic experiences would neglect many important aspects of my time in the United States. The 2019 batch of LL.M students at Harvard Law School was a wonderful group of students, and I think I found friends for life there, as well as a great professional network. 
In addition, since my year at Harvard Law School was my first time in the United States, I wanted to see as much as possible from this country. I traveled to Boston, San Francisco, Reno, Austin, Washington DC, Newport, New York, New Haven, New Orleans, Atlanta, Nashville, Memphis, Cape Cod, Seattle and Portland (both in Oregon and in Maine). A few of these trips were also made possible by Fulbright: my Fulbright gateway orientation in Reno, a Fulbright Belgium/Luxemburg trip to Washington DC, and my Fulbright seminar in Atlanta. I was also lucky enough that my spring break started right after my Fulbright seminar in Atlanta, which allowed me to visit more of the south during a road trip with other LL.M students from Harvard Law School, during which we experienced the south's unique history, culture, music and hospitality.
In short, my time in the United States gave me a lot of inspiration to renew my PhD research at the KU Leuven. It also gave me a new perspective on the United States and incentivized me to come back one day to learn even more about it.
Tom Vos is a 2018-2019 Fulbright Student in law to Harvard Law School and recipient of the Harvard Boas Award"
Articles are written by Fulbright grantees and do not reflect the opinions of the Fulbright Commission, the grantees' host institutions, or the U.S. Department of State.