One of the things I love most about teaching English at EIDE (École International de Differdange et Esch-sur-Alzette) is how varied each day is. I float through different classrooms throughout the day, which gives me the opportunity to always be interacting with different teachers and students. As an ETA, I work at the first public international school of Luxembourg. The school includes both primary and secondary levels, but as of now the oldest students are about 14, or the equivalent of 7th grade, because the school was created in 2016 and is still growing. I have the pleasure of working with pretty much every single grade, from P1 (1st grade) to S2 (7th grade). Even though I have the same schedule every week, the weeks are never the same and I am always learning more about teaching methods and education within Luxembourg.
Let me bring you along on a typical Monday teaching at EIDE in Esch-sur-Alzette! I've got three different age groups all with different English language abilities in rapid succession today, so get ready for some international fun.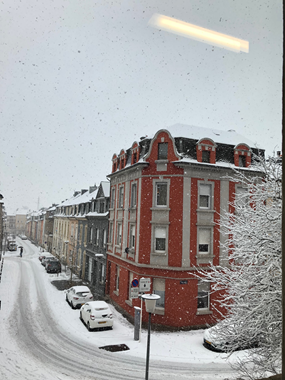 I am lucky enough to live only a 10 minute walk from school, so on Monday mornings when I don't start lessons until 10:15am I have the time allow myself a leisurely start to the day by drinking some tea while checking emails and planning out my week. Eventually around 9:55, I make my way out the door, take a left, walk down the main shopping street in the city center of Esch and then head up the hill atop which sits my school, a large previously secondary only school built in the 1920's. As I walk through the doors, my ears and eyes are greeted by energetic shouting from the secondary kids who are enjoying their 15 minute morning break. I say hi to the students I know and climb the stairs to the 1st floor where my first team-teacher of the day stands watching over the students. We chat for a bit, making sure we're on the same page for that day's lesson and then when breaks over, we head upstairs to the 3rd floor (or 4th floor for people from the US).
My lessons with my S2 class vary from week to week; sometimes we work on grammar by doing skits or writing short stories; sometimes we talk about US history and geography with readings and slideshows; sometimes we're in the computer lab doing research on the projects they have been assigned about various US states and cities. I have 90 minutes with this beginner-level English class on Mondays, so we usually manage to have a variety of activities to break up the long class, with a combination of reading, writing and speaking (I find this one the hardest for them and therefore the most important). It's only a class of 12 students which makes it easy to ensure everyone participates (not all Luxembourgish students are so keen on speaking in class), so that I can keep track of their progress. After they leave to go to their next class, I reflect with my team-teacher for a bit and then eat a quick lunch before heading to my next class two floors down.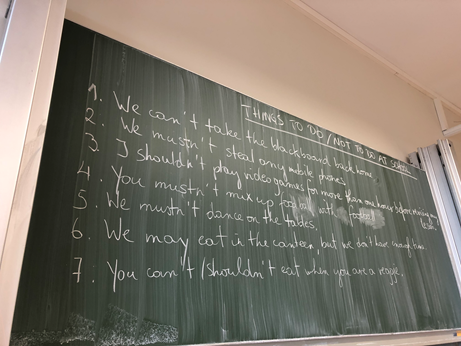 At 12:15, my P4FrL2 class starts. This alphanumeric "code" that took me a good month to fully understand means 4th grade students who are in the French section of the school for most of the day, but who come to their second languages classes, in this case English classes, for 45 minutes each day of the week, while the English section students go to French (or German or Portuguese) lessons. For this class, my Scottish team-teacher and I switch up what we do each day. All lessons include listening of some sort, whether that's us explaining directions, reading a short story or watching a short video clip, and then reflection on what was heard. Most of these 15 students came into the year knowing barely any English, and there have been many proud moments over the course of the year so far seeing how well students described the Shaun the Sheep episode in a paragraph, or how they could carry on a basic conversation with me in English about what they did over their most recent holiday. These are moments where not only am I proud, but there are smiles bursting on the beaming students' faces as well. Those are the moments that I will always cherish from this year.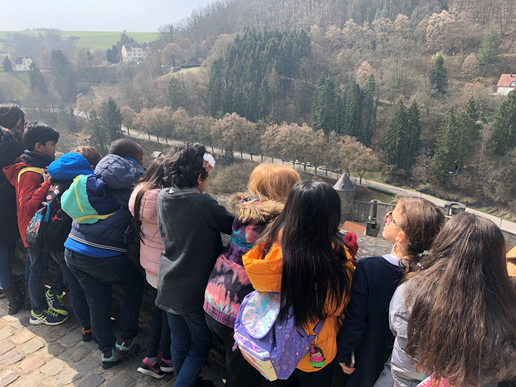 As soon as our 45 minutes are up, I descend one flight of stair, back to the main floor for the final class of the day: P1/P2EN. Can you guess what that means? It means that I get the pleasure of ending my day with native or near-native English speakers who are in 1st and 2nd grades. After being welcomed with enthusiastic "Ingriiiiid" greetings, we all settle into our spelling exercises. It is always my job to help the eight P2 students with their spelling words of the week. Once they have all written their words in their planners and done some of the fun exercises in their spelling book (Side note: I'm so jealous of that book. I would have loved all the creative activities in it!), we move on to reading for the last half hour of the lesson. Most recently, we have been reading James and the Giant Peach by Roald Dahl, which has proved to be a great combination of learning to read and having some theatrical fun. Each time we read, I remind them to read aloud slowly so that their peers can follow along and that a period or a comma means to pause for a moment, or even take a breath. Although none of the students have quite yet mastered the art of reading aloud like an audiobook narrator, they are definitely on their way and are having fun doing so! As soon as we've finished our chapters for the day, they are off to play on the playground for their 3rd recess of the day. After school, I'm free to do whatever I please, which usually includes a combination of reading, drinking coffee, exploring the city, going to choir practice in Kirchberg once a week, going for long nature walks and cooking fun meals with friends.
I grew up attending a bilingual French-English school and have always wished I could go back to observe myself and my peers to see how we managed to balance learning both languages at once. My year in Luxembourg at EIDE has given me a version of that dream. However, not only have I gotten to be surrounded by bilingual children for nine months, my students are most often at least trilingual. Combining all of my classes, I have students from 25+ countries*, covering 6 continents. I came to Luxembourg to dive into the education system of this tiny Grand-Duchy, and have been simultaneously welcomed by the world.
*If you are wondering about the countries, these are the ones that I can think of off the top of my head: Luxembourg, France, Italy, Spain, Portugal, Belgium, Morocco, Turkey, Romania, Poland, India, Germany, Senegal, China, Malaysia, Madagascar, Singapore, Libya, Venezuela, Brazil, Syria, Australia, South Africa, Lithuania, the US, England, and Bosnia and Herzegovina.
Ingrid Brandt is 2018-2020 Fulbright English Teaching Assistant to Luxembourg. A native of Eugene, Oregon, she graduated from Dickinson College in May 2018 with a degree in Italian Studies and French & Francophone Studies. She looks forward to sharing her Oregonian culture with her students, and is excited to learn about the multilingual Luxembourgish school system in order to bring more multilingualism into the US educational system. She also hopes to sing in a local choir and volunteer at a nursing home.
Articles are written by Fulbright grantees and do not reflect the opinions of the Fulbright Commission, the grantees' host institutions, or the U.S. Department of State.