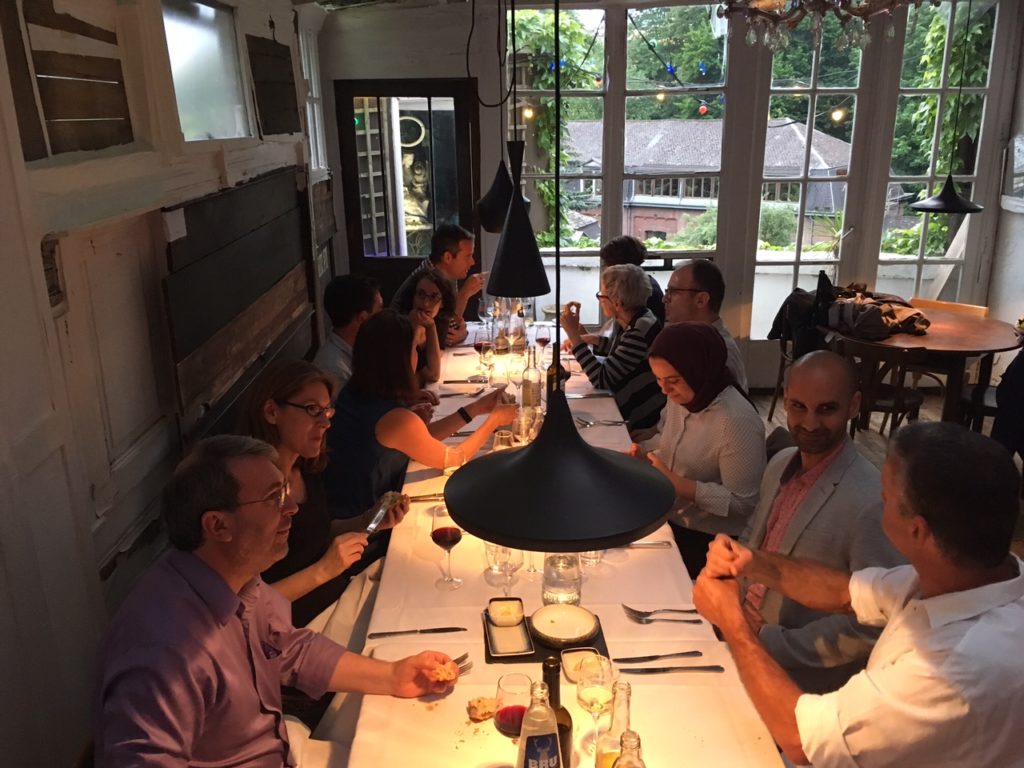 My parents have lived next to the same three families for thirty years. They have never fought over property lines, noisy parties or the shade provided by various trees. Relations between "them" and "us" have almost always been friendly. We wave hello, feed each other animals during times of vacation and redeliver errant mail. Yet, I can honestly say that I don't really know them at all. Outside of the family unit, the first collective that most humans belong to is their neighborhood. And yet, "neighbors" in both my personal experience and in the historical past remain under-known quantities. More specifically, we might ask, what does it mean to have a relationship with a "neighbor" and how does it become possible to feel "rooted" on a street, in a neighborhood, in a city or in the broader nation?
Ask we did. And after two days of discussing these questions and the larger issues of "neighbors," a dozen experts assembled in Brussels began to collectively formulate more comprehensive answers to these basic human questions more generally and throughout east and central Europe more specifically. With funding from the Fulbright Commission of Belgium and Luxembourg, the Institute for Slavic, East European and Eurasian Studies at the University of California, Berkeley and the Modern and Contemporary Worlds Unit at the Université Libre Bruxelles, I devoted a small part of my Fulbright Research year to organizing, convening and leading a workshop entitled Neighbors? Relationships and Rootedness in Eastern Europe across the 20th Century. Experts from Belgium, the United States, Hungary, Norway, the United Kingdom and the Netherlands presented papers that were open to the public and took part in lively discussions that spun outward thanks to questions from both the audience and each other. Frequently, our conversations turned to questions of minority populations scattered throughout Europe, refugees and displaced people throughout historical time and in the present as well as assumptions about the "indigeneity" of a given group within a certain territorial space. My presentation specifically challenged accepted assumptions that Polish Jews living in Poland in the 1930s did not fully "belong" to that state and society. In fact, I utilized contemporary sociology research, newspaper articles and public speeches to argue vigorously for the rootedness of the more than three million Polish Jews that lived in Poland before the Second World War and the Holocaust.
I have been fortunate to have three different grants under the auspices of the Fulbright Program. From each of these opportunities, I take away international experiences, precious archival research that animates my articles and books and equally precious time for reflection. But perhaps more importantly, all of my Fulbright grants have provided the context for me to have memorable conversations: with grantees both older and younger than me, with friends and colleagues in my host countries and with members of the respective Fulbright Commissions in Prague, Warsaw and Brussels. This workshop, which the Fulbright Commission in Belgium and Luxembourg generously co-sponspored, provided space for a variety of memorable conversations to unfold. I am grateful to Ms. Erica Lutes and her office, my hosts Professor Pieter Lagrou and Professor Kenneth Bertrams at the ULB as well as the participants who traveled to this workshop and challenged how I viewed "neighbors" more generally. I can't wait to travel back to my childhood home. I have new questions for the smiling faces around its perimeter.
As the recipient of a U.S. Fulbright Scholar Award to Belgium, Dr. Sarah A. Cramsey will spend the 2018-2019 academic year conducting research on the Polish Jewish Diaspora in Belgium after World War II.

Articles are written by Fulbright grantees and do not reflect the opinions of the Fulbright Commission, the grantees' host institutions, or the U.S. Department of State