Given its northern latitude and corresponding dark winters, I've enjoyed how Belgian cities fill the streets with lights during the winter months. Mechelen, the city where I live, kept its Christmas lights on all day long to counteract the grey clouds, and after January 1st had passed they were transformed into Valentine's Day lights that featured hearts swinging above the city streets and adorning the Stadhuis (City Hall).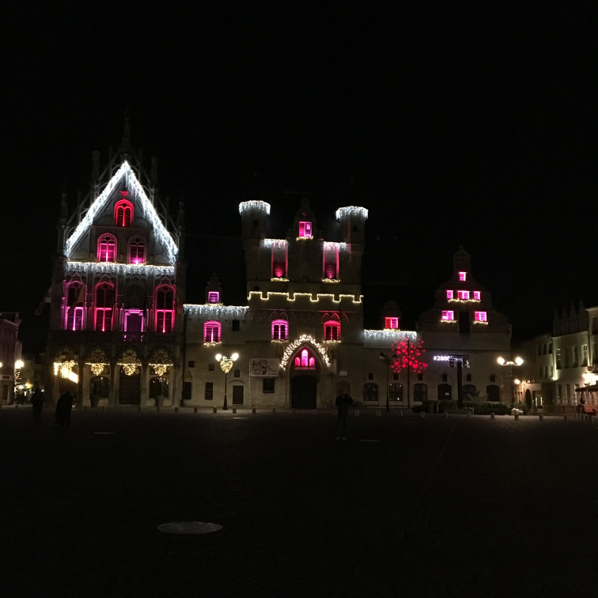 During a recent week in February, Brussels took light installations even further in its annual light festival, "Bright Brussels." I took the train in from Mechelen to explore the festival one evening and was impressed by the artistry of the installations and the ways they illuminated certain elements of Belgian culture.
 In tribute to Belgian artist Pieter Bruegel the Elder, whose 450th death anniversary was in 2019, the Porte de Hal/Hallepoort served as the backdrop for b71's "Winter," an animated mural featuring characters from Bruegel's paintings. Across Belgium, institutions are using technology and virtual reality to enhance visitors' experiences, whether by providing iPads to help visitors explore exhibits in more detail through comprehensive text, photos, and videos; creating immersive experiences where visitors can "walk" into digital enlargements of paintings; or installing responsive screens in churches that contain information about paintings on display. This installation served as an especially impressive example of such fruitful partnerships between art and technology in Belgium.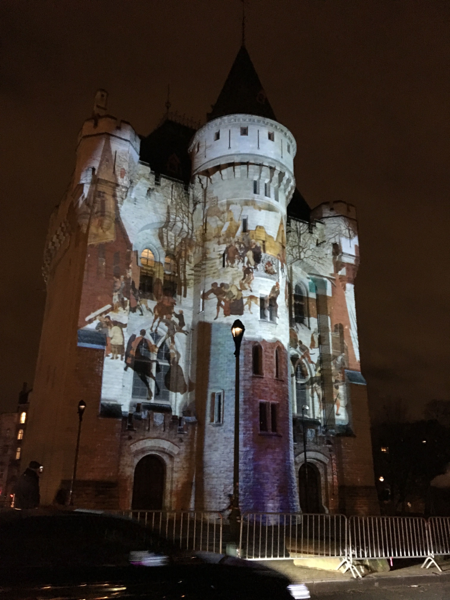 As fewer people in Belgium attend church regularly, churches are used for new purposes. Some have been repurposed, such as the Martin's Patershof hotel in Mechelen, which is located in a 13th-century church. Others host installations: Mechelen's St. Rumbold's Cathedral hosted the "Museum of the Moon" during the 2019 holiday season. Thus it did not come as a surprise that two of the "Bright Brussels" installations were inside churches. Both were light shows set to electronic music, another field in which Belgium is a leader. The installations highlighted the architecture of the churches and incorporated inspiration from the natural world, giving visitors the chance to see the churches in a new light.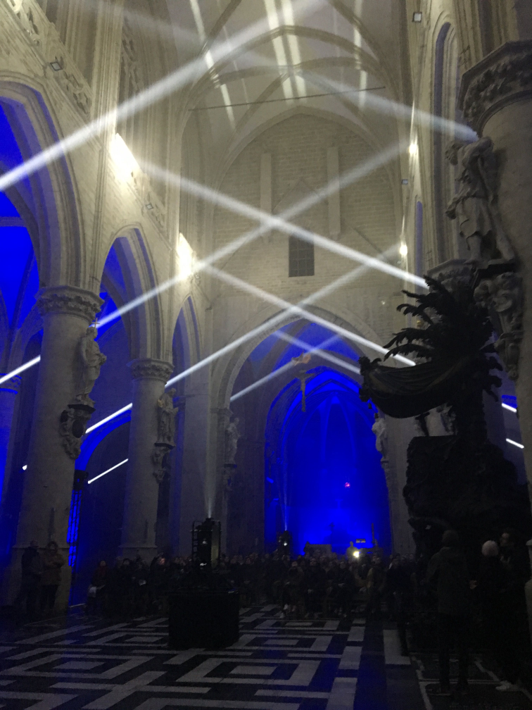 My personal favorite was Patrice Warrener's installation "Contemplation" on the western façade of Notre-Dame du Sablon that created the illusion that the front of this Late Gothic church was painted in a rainbow of colors. A similar installation has been displayed on the Amiens Cathedral in France, where it was discovered that part of the western façade had once been painted. Regardless of whether Notre-Dame du Sablon was ever painted, this installation was a display that gave new life to the detailed carvings on this church in the heart of Brussels. It was a beautiful example of one of the ways in which tradition and innovation coexist in Belgium.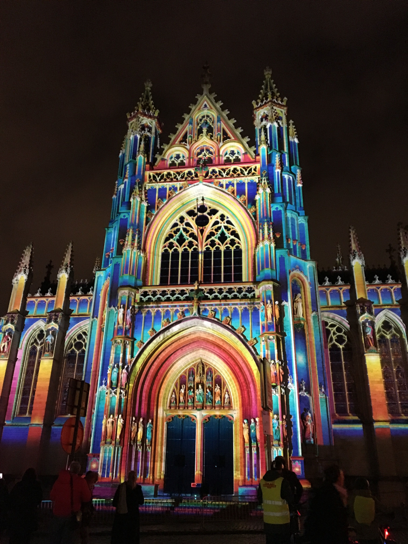 Isabel McGrory-Klyza is a 2019-2020 Fulbright English Teaching Assistant to Belgium at Thomas More hogeschool in Mechelen. Isabel received her BA in History from Columbia University in 2017, and spent the past two years working at Dumbarton Oaks Research Library and Collection in Washington, DC. She looks forward to helping to teach English and communications at Thomas More, learning Dutch, furthering her lifelong study of ballet by taking classes at a Belgian dance studio, and getting to know the community of Mechelen.
Articles are written by Fulbright grantees and do not reflect the opinions of the Fulbright Commission, the grantees' host institutions, or the U.S. Department of State.