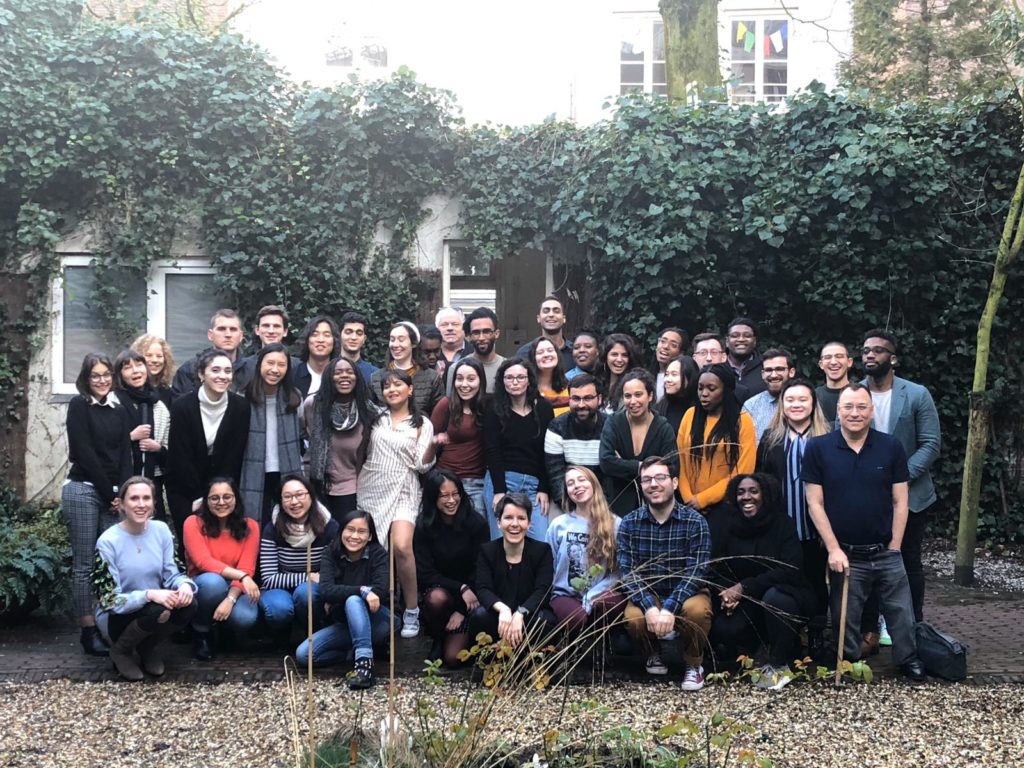 American Fulbright grantees to Belgium and Luxembourg participated in an enrichment seminar on Our Voices: Navigating Identities in the Fulbright Program.
The seminar, which was organized by the Fulbright Commission in the Netherlands with the support of the European Fulbright Diversity Initiative (EFDI) and the Fulbright Commission in Brussels, took place in Amsterdam from 29 February to 1 March 2020. Over the course of the two-day seminar, participants discussed questions around Storytelling, Intersectionality, Belonging, Alterity and Power, and Participation and Courage.
Two grantees from the Fulbright Commission were selected to participate in the seminar. Kate Heintzelman, a current Fulbright ETA Program to Luxembourg, applied because "my time living abroad as a Fulbright grantee has been one of profound growth and challenge. I wanted to meet fellow grantees in other countries and discuss the parallels between our experiences". Rae Delacruz, a current Fulbright student researcher to Belgium, wanted to participate for similar reasons: "Entering a field where addressing difficulties related to being a minority, or being an immigrant, are not well-researched (nor well-funded), I was interested in expanding my knowledge. I hoped to further integrate these concepts in my professional work, and network with individuals who face similar challenges. But I confess: I was mostly interested for personal reasons. I've confronted my struggles with identity; alterity; preserving my culture; belonging; accessing opportunities, and other topics through poetry, prose, and dialogue. But, until the seminar, I rarely explained these feelings".
Through the course of two-days of conversations with grantees from all over Europe, the seminar gave the opportunity to Kate to "reflect on my experience thus far, but also listen to the stories of others. I was able to laugh with new friends about the amusing situations you can find yourself in a foreign country, but also feel their pain when difficulties have risen. Although we all just met, the European grantees shared a unique understanding of each other – and bonded over the fact that although we are different in so many ways, we discovered a similar inner strength in all of us". Rae's participation in the seminar enabled her to "share difficult but essential parts of myself. I sat for a while on this self-reflection, because I knew no matter what I wrote, it would not do my weekend in Amsterdam, participating in the Our Voices Seminar, the justice it deserved. I mean, how could it? While there will always be room for improvement, my general impression of the program was positive and cathartic. For one of the first times in my life, I existed with no need for explanation. It's difficult to explain why that is so monumental. But taking a look around my own academic and research space, there has been little advancement in the inclusion of people of colour, or people with disabilities: as participants, and students, or professors, and researchers. To be surrounded by other Fulbrighters who shared similar experiences, and struggle with the same feelings of fear, inferiority, and monetary anxiety, but also felt the same empowerment, strive, and frustration from institutional constraints, was refreshing. We spoke on topics I have personally struggled to share about myself, until the seminar. For example, we talked on reconciling feelings of survivor's guilt (we feel guilty sometimes for not being able to extend our opportunities to our loved ones) with wanting to enjoy the product of our hard work—while feeling like imposters not deserving of these experiences".
To conclude, our grantees went home with memorable moments of this seminar. Kate memorable moment was "when we were asked if any of the grantees had felt or feel "imposter syndrome" from being a Fulbrighter. Every hand in the room was raised. It doesn't completely matter that we all had worked hard for this – we were all acutely aware that we are the lucky ones". Rae's memorable moment was "… the dinner. One wonderful thing about the seminar was that every meal was accounted for. The hotel was prepaid. And while the trip to and from Amsterdam was not, it was reimbursable. Not thinking about money for a full weekend was an incredible luxury. The dinner at Stan & Co. the night before the seminar was one of my favorite experiences, in part because of the delicious food but also because of the atmosphere. It was fun and lighthearted and enabled us to organically connect with the group. I think having that organized downtime was so important in encouraging open and honest communication during the seminar".

Thanks to our colleagues at the Dutch Fulbright Commission and EFDI for organizing such a successful seminar!
Kate Heintzelman is a 2019-2020 Fulbright English Teaching Assistant to Luxembourg. In 2019, she graduated from Mount St. Mary's University with a bachelor's degree in English, French, and Theology. In addition to working as an ETA, Kate is looking forward to taking English and French literature classes at the University of Luxembourg.
Rianne "Rae" Delacruz is a 2019 graduate of The College of New Jersey, with a major in Public Health and minors in Arabic and Sociology. Her work has focused primarily on palliative care access for cancer patients aged 15-39. In 2018, her findings were accepted for poster presentation at the American Public Health Association's National Conference in San Diego. As a 2019-2020 Fulbright scholarship recipient, she will conduct research on palliative care integration for recognized refugees at Vrije Universiteit Brussel. Post Fulbright, she plans to pursue an MPH at the University of Pennsylvania, focusing on epidemiology.
Articles are written by Fulbright grantees and do not reflect the opinions of the Fulbright Commission, the grantees' host institutions, or the U.S. Department of State.