EU Seminar
To the Executive Directors of Fulbright Commissions in Europe,
It is with pleasure that the Board of Directors of the Commission for Educational Exchange between the U.S.A., Belgium and Luxembourg invites you to nominate participants to this year's sevenday program, "Seminar on the European Union," to be held in Luxembourg, Brussels, Brugge and Mons on February 26-March 2nd, 2013.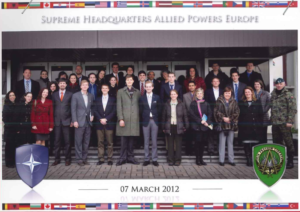 We would like to invite each Commission to nominate two American grantees (one principal and one alternate) to participate in presentations and discussions related to the European Union and NATO. The grantees may be students, teachers, lecturers, or researchers, and they need not be specialists in the subject of the seminar.
Our Commission will be happy to provide meals and transportation between Luxembourg, Brussels, and Brugge. We are asking each Commission to subsidize its participants' hotel and incidental costs and to arrange and pay for its participants'' roundtrip transportation to Brussels or Luxembourg, where the seminar begins, and from Brussels, where it ends.
To allow us to budget accurately we are asking Commissions to pay their subsidies of € 325 per person to the Commission in Brussels, preferably by bank transfer to our account at the CBC Bank, account no. 732-0056143-31, SWIFT code CREGBEBB, IBAN code BE 04 7320 0561 4331. Given that we have reduced the conference length we have reduced the rates.
It is possible that some Commissions may choose not to nominate any candidates, in which case we may be able to accommodate more than one participant from other Commissions. If your Commission is able to provide the participation fee and travel funds for two or more grantees, please let us know. We will try to accommodate as many people as possible. Dependents aged 15 or older may attend at their own expense. However, since the total number of participants is limited to 35, please send your expected numbers to us as soon as possible.
Important Note: If you have U.S. grantees in your country under the Fulbright-Schuman Program, they will be required to attend. Our Commission will cover all of the costs involved in bringing them to the Seminar, including travel. They will also be required to attend a Mid-Year Meeting on Thursday, February 28th at the Commission in Brussels.
Actions items: We would like to know by December 1st  at the latest how many participants you will be sending.
By December 15th, 2012 at the latest, we will need to have the completed registration form(s) for your participant(s). A letter for participants, including information about the seminar is enclosed. If you or your grantees have any questions about the seminar, please do not hesitate to contact me.
Sincerely yours,
Ms. Erica Lutes
Executive Director
Tentative Itinerary February 26-March 2nd 2013:
Tuesday Feb 26:     Arrival in Luxembourg (and evening reception at US embassy Luxembourg)
Wednesday Feb 27:     Luxembourg (European Court of Justice and drive back to Belgium)
Thursday Feb 28:     Brussels (morning EU Commission) Afternoon meeting with Fulbright Schuman scholars in Fulbright Belgium office.
Friday March 1:    Brussels NATO
Saturday March 2:     Bruges (College of Europe, ending with a lunch and walking tour with Fulbright Belgium alums)
To register, please fill out the form below: