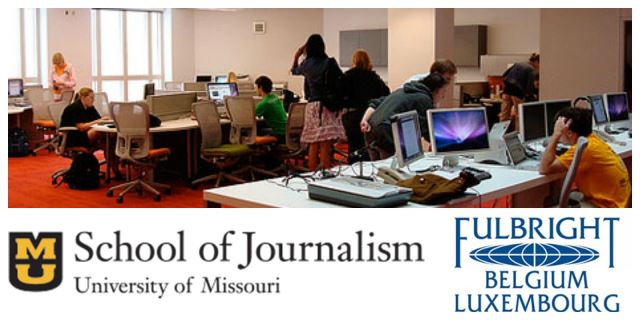 The Fulbright Commission and the University of Missouri scholarship are offering a scholarship for a mid-career professional (Belgian or Luxembourgish citizen) in journalism with at least 5 years of experience in journalism.
When:
End of August 2017 until Christmas 2017.
What:
Audit two classes at Missouri journalism school;
Participate in guest lectures;
Round table discussions with students and scholars.
Grantees are allowed to choose seminars and courses to audit, from a list of available courses offered by the J-School during that semester. Their interest areas and availability of spaces in the courses will determine their final placement in these classes.
Money:
The scholarship recipient will receive 3000 $/month during 4 months plus money for the flight.
School website: http://journalism.missouri.edu/.
APPLICATION TIMELINE FOR JOURNALISTS:
For those deadlines that fall on a weekend, please use the previous Friday at NOON (12pm) as the deadline to submit all applications and supporting materials online:
September 15, 2016: Competition opens, applications begin
For this grant alone, you only apply via Fulbright not the University of Missouri. Please note that you will need to address why you are applying for a Fulbright grant in your application. The Fulbright program is about mutual understanding: please explain very clearly in the application how you would carry out this mission.
December 1, 2016 (noon Brussels time): Deadline to submit the online application form
January 2017: 10 minute interview in English at the Commission for Educational Exchange in Brussels
Late-March 2014: Applicants notified by e-mail
Mid-June 2017: Pre-departure meeting at the U.S. Embassy and reception with the U.S. Ambassador
August 2017-March 2018: Departures to the U.S.
Application Materials
The Fulbright application process is now entirely online; applications and supplemental materials mailed or e-mailed to the Commission will not be considered. Please note that you will need to address why you are applying for a Fulbright grant in your application.  Complete Fulbright award applications consist of:
The online application form
CV
3-5 page single-spaced project statement
Scans of passport and any previous J-visas held
Transcripts and diploma from your most recent degree
3 Recommendation Letters, uploaded by your references directly into the online application by the December 1 deadline
Please note: We do not require any supplemental forms, the letter of the home institution, the signature form or official test results (TOEFL,…).  (You may include test results in the appropriate application fields if you so desire.) 
APPLICATION LINK:
https://apply.embark.com/student/fulbright/scholars/30/