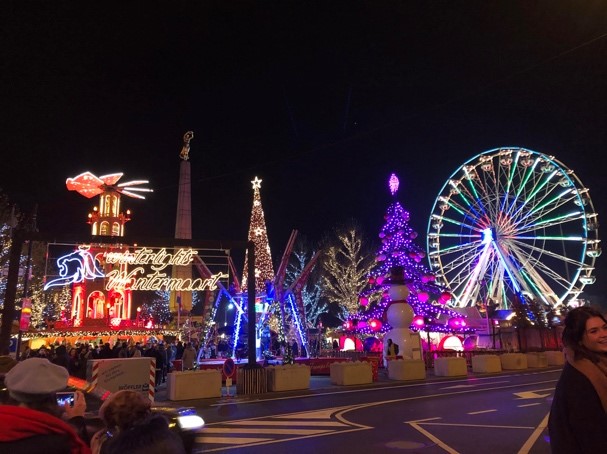 Without the holiday of Thanksgiving holding Luxembourgers back from starting the yuletide festivities, Christmastime in the Grand Duchy begins in the middle of November. Strolling down the streets of Luxembourg City to the Place d'Armes city center, I was surprised to see the preparations for the installation of holiday decorations shortly after the end of October. Needless to say, however, I didn't mind! This time of the year, bright, sparkling lights drape elegantly over nearly every major street, shops amp up the festiveness of their window decorations, and the irresistibly sweet smells of roasting nuts and all the traditional confections you can imagine waft through every inch of the city. In Luxembourg City, you'll find not one, but three "Chrëschtmaarts" (Christmas Markets) that began on November 21st and will end on January 5th. If large crowds are not for you, not to worry! Various smaller towns throughout the country have their own smaller yet even more charming markets, full of stalls selling homemade crafts and baked goods. To say the least, the holiday cheer is contagious.
While the Chrëschtmaarts were a fun way to celebrate the holidays, for me, they also provided first and foremost a dynamic cultural experience and greater insight to the depths of varying cultural influences in Luxembourg. I went to eight separate Chrëschtmaarts this season (some of them, more than once!), and the one thing they all had in common is this: The holiday traditions that they encompass embody the multiculturalism of this country in eye-opening ways. For instance, while most of my day-to-day interpersonal interactions here in Luxembourg usually take place in French, mostly German is spoken at the Christmas markets, and yet several stalls are run by Portuguese. Language aside, the easiest way to see the multicultural presence in Luxembourg is simply through the food. (As shown in the photos below), nowhere else have I ever gotten to experience Luxembourgish, German, French, and Portuguese cuisine all in one place! Luxembourg, although small, is mighty in its cultural richness, diversity, and multicultural harmony. I think the Luxembourgish acceptance and incorporation of multiple cultures and languages is something that much of the rest of the world can and should learn from, especially given our seemingly ever-increasing global interconnectedness.
Jamie Truax is a 2019-2020 Fulbright English Teaching Assistant to Luxembourg. In addition to teaching in the classroom, she hopes to take a course in Luxembourgish and engage with the community by volunteering at a local nonprofit organization. Jamie recently graduated from St. Olaf College with a Bachelor's degree in French and Political Science in 2019 and spent this summer working at a French immersion camp in Minnesota.
Articles are written by Fulbright grantees and do not reflect the opinions of the Fulbright Commission, the grantees' host institutions, or the U.S. Department of State.