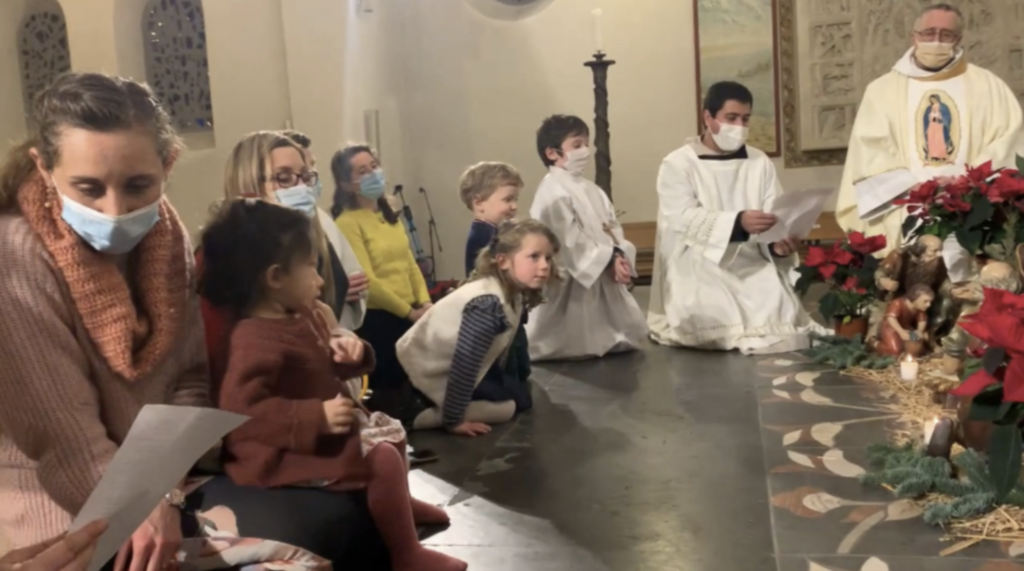 Over the course of the past several months, I've been fortunate to develop a relationship with the monks and seminarians of the order of Verbum Spei located in Esch-Sur Alzette. The connection began first between me and a seminarian from New Zealand named Jonathan over our shared struggle of being native English speakers living in Luxembourg. Each Sunday, I would make my way to St. Henri, on the northern side of town, struggle through understanding the mass in French, and spend 30 minutes afterwards talking to Jonathan. In October, the parish began weekly seminars on theological questions and there Jonathan would translate the talks for me. After the talks, I would get to spend more time conversing with members of the community and other Brothers. On Wednesdays, the parish held the young adult seminars with talks that were followed by the Brothers inviting us into their home to enjoy bread and their home made beer.
Following a mass in early December, Jonathan and I spoke for an hour while standing in front of the church in the below freezing temperatures. We conversed about our plans for Christmas and it was then I learned that he was going to the monastery in Mexico for the next month. My plans were far less adventurous. Due to travel restrictions and the significant cost of plane tickets, I was not able to go home for the holidays and had planned for a movie marathon in my room to celebrate Christmas. Yet Jonathan was motivated to thwart my plans. Prior to leaving, he informed Brother Max of my plans and it was after next week's mass that Max invited me to spend Christmas weekend with the Brothers.
On Christmas Eve, I eagerly gathered up all the personal care items I would need for the weekend and set out. While on my way, I felt a similar excitement to that of which I had felt each Friday before going on the semesterly retreat at my undergraduate university. When I arrived, I knocked on the door with great enthusiasm and stepped into a scene of chaos. The Brothers had recently had exposure to someone with COVID-19. While I walked in they were scattered about preparing to take tests and isolating. All but three
had to be quarantined. Only Brother Max, Marie Antonio, and Father were not in quarantine due to the fact they previously had COVID in August and tested negative. Our weekend went from a grand celebration to being divided into positive and negative COVID-19 groups. Additionally, we had to cancel all the public masses that were to be held that weekend.
Yet in the midst of all the chaos, Christmas still prevailed. We started our celebration with the negative group hosting our mass in the monastery. The four of us held our service and continued forward with our celebrations amongst ourselves. Our lunch was a magnificent wild boar that was hunted by a local parish member and given to the Brothers for Christmas. To my surprise the dominant language utilized at lunch was Spanish. Brother Marie Antonio came from Cuba and he spoke Spanish and French. Max came from Mexico and spoke Spanish, French, and some English. While Father spoke French, Spanish, and very little English. It was at this moment I realized I was the odd man out when it came to language.
That evening we had planned to have a large 11 PM Christmas mass yet due to COVID-19 had to cancel. Yet Father was still committed to starting Christmas with mass and he organized a small service to happen in the church at 9PM. We arrived at the church and inside were approximately three families in total filling perhaps two pews worth of space. This was a stark contrast to the packed churches I was used to for Christmas mass. Yet the smaller service still featured all important hallmarks of a Christmas mass I had grown up accustomed to. The children running around the church. The long homily following the story of the birth of Jesus. One man had brought a guitar and played appropriate Christmas music to accompany the service.
Even with all the similarities the mass still had surprises. At the end of the mass, Father motioned for everyone to come up to the altar where the nativity scene was. Per tradition, at the start of mass Jesus was brought in and placed before Mary and Joseph. Now we all gathered around him singing Chritsmas songs. Some were traditional songs I recognized such as "Douce Nuit" while others were songs I had no clue what was being sung. Regardless of whether I not I knew what we all were signing I knew I felt Christmas joy. All of us clapping and celebrating before the altar. The children danced and one small boy even reached out to touch the feet of the baby Jesus. It was truly a spectacular celebration which was followed by another feast. We invited the families to dine in the gathering space below the monastery. At the beginning of my day, I wouldn't have guessed that in Luxembourg I would be starting December 25th by celebrating a traditional Navadid, but this was a pleasant surprise. The food was a mix of French cuisine and dishes from Mexico such as roasted crickets. The diversity of food was matched by that diversity of language with Spanish, German, French, and English all making appearances.
The remainder of the weekend featured two more private masses, one held in Spanish and the other held in half French and half English. All the Brothers gathered for a hike as it was something we were able to do safely together. Our night concluded with a wine tasting led by someone who obtained a degree in wine science from France. While this was a Christmas that was unlike any I have been a part of considering the variety of languages utilized, the cases of COVID-19, and not being able to celebrate with my family, it was still Christmas. The day contained all the joy that is regularly attributed to the day and the experience was enhanced by the setting, diversity and uniqueness of it all. The differences better highlighted the shared understanding and significance of the birth of Jesus on Christmas that unites Christians around the world today. Regardless of whether I was able to understand what was being said or if people understood what I was saying we all understood that it was Christmas a time to celebrate a great miracle that forever changed everything. The entire weekend reinforced to me why faith, in this instance Catholicism, is a particularly powerful attribute of the human race and that is because it is shared. Faith unifies people of various backgrounds, races, culturals, and countries to a shared belief transcends all differences and that is truly beautiful.
Phillip Harter is a graduate of Purdue University from St. Louis, MO who studied political science and pre-medicine. As a recipient of the Fulbright Scholarship to Luxembourg for the 2021-2022 year, he intends to work on the relationship between autophagy and the effectiveness of cancer immunotherapy at the Luxembourg Institue of Health. His ultimate goal is to become a physician scientist working to improve cancer treatments for pediatric patients and he is extremely excited about the work and experiences ahead of him with Fulbright.
Articles are written by Fulbright grantees and do not reflect the opinions of the Fulbright Commission, the grantees' host institutions, or the U.S. Department of State.