Tucked away in Flanders, Ghent is an interesting mix of old and new: known for its Medieval architecture and famous historical skyline, the city is also very much alive and equally known for its vibrant student culture, music, and art scene.
There's something for everyone in this hidden gem of a European travel destination. You can take a kayak down one of the canals, enjoy a drink on a café terrasse, stroll along the banks of the Leie river, and check out the city's formidable Gravensteen castle. The view from the Belfry, topped with a golden dragon affectionately nicknamed Roland, offers a beautiful vista which includes the city's cathedrals. If you're a fan of Medieval art, the Ghent altarpiece in St. Bavo's cathedral is a must-see with a mysterious past (a significant story lurks behind the unsolved case of a missing panel.) If you're a fan of spontaneous street art, take a quick look at Graffitistraat or sign up for a city street art walking tour.
If you like museums, the MSK and SMAK both host impressive art collections. Check out the Industrial Museum for an insight into Ghent's factory history and a glimpse of how textiles were manufactured. Make sure not to skip the GUM (the Ghent University Museum,) which hosts a unique collection and is free for university staff and students. The museum also has a lovely garden area and pond included with the entry fee.
Year round, you're bound to find something you'll enjoy. However, there are also many seasonal activities that make life in the city extra enjoyable.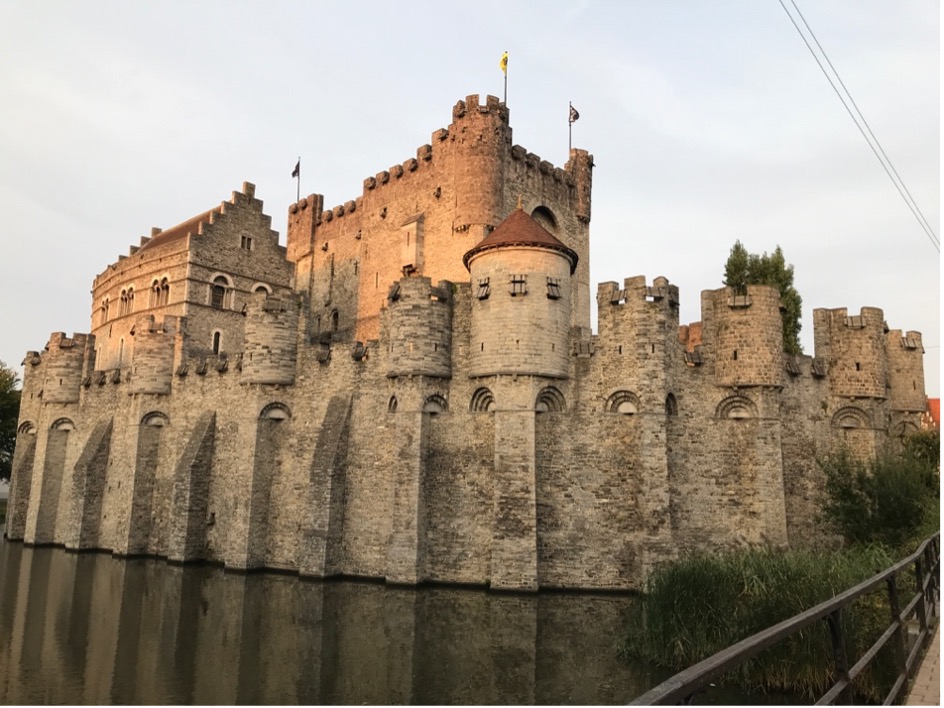 In the Fall, the city lights up during the Ghent Light Festival, where you can explore impressive light displays peppered along a scenic route. People come from all over to attend and enjoy exploring Ghent by night.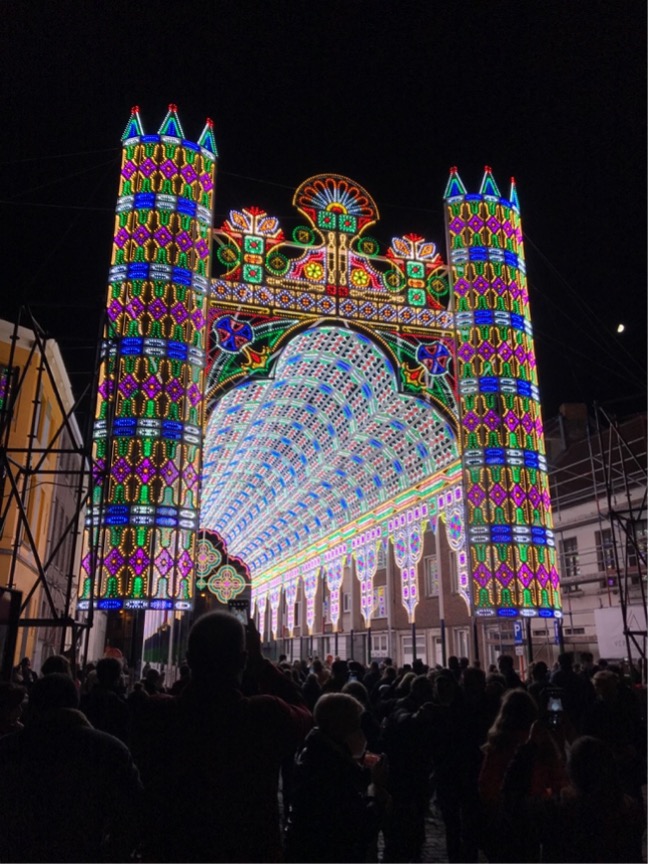 In the winter, Ghent hosts a colorful Christmas market, replete with an ice-skating rink, trimmed Christmas trees, and a stand toting jenever, hot chocolate, and gluhwein. Due to Covid, sadly the Market wasn't able to go full speed ahead as per usual, but this year there was still a chance to ice-skate and there were some Christmas trees, drinks, and cheerful seasonal decorations. I'll have to come back to enjoy the Christmas market when it gets back into full swing post-Covid!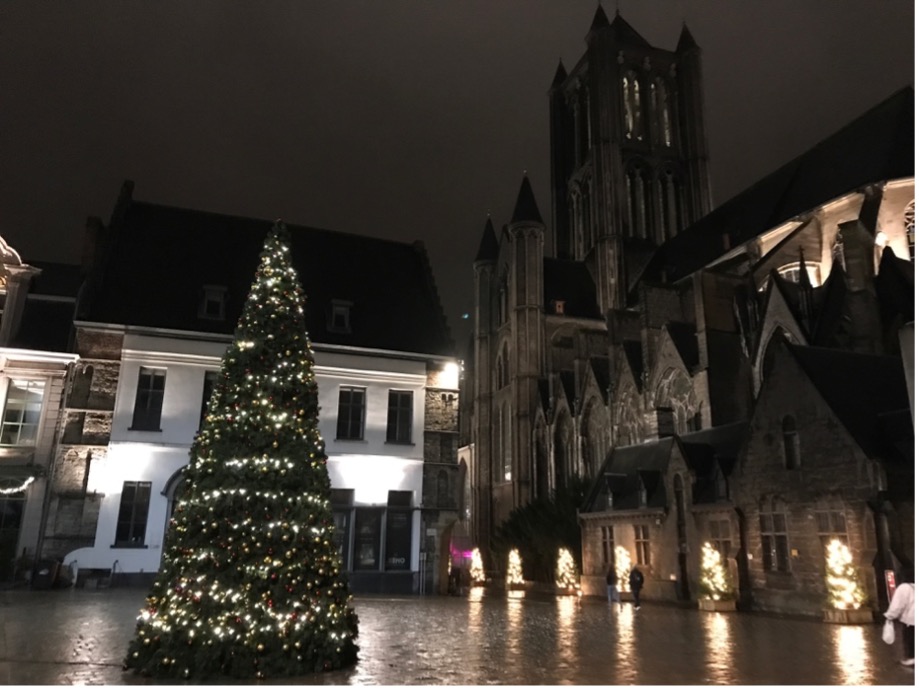 There's usually also an annual holiday pop-up bar in Gravensteen castle. It's free to enter the castle if you're going to the pop-up. It's hosted in the castle basement and decorated according to a new theme each season. It was dazzling to enjoy a bite in the castle walls surrounded by candles and seasonal décor!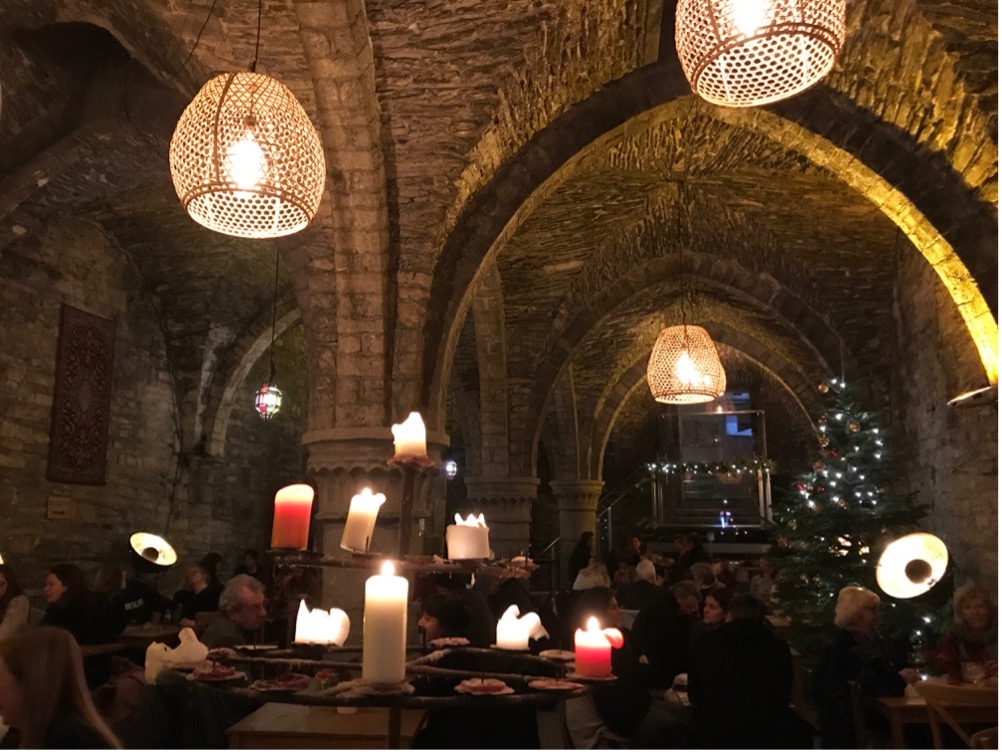 In the spring, I was experiencing some nostalgia for Sakura season in Japan. I was teaching English in Tokyo before I came to teach in Belgium, so I missed the beautiful pink blooms. However, Ghent also has some lovely cherry blossom trees in the springtime. I recommend checking out the trees on Jozef Kluyskenstraat.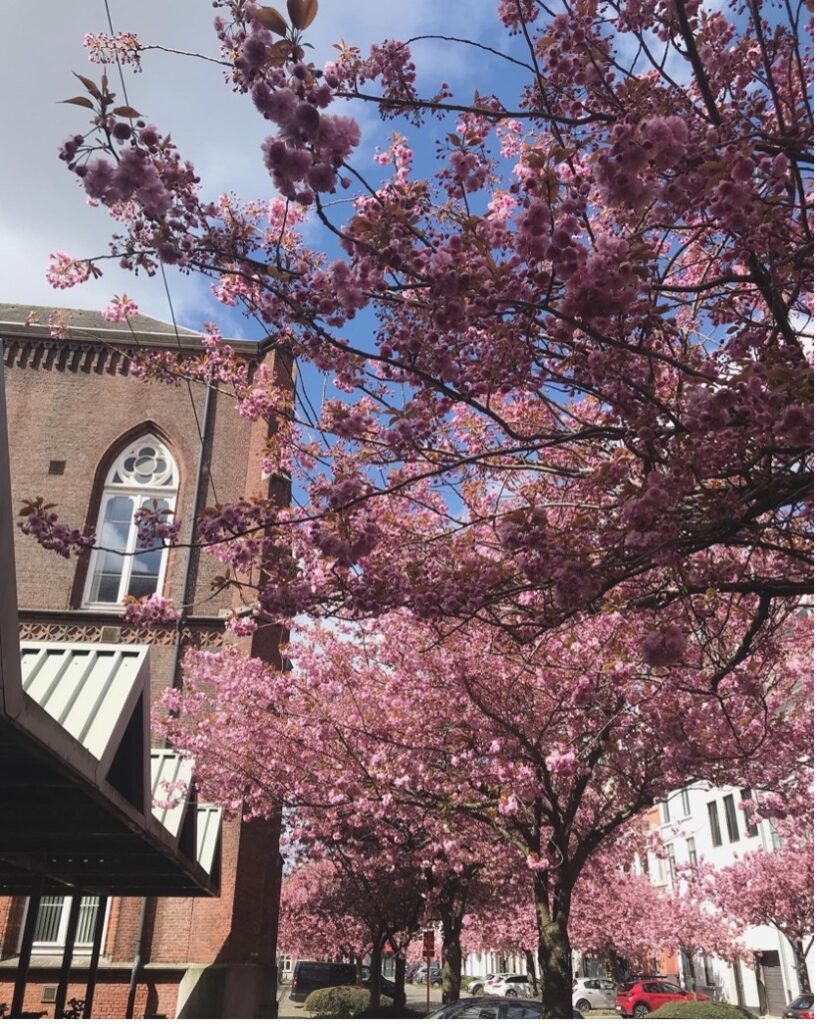 In the summertime, Ghent is known for its summer festival, where people come from all over Belgium to listen to music, dance, and celebrate. If you're in Ghent during the festival, I'm told it's a must…since it hasn't happened in a while due to Covid, I'm sure this year's festival will be extra packed and eventful! There are also a number of summer pop-ups with treats, drinks, and music you can visit.
No blog post on Ghent would be complete without a mention of the delicious cuisine in the city. As for food, this home away from home doesn't disappoint. In particular, Ghent is known for a wonderful winter dish called Waterzooi. I had the amazing opportunity to participate in a virtual cooking class offered by the university to learn how to create this traditional Flemish wintertime chicken stew.
Normally, cooking classes would be offered in person, but because of Covid, the cooking class was offered online. I signed up ahead of time to reserve ingredients and picked them up from the university. Then, I was given a printed recipe and a link to join the class online. Sadly, I couldn't attend the whole class (my university Dutch course was that night!) but I was able to join in for part of the class and followed the rest of the recipe at my own pace. The stew takes a few hours to make (the carrots, potatoes, leek, and other vegetables can simmer for quite a while for extra flavor, if you so choose) but is well worth the wait. The final product is a creamy chicken concoction that tastes light but comforting. To date, it's one of my favorite Flemish dishes and I'm proud to say my Waterzooi tasted just as good as the plates I've had in Gentse kitchens! It's a recipe I'll certainly be whipping up even after I've left Ghent. Check out the recipe included below if you'd like to give it a try yourself!
If you'd like to try a traditional Ghentian snack (besides, of course, frites and waffles) I highly recommend trying cuberdons. They're locally referred to as "neuzen" or "little noses" due to their unique shape. These (very sweet) treats come in a variety of flavors and colors, and are made with Arabica gum. They have a surprisingly fruity jelly-like center and are a crowd favorite among children. I recommend tasting them and buying your candies from the cart near Gravensteen castle.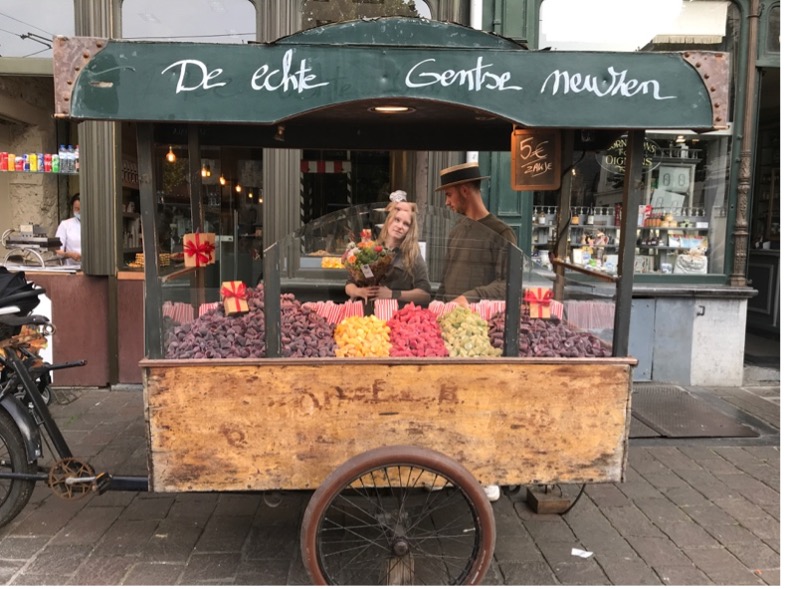 When I reflect on my time exploring this beautiful city, I can only say this: Ghent possesses a sophisticated yet humble charm which makes it feel at once impressively beautiful and cozy at the same time. There are often weekend festivals and music performances, art expos, and cultural events weekly. I've never run out of things to do—even on the dark and cold winter days, there's always something happening around the city. The blend of historical splendor and upbeat student culture makes it a perfect place to live and work in on a Fulbright grant. It's easy to get around the city via public transport, bike, or by foot. Ghent University is also a great school, and there are many events put on for and by the students. If you have the time, check out some of the on-campus libraries at UGent!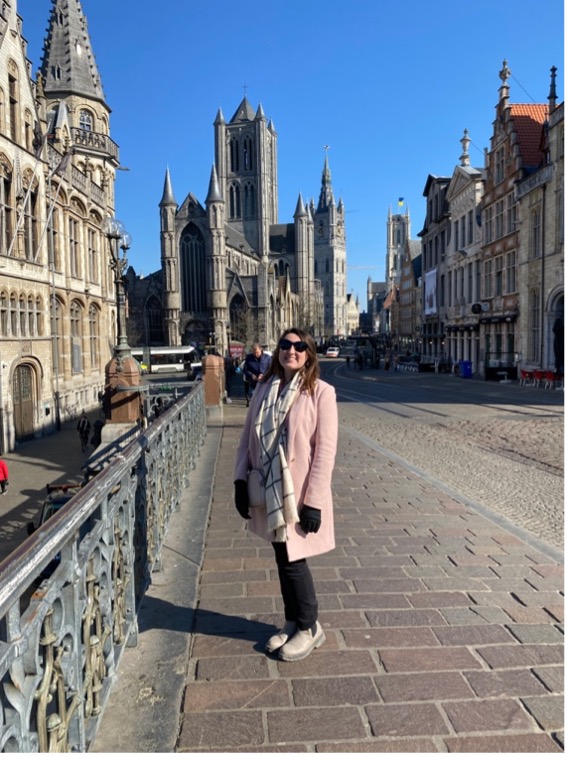 If you have the chance to stop by this lovely city, I can't recommend it enough. I waited over a year to start my Fulbright ETA grant due to the pandemic. Yet, just like the simmering vegetables in the sauce for the Waterzooi recipe…it was worth waiting for.
Give Ghent a chance and I promise, you won't be disappointed. Try the Waterzooi while you're there!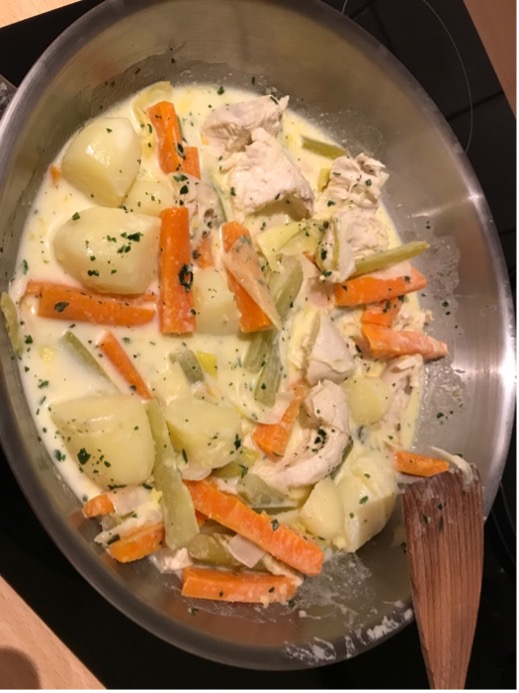 Gentse Waterzooi Recipe:
Ingredients (for 2):
300g baby potatoes
2 chicken stock cubes
2 chicken breasts
5 sprigs thyme
3 sprigs of parsley
1 bay leaf
2 carrots
2 celery stalks
1 leek
Two pats butter
1 tbs flour
1 egg yolk
100 ml double cream
Juice of 1 lemon
Salt and pepper to taste
You will need:
A paring knife
A cutting board
2 pots (approx. 2L capacity)
A sieve
A wooden spoon
A whisk
A ladle
A peeler
A colander
A chef's knife
2 plates/bowls
Instructions:
Peel potatoes and boil in salted water until just cooked. Drain and set aside.
Bring 1 liter of water to a boil with the chicken stock. Lower the temperature, add the chicken, thyme, bay leaf, and parsley stalks. Leave to simmer until the chicken breasts are cooked (+/- 10 mins.)
Sieve the stock into a pot. Discard herbs. Let the chicken cool, then cut each breast into approx. 4 smaller pieces.
Peel the carrots and wash the celery and leek. Discard the dark green part of the leek. Cut the vegetables into ribbons.
Over moderate heat, melt the butter. Sauté the vegetables in the melted butter until softened slightly. Add the flour and cook for 1-2 minutes.
Little by little, add the stock. Start with a small amount and then whisk until fully incorporated, then add more. Stir well until the stock is incorporated into the sauce. Bring the sauce to a simmer and let cool for a few minutes. Take off the heat.
Whisk the egg yolk and cream until smooth. Then add to the sauce. Pour in some lemon juice and season with salt and pepper to taste.
Add the chicken and the potatoes to the pan.
Chop the parsley leaves and add just before serving.
Enjoy! Smakelijk.
Lisa Paper is an ETA at Ghent University in Ghent, Belgium. Prior to beginning her Fulbright grant, she taught English classes at an international school in Tokyo, Japan for two years. She is a returned Peace Corps volunteer and a graduate of the University of Florida. She graduated summa cum laude and holds dual degrees in English and in Telecommunications. She's originally from the sunny town of Saint Augustine, Florida.

Articles are written by Fulbright grantees and do not reflect the opinions of the Fulbright Commission, the grantees' host institutions, or the U.S. Department of State.