When one thinks of Belgian motifs, a few things typically come to mind: piping hot, double-fried fries; glossy praliné chocolates; and fresh, garlicky mussels straight from the North Sea. Or else, gothic architecture alongside art nouveau homes alongside Flemish stepped gables. But there is one beauty of Belgium that isn't as well-known, or at least, that I wasn't expecting: the flora of this country is ever-present and breathtaking.
Adventuring with other Belgium ETAs, and some native Belgians, I have frequented many cities and towns across both Wallonia and Flanders as I learn more of the history and culture of this relatively-new-in-name, deep-rooted country, and many of these adventures happened to center on some form of flowers. Looking back on these experiences throughout the year, I can see so much of Belgium in these delightful (and sometimes very thought-and-concern-provoking) arrangements of plants, stemming from my first days upon arrival.
The uniqueness and beauty of these blossoms reminds me a lot of my fruitful teaching journey this year, so I've paired together some teaching takeaways alongside some fantastic flowers.
First up: on my first day in Brussels, I walked through Parc du Cinquantenaire. A lovely park with its impressive arch dedicated to the 50th anniversary of the Belgian Revolution, shady tree-lined paths, and frequent waffle trucks. When I first arrived, there were a variety of flowers planted in the beds, and in the spring, some beautiful pink tulips that, I would argue, rival those in Holland.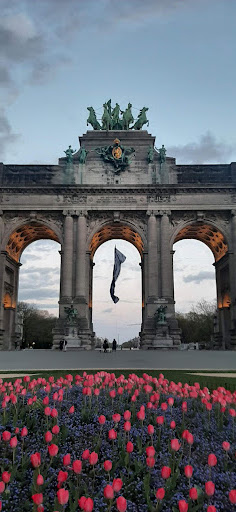 In the coming weeks, I saw so many green spaces in Brussels, more than I have ever seen in a metropolitan city. Enjoy below some blooms from the delightful and well-manicured Jardin du Petit Sablon, the little Jardin du Chat, the impressive Mont des Arts, and the rose garden outside of my apartment. In my research of Brussels, I hadn't realized how big the variety of parks would be, just as when I started teaching with students of such a wide variety of ages, I didn't realize the special joys of each one, from ten-year-olds to graduate students!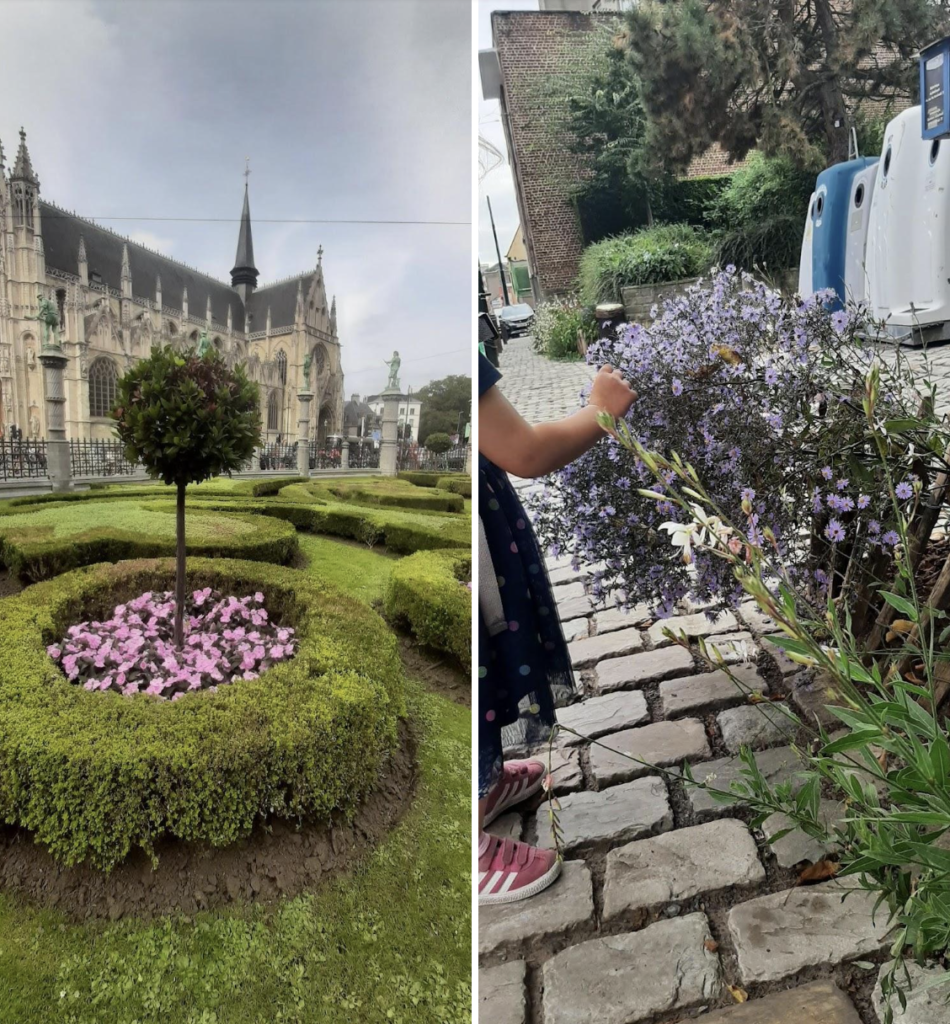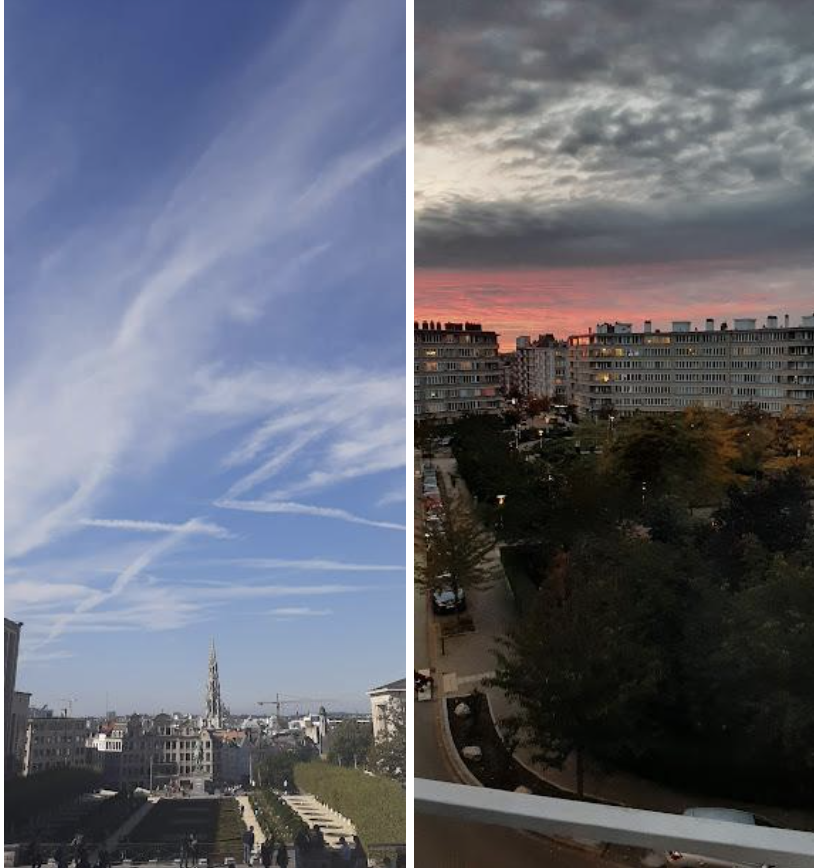 A trip to Ypres in Flanders for Armistice Day on November 11th lead to a deeper understanding of the poppy flower, in connection to World War I and the Flanders Fields of their namesake poem. After seeing a parade with marchers from many of the countries whose citizens bravely fought in these fields, we learned about the specifics of the battles in the Ypres museum, including the fact that the topography hasn't forgotten trench warfare — by plane, one can still see the different colors of grasses that denote the trenches' former locations. A true lesson in the power of memory and healing.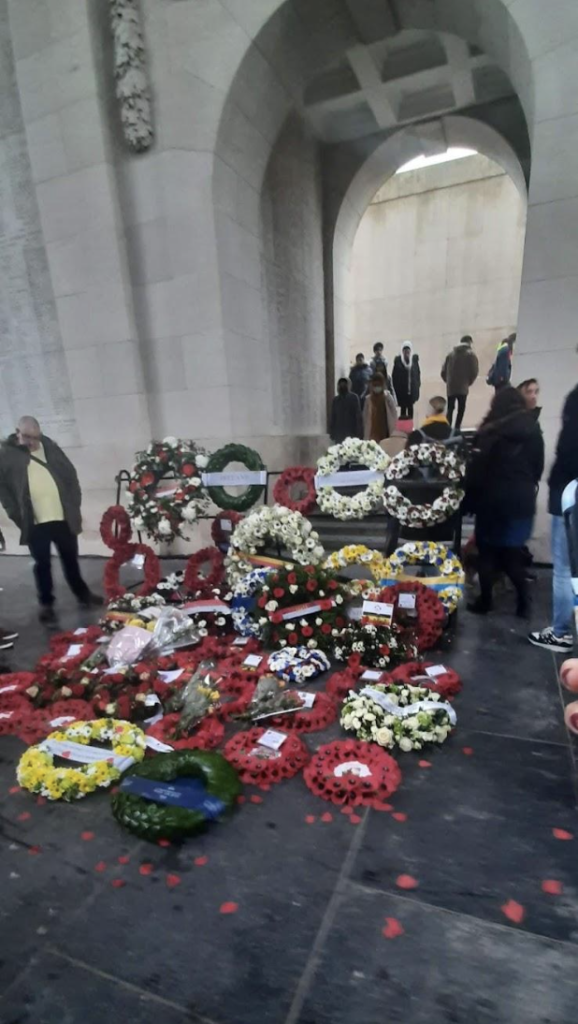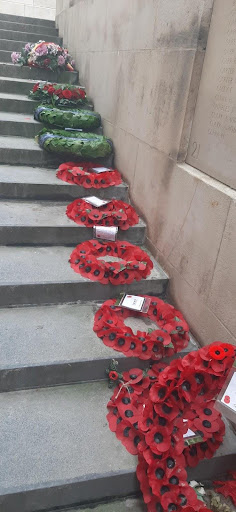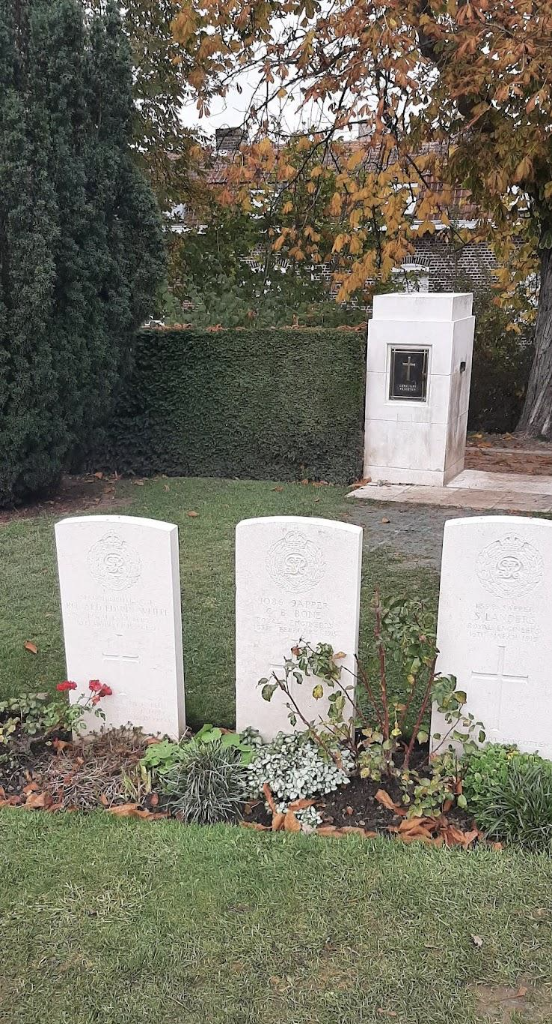 Brussels loves a light show — I attended two here (plus one in Ghent!) during my grant. Here are some sunflower sculptures at my beloved Cinquantenaire. A reminder that the same motifs can be made new and exciting when presented in a different way! (Ever made a Kahoot on fun facts about the US government system?)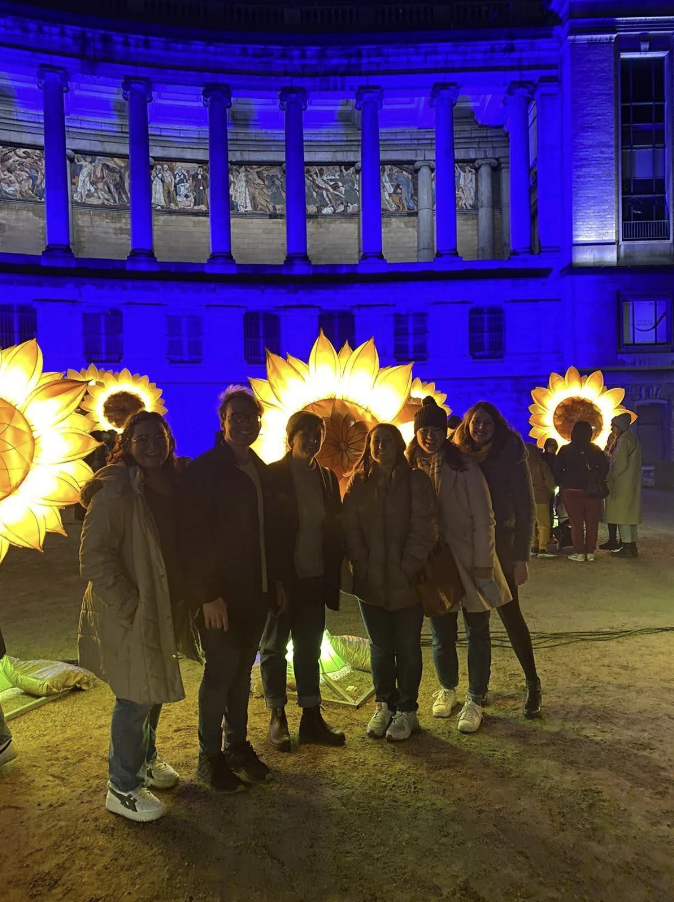 A cloudy-day visit to Namur yielded a grey-tinged view from the citadel, at the peak of which is an aromatic garden, with plants for every season. While the winter ones weren't much for the eye to behold, they did indeed smell lovely — a reminder that people and students can blossom in any season, showy or not.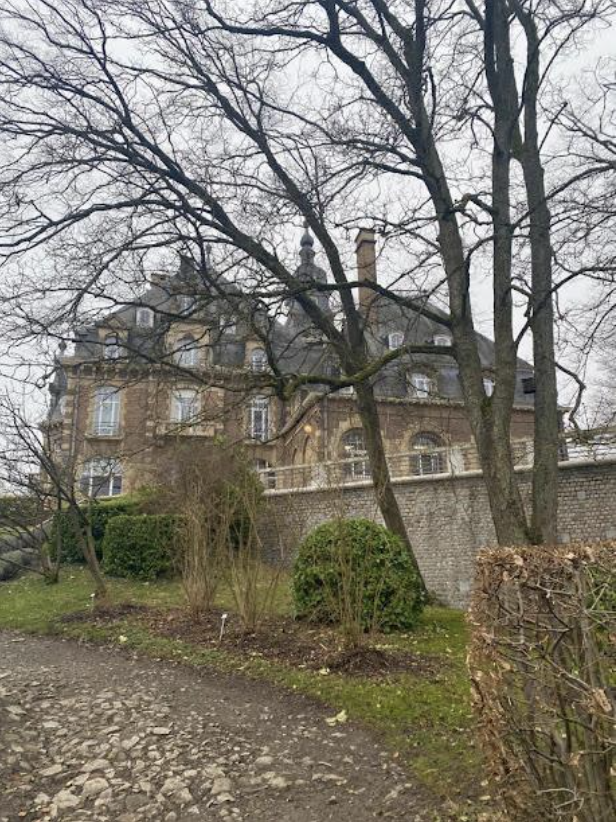 In the realm of flora and vegetation, one must also note that the battlefields of Waterloo were, and currently are, potato fields, so any path through them may become mud-logged at any moment. A teacher must always anticipate a plan gone awry, just as a traveler would do well to wear rainboots to these historic lands.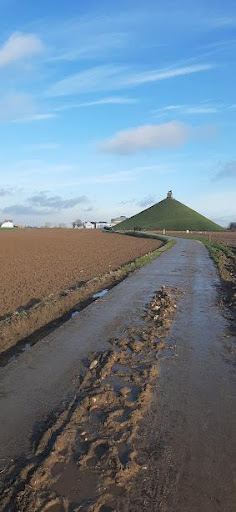 I've visited the Bruges beguinage a handful of times now. This is a space where Catholic lay women would live in community, and nuns of the Order of St. Benedict live here now. It is such a restful place, and on a blustery cold picnic day, the cheerful daffodils were a wonderful surprise. A reminder that taking a break can be so needed, and help you to be more productive!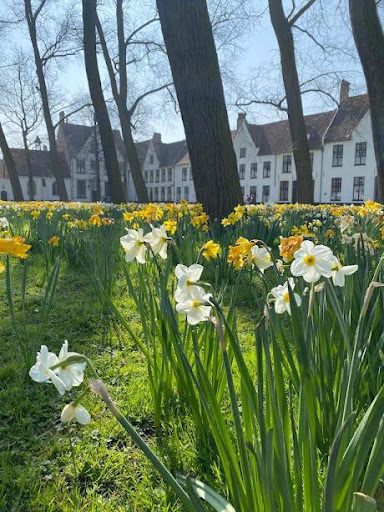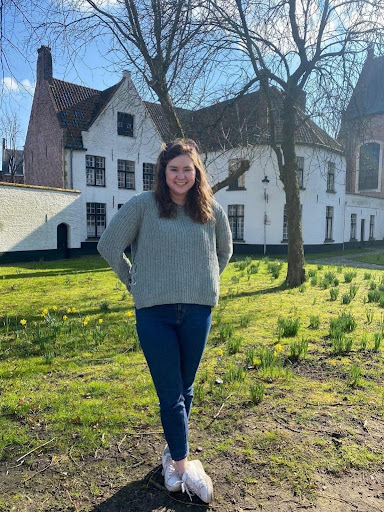 One of my favorite spots in Brussels is the Monument to the Dynasty Park. Just around the corner from this ornate structure, you can see the shiny globes of the Atomium peeking out from behind the trees. When we went to see the magnolias in bloom (usually in late March to mid-April), the view from the monument down to the Royal Palace of Laeken was incredible. I love the layers of history here, from the 1881 monument to the 1958 World Fair sculpture. It reflects, I think, the understanding that can come from layering different pieces of history into one lesson. In our discussions of Martin Luther King Jr. Day, for instance, we spoke about connections to the Black Lives Matter movement today.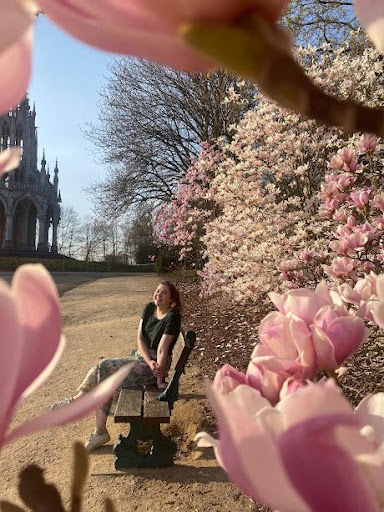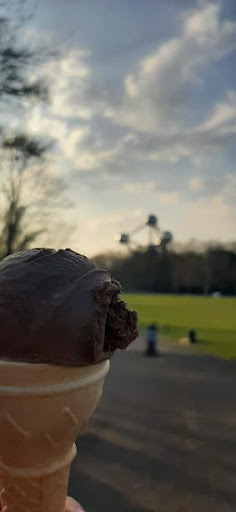 Perhaps the most famous — or Instagrammed — Belgian flowers are at the Hallerbos forest. Here, you can traipse along the path (but not off it!), with delicate bluebells lining the forest floor as far as the eye can see. While these were stunning, I was surprised to discover some bluebells the following week in my own local Cinquantenaire — a sweet-smelling reminder that sometimes the special things aren't too far away. I spent a lot of time worrying about the perfect community engagement project, and how it could work in a city during another wave of coronavirus. After a lot of research, however, I found a wonderful, nurturing role with a local and wonderful bilingual Montessori preschool school, and I'm excited to bring back what I learned there to my practice as a Montessori teacher back in the States.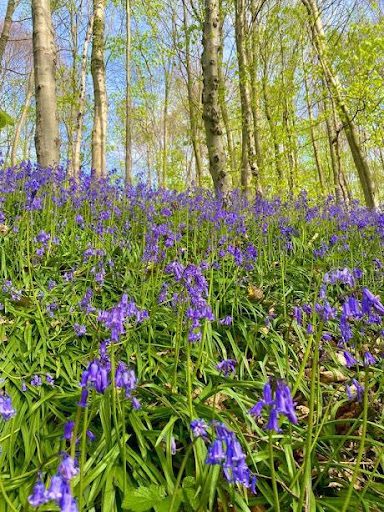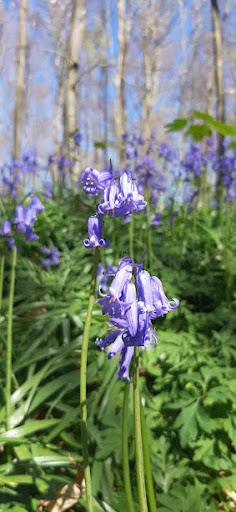 Cherry blossoms bloom all over Brussels in April, but some of the best places are in Schaerbeek and Etterbeek, right around where I live. It's easy to overlook something right in front of you! I wrote a lesson on Spanglish, and was anticipating translating both the English and Spanish together as a class. But some of my students speak Spanish at home with their families, and they were able to enlighten us so much more!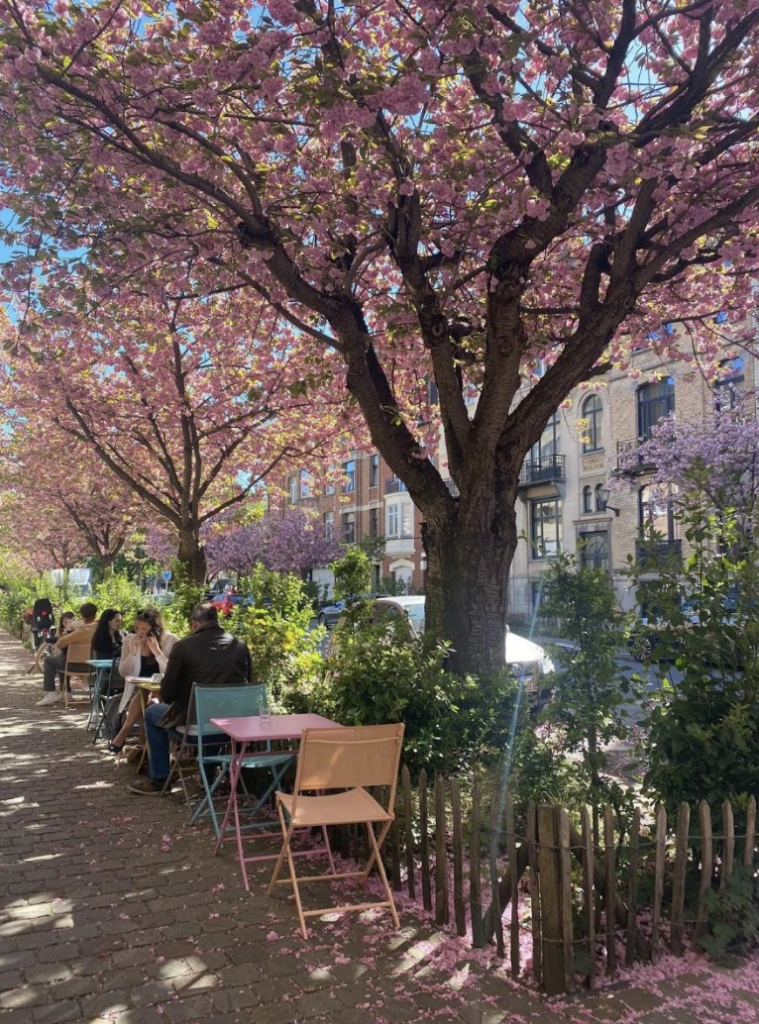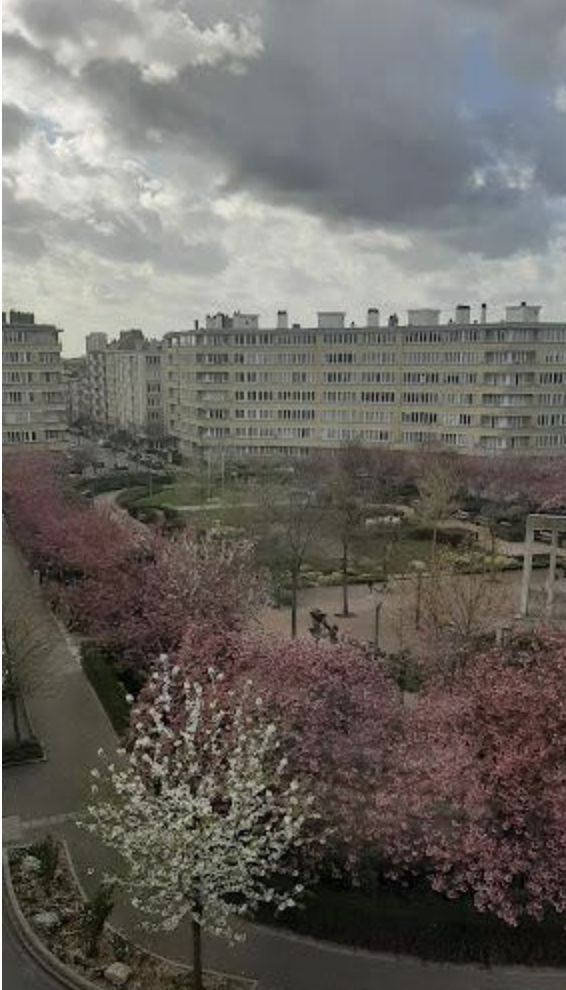 Some other Fulbrighters and I visited the town of Mechelen specifically to see the twisting wisteria: I do think that going out of your way for the sweet things is often worth it (like baking a "flag cake" or bringing American candies to class).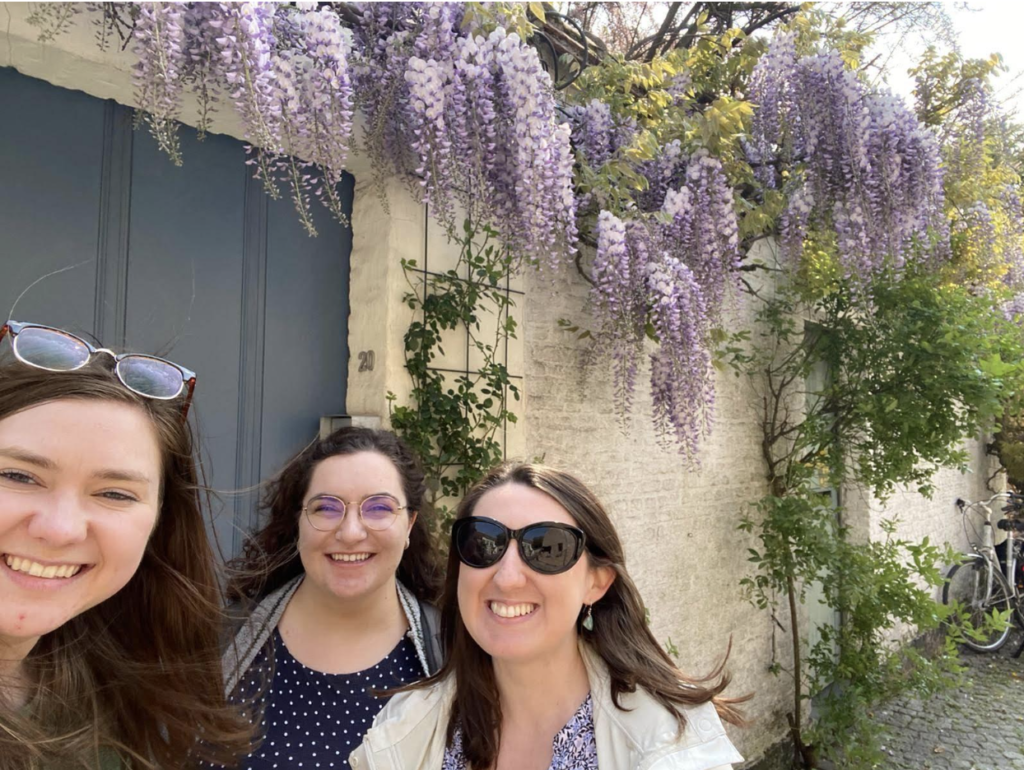 The most hilarious plants I have ever seen in my life are in the topiary gardens of the sweet Durbuy, technically the smallest city in Europe (because, by population standards, it is really a village). These gardens, which have been growing for almost 20 years, are a feat in groundskeeping. But the content is just plain funny: An homage to squirrels? A Pamela Anderson-shaped shrubbery, across the way from a cross gifted to a Pope? These moments of levity reflect some funny moments of translation, and also connection between my students: the occasional 2012 YouTuber reference, or even a last-lesson discussion on meme culture and significance, can help bring so much joy to a learning environment! See also: a small-batch jam factory, with rose and dandelion jams.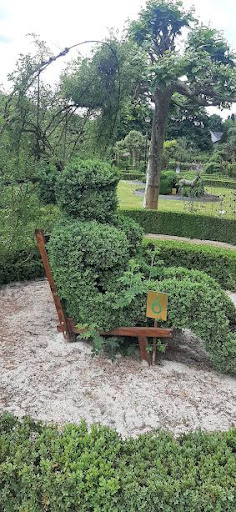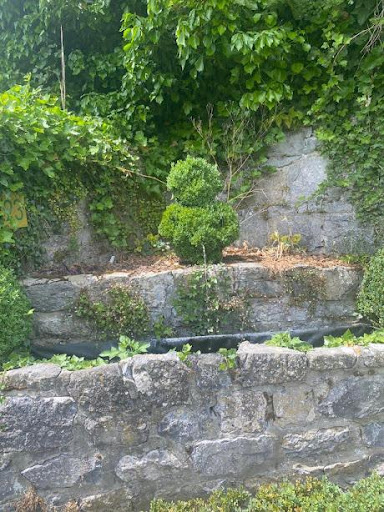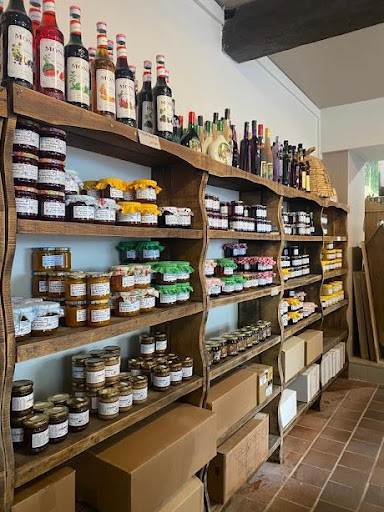 By far the most impressive and thought-provoking floral experience I have ever had in my life, the Ghent Floralia festival was themed around the Adoration of the Mystic Lamb; the artwork adorning the altarpiece in Ghent's St. Bavo's Cathedral. This work of art was interpreted in many ways throughout the flower show. But the most jaw-dropping of these is the perhaps 200-foot wide replica of the center panel. As you can see below, it features a gigantic lamb made of flowers, and there is a viewing platform you can climb to get the proper angle. There is a deep history of the painting here, but also a new way of presenting it; an interactive angle. Some of my students' knowledge of American historical events was unexpected for me: I prepared a lesson, for instance, disproving some of the myths of Thanksgiving. When I began our discussions, however, I learned that many students hadn't even known the myths, and so I could get right into talking about the true history and legacy of the event! Seeing something in a fresh (if not always floral) light was really powerful for me as an American.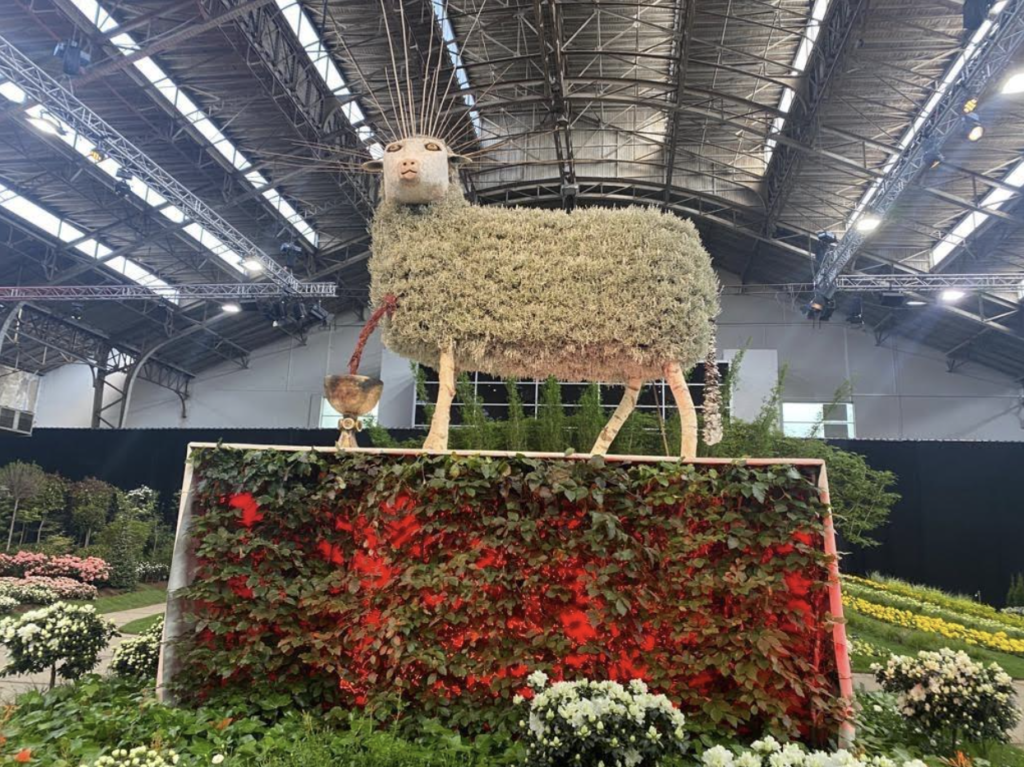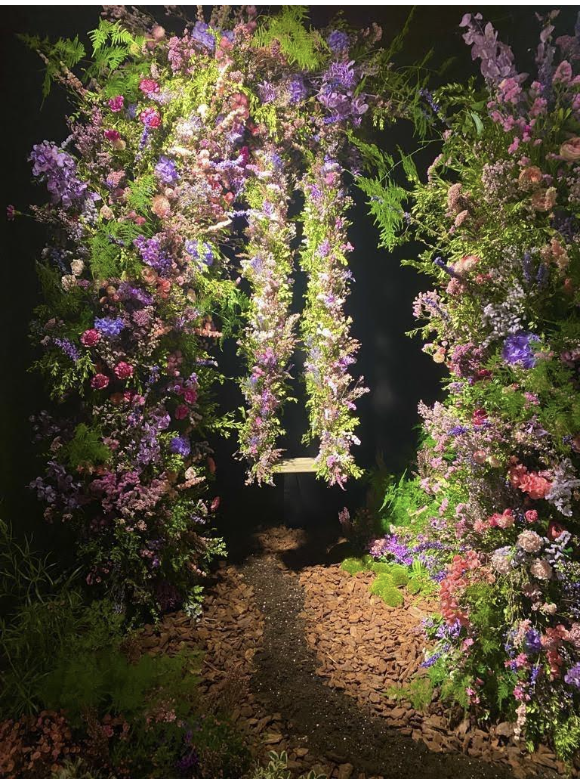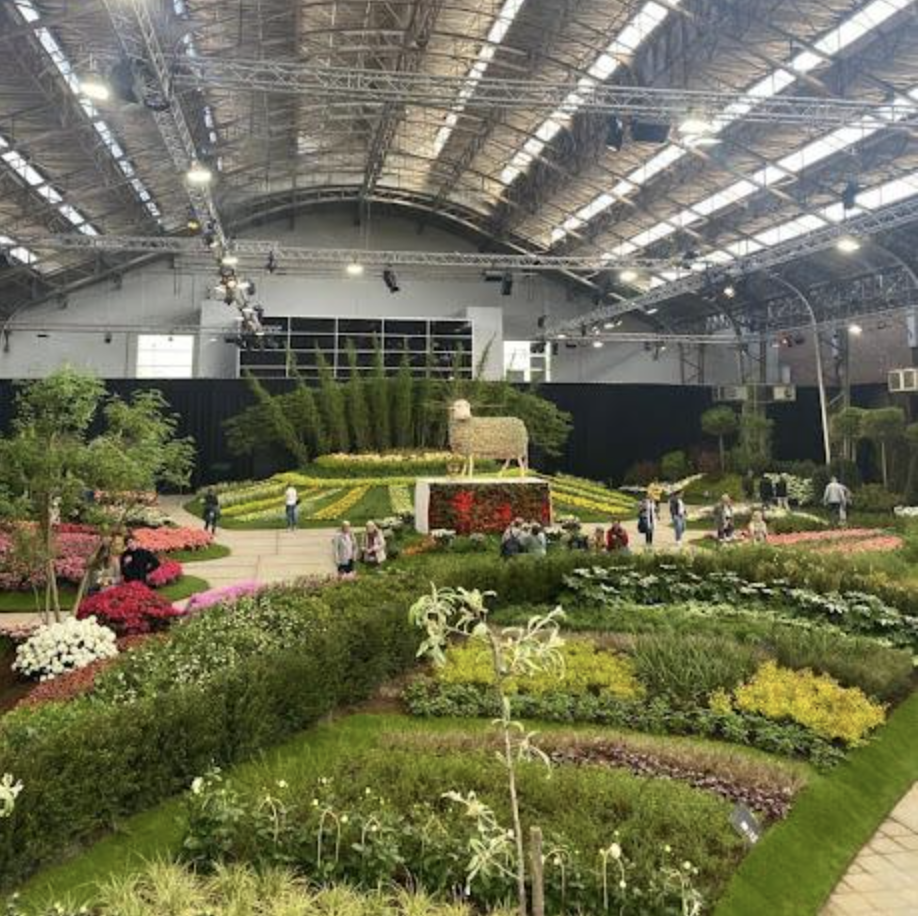 Fellow Brussels ETA Emma Brilleslyper and I also stumbled upon a castle and flower festival (before it officially opened, oops), in March. Below are some of the accidental flowers we found by following a path to Dilbeek Castle — almost as lovely as following students' interest and doing more than one lesson on the history of American music!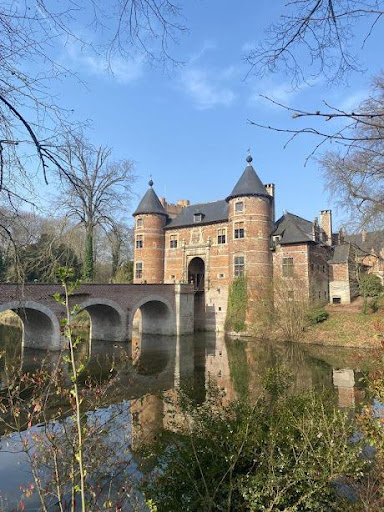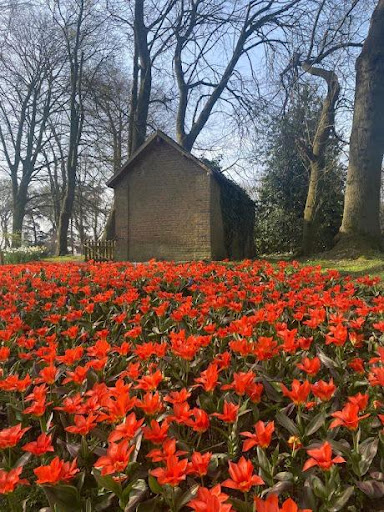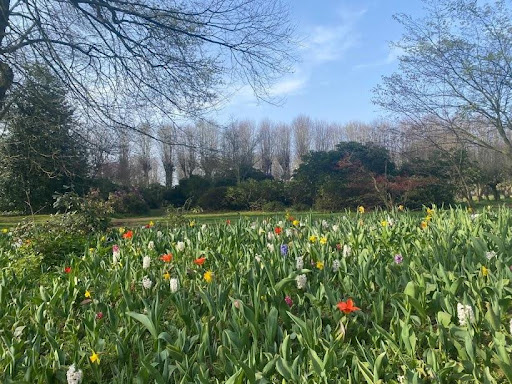 If you ever get a chance in your life to enter the Royal Greenhouses of Laeken, please please do so. Beautiful lawns outside, and breathtaking greenhouses inside. Everything from plentiful violets to gorgeous fuchsia to rare palms, these plants mirrored the way I see many of my classes: varied backgrounds and varieties and skill levels that work together to create a beautiful learning environment.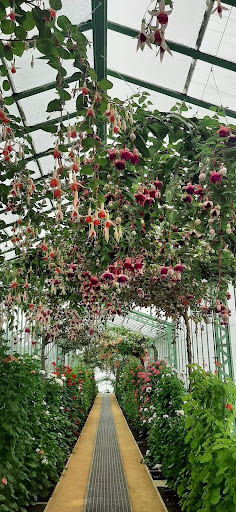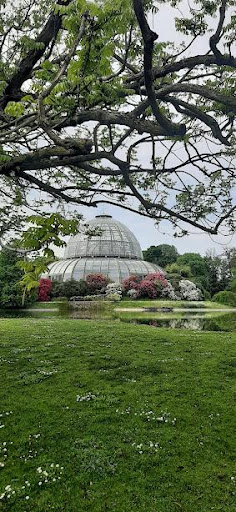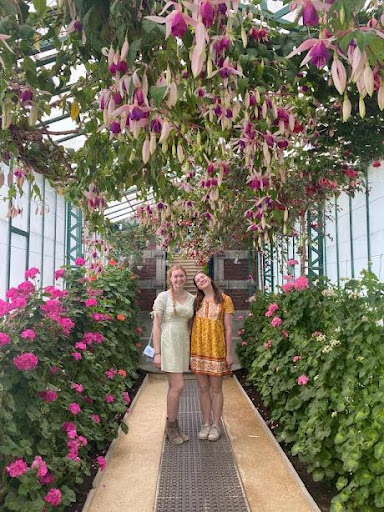 One of our adventures this spring brought us to the Abbey Villers-la-Ville in Wallonia. Breathtaking, it was one of the first places I saw the official flower of Brussels — the iris. Sometimes you find a classic where you least expect it — like an impromptu in-depth discussion of George Orwell's 1984 with my students.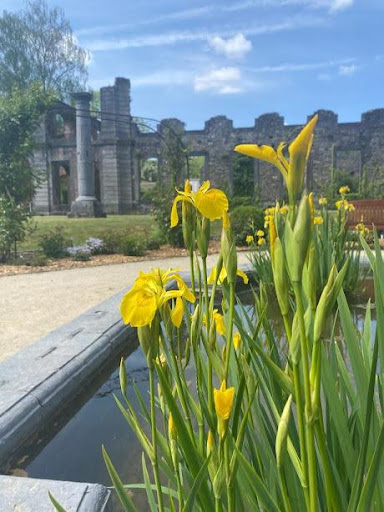 There are also some lovely flowers along the Belgian coast. I stayed with some of my favorite Belgians in St. Idesbald, where the coast was lined with potted pansies, and the seaside cottage was surrounded with roses. A change of scenery can do anyone good (like taking a lesson outside to paint like the pop artists, for instance).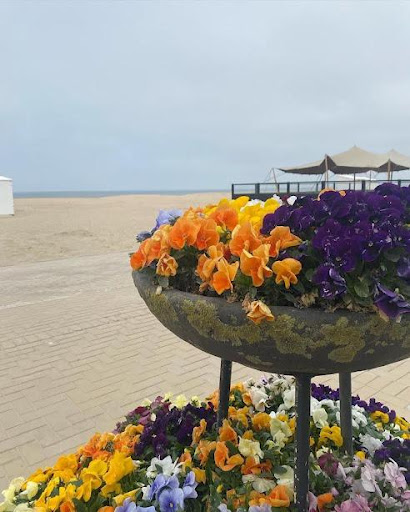 Last, an important doodle of some of my favorite flowers: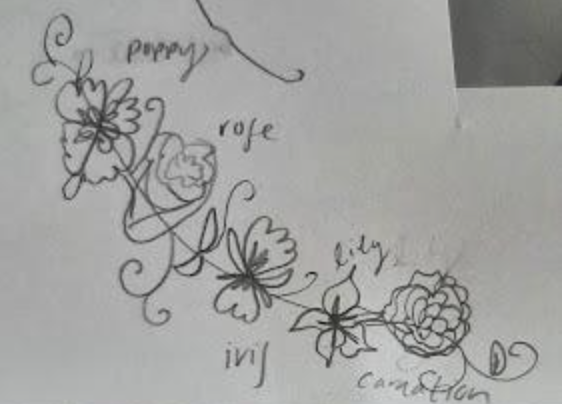 Before I depart Belgium, I will definitely circle back to my local Cinquantenaire, which now contains yellows and reds and blues, and of course, enjoy every last Mont des Arts sunset I can catch (see last weekend's below). A quote from Anne Brontë, if I may use some even more flowery language (did you know that several Brontë sisters lived in and wrote about Brussels?): "But he who dares not grasp the thorn/ Should never crave the rose." I am so grateful for my time here in Belgium, all of the wonderful people I have met to help each other through any thorns, and all of the roses this country has provided.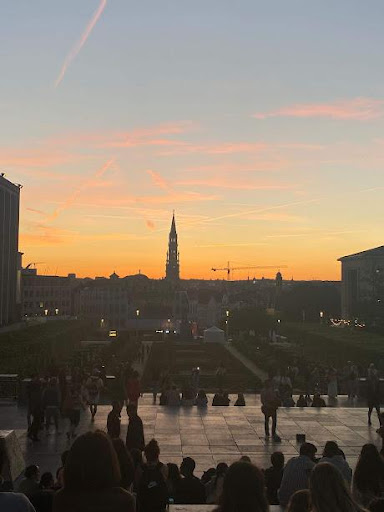 Photo credit for many of these (and fellow adventurer credit!) to fellow ETA Emma Brilleslyper! 
Olivia Rastatter is the recipient of a 2021-2022 English Teaching Assistantship Fulbright Award to Belgium. An Ohio native, Olivia graduated from Vanderbilt University in 2020 with a degree in Elementary Education, English, and Child Studies, and then taught in a Montessori preschool. She looks forward to forming relationships in Brussels, as she teaches her students about cultural events through literary history and Montessori- and drama-based techniques. She hopes to learn more about multilingualism at the primary level by volunteering with local schools.

Articles are written by Fulbright grantees and do not reflect the opinions of the Fulbright Commission, the grantees' host institutions, or the U.S. Department of State.