Over these last few months of my Fulbright English Teaching Assistant grant, I've been enjoying my commute to school, gazing out the window of my train as it zooms past the mountains, the rivers, and the farms of Luxembourg. But I can still remember my apprehension when I first learned that I would be traveling 63 kilometers (about two hours) on the train each way from my host city of Esch-sur-Alzette, in the south, to teach at a wonderful secondary school and an amazing primary school in the small town of Clervaux in the north, an area known for its historical significance as a site of heavy combat in WWII's Battle of the Bulge. After crunching the numbers, I discovered that I was traveling across approximately three-quarters of the entire country each way.
Despite the long distance, over the nine months of the grant, I've come to savor these long train rides. The trains have not only transported me from one city to another; they've also allowed me to soak in the sights of this beautiful country and afforded me time each morning to let my trains of thought wander freely before starting my busy school day.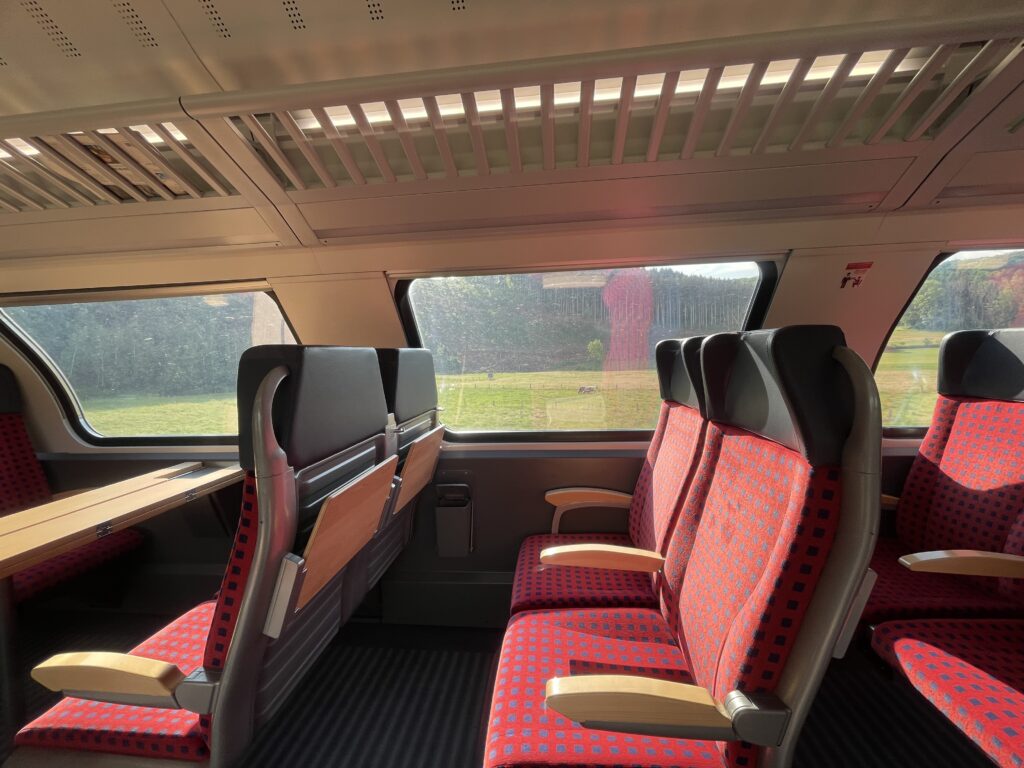 Through my experiences on the trains, I've learned many lessons, not only about Luxembourg's incredible and free public transportation system (including buses, the colorful trams in Luxembourg City, and funiculars—all of which I had to take the first time I traveled to Clervaux due to maintenance on the train line), but also about how to make the most of life's unexpected stops and delays.
Those first few weeks of adjusting to the train system were an adventure. As the early morning train chugged its way up north, I would cling to my phone in a panic, constantly checking to see which stop was next on the train route with the Mobiliteit app, an invaluable tool for navigating the country via public transportation. I quickly learned that I needed to sit in a seat facing the same way we were headed to avoid feeling motion sick. When I boarded the train each day, I would get turned around in the quest for a good seat, and since I couldn't look through the windows for landmarks due to the sea of trains on the other platforms, I wondered whether or not I was sitting in the right direction as I waited for the train to depart. Just to be safe, I began to sit in an empty section of double seats facing each other so I could easily switch seats to face the right way.
As in other parts of life, I adapted to the situation to find what worked best for me, learning how to stomach all the twists and turns. Sometimes I had to play it safe before I was comfortable enough to be sure. Yes, I felt more than a little foolish when I had to get up as the train was moving and shuffle around the train table to switch seats on the days when I had guessed wrong, but the secret I later discovered is that even if the other passengers noticed, it didn't really matter because at some point they had probably done the same thing.
As I grew more comfortable on the trains, I began closing my eyes in between Esch and Clervaux to squeeze as much sleep out of the early morning as I could before arriving at the schools. But dozing off came with its own problems—particularly the fear of missing my stop. Despite setting several alarms on my digital watch to make sure I woke up way ahead of my Clervaux stop, sometimes the train would jolt, and I'd wake up suddenly with no idea of where we were. If the train was in the mountains with little to no cell service, my Mobiliteit app was of no use. It wasn't until we pulled into the next station that I could read the signpost displaying the name of the stop and reassure myself that I hadn't overslept and ended up in Belgium!
Here the trains provided me with yet another metaphor for life: at times, it can feel like I've gotten lost in the journey, forgetting where I am. But once I've taken some time to re-evaluate my trajectory and get my bearings, I begin to feel a sense of calm, knowing that I am exactly where I need to be.
Even after I had adjusted to the train system, I still had to contend with the snags in the train schedules themselves. Way too often for my liking, I'd have to run to the station to make the train before its scheduled departure time. So proud of myself for making it to the train, I'd huff and puff into my face mask, rushing to find an empty seat, only to stare out the window at the platform, waiting for the train to finally depart after its delay as I recovered from my now-unnecessary sprint.
Other times, the train would be speeding along and suddenly come to a stop in the middle of the lush mountains, with a garbled announcement in French and Luxembourgish saying that the train would be delayed. I once spent 20 minutes with no cell service somewhere between Kautenbach and Drauffelt, looking at the same snow-covered tree, wondering if I'd ever get to school, worried about missing precious class time with my students. But sure enough, the train started up again, and I made it to my destination, a little later than expected but safe and sound.
It's happened before, and it'll happen again, when I'm chugging along with my big-picture goals and I get impatient with my progress, worried that I'm falling behind, pushing myself to go faster and faster until I realize that it's okay to take it slow and that sometimes I'll be forced to. In those moments I remember that life isn't a race—it's a journey. And despite some delays in the timetable, I'll make it as soon as I can, and it'll all be alright.
After a few months of the grant, I finally felt that I had mastered the train system. In the mornings, I strolled along the platform and boarded the train at my own leisurely pace, sitting confidently in a two-seater that I knew was facing the right direction, with the list of stops rolling through my mind. I sat back and enjoyed the ride, knowing the precise moment to crane my neck to take photos of my favorite spots along the now-familiar route (including a quaint dairy farm just past the town of Ettelbruck with a brown mini horse that looks like Li'l Sebastian, a beloved character from one of my favorite U.S. TV shows, Parks and Recreation).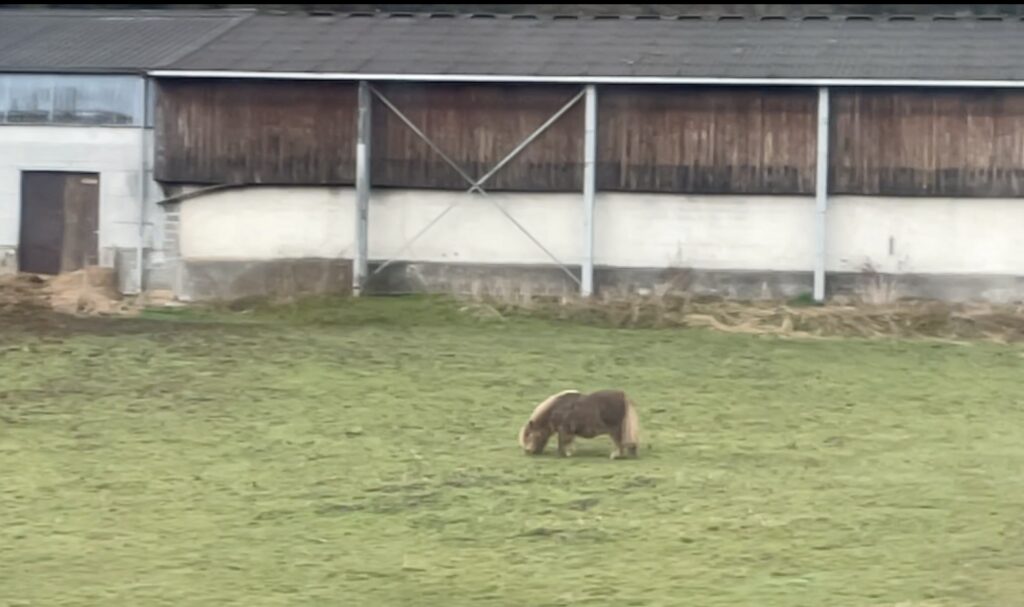 These are the days in my life when the train is running on time and everything is perfect—like the day I won a prize in the multilingual "Jeune Printemps" Luxembourg Poetry Contest; or when one of my students overcame her learning barrier to win a top place in the European School Writing Festival; or the time my students were laughing raucously as they played the Kahoot game I had prepared to teach them about Macbeth; or when my primary school students asked so many questions about life in the US that we ran out of time; or the evenings I spent preparing a scavenger hunt activity for my classes' field trip to the Family of Man photography exhibition at Clervaux Castle, a beautiful UNESCO World Heritage site, where I spent hours walking the halls of the castle's museum until I knew the exhibition like the back of my hand.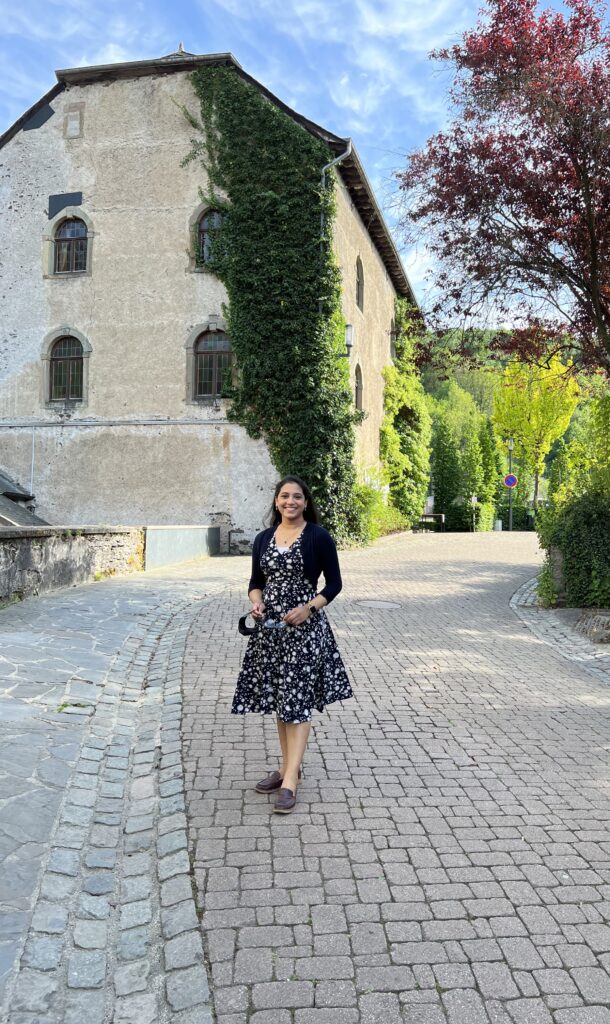 Now at the end of my Fulbright grant, the announcement that plays as the train pulls into its last stop in Luxembourg City before I board another train home to Esch comes to mind: Luxembourg, terminus du train ("Luxembourg, end of the line"). With a deep breath, I ready myself to board the train to the next chapter of my career, excited about another adventure and grateful for having learned and grown so much from this one.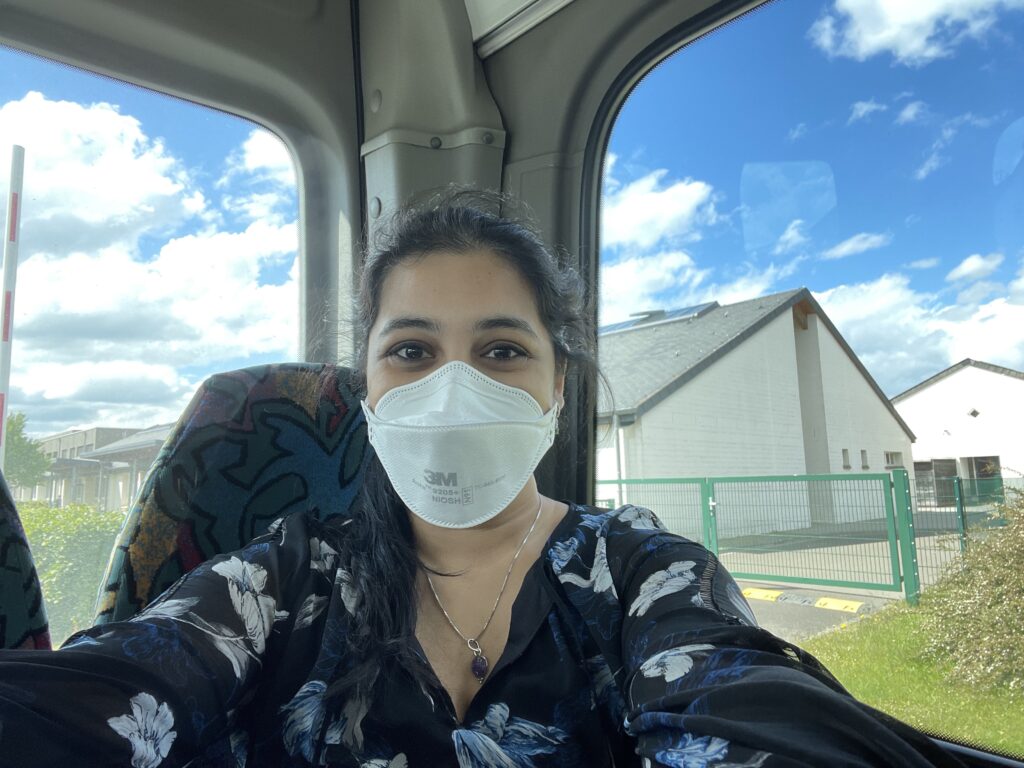 Sara Rani Reddy is a 2021-2022 Fulbright English Teaching Assistant in Luxembourg. A graduate of the University of Notre Dame with a degree in chemistry and French, Sara Rani enjoyed immersing herself in the French speaking communities of Luxembourg and learning about the multilingual educational system at the primary and secondary school levels. While in Luxembourg, Sara Rani won a prize in the multilingual "Jeune Printemps" Luxembourg Poetry Contest. In the Fall of 2022, Sara Rani will be starting her Masters in French from Columbia University in New York City and looks forward to continuing to write about her experiences in Luxembourg. 

Articles are written by Fulbright grantees and do not reflect the opinions of the Fulbright Commission, the grantees' host institutions, or the U.S. Department of State.