One thing that almost immediately struck me about Belgium, and Flanders in particular, is the sheer amount of cardio that people do on a daily basis. I saw mothers biking their children to school, professionals in full business attire biking to work, and countless people jogging through the streets on a daily basis.
I come from a running family—one of my earliest memories is being strapped into a bright red stroller that my mom would push in front of her as she logged her daily miles—so I wanted to get involved in the running scene during my time as a student at Ghent University. I had only done half-marathons up until this point, but this time I was going to go all-in. I signed up for the Ghent Marathon, and began training.
After a tough day of classes, learning Swahili grammar or the principles of medical anthropology, running was a release of stress and stopped me from getting overwhelmed by my homework, or by the difficulties of living in a completely new city. I would run from my student apartment, which was right next to Baudelopark, all the way up through Overpoort past the University's main campus, until I reached the farmland just outside Ghent. I remember seeing endless fields of grass, and horses curiously looking at me as I jogged past them. Taking the time to run all throughout Gent helped me learn more about the city—I think I saw every church within a five-mile radius, as well as local attractions like the Graffiti Street and of course the Belfort.
The marathon ended up being a success—even though I wasn't able to feel my legs past the 20th mile, and it took me about a week to learn how to walk again! It was incredibly inspiring to see all the families supporting the people running, and it was a great experience to run with people from Belgium, France, and even South Africa.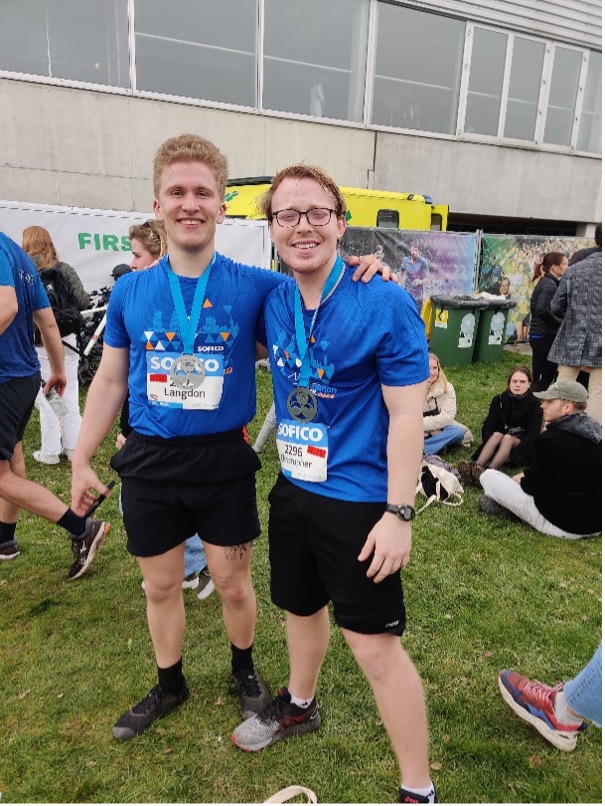 Later in my grant year, I decided to sign up for more races. I figured that if I could get to know Gent so well by running, I could easily learn more about places like Antwerp and Brussels as well. The next race I did was the Antwerp 10-miler, which was basically a big loop through and around the city—we ran through uneven cobblestones in the Grote Markt, along the river, and next to the big ferris wheel which is a landmark of the city. I was lucky enough to complete the race with Constance, a Belgian Fulbrighter from a previous cohort—it was a great time!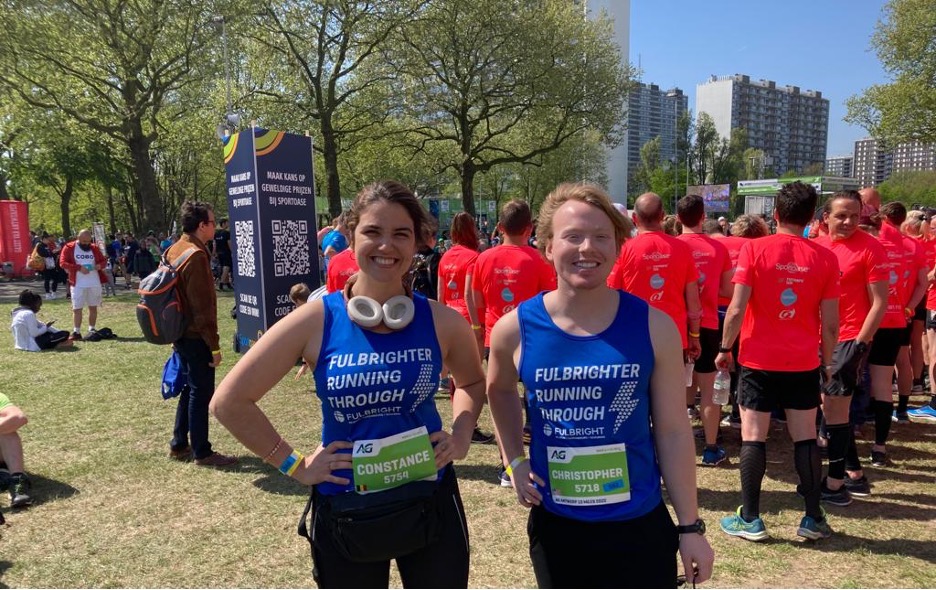 The last city on my list was Brussels, so I signed up for the Brussels half-marathon and began training. I had seen parts of Brussels before, but I was especially looking forward to seeing some of the areas further out from the city—the race began in Parc du Cinquantenaire, but then continued through Parc de Woluwe and Bois de la Cambre—all wonderful green spaces in a thriving urban center. While it did start to rain a bit towards the finish (it's Belgium, so that's to be expected), the race was an exciting jog through a historic city.
While there may be better ways to get to know a city than flirting with shin splints and stress fractures, I will always look back on my year in Belgium as a time in my life where I got to learn about history, culture, and people—all from a street level.
Christopher Hebert is a 2021-2022 Fulbright Grantee to Belgium, where he pursued an MA in African Studies at Ghent University. His research looked at postcolonial identity formation in Rwanda through Rwandan literature and archival research. After his grant period, he will serve in the United States Army as a Military Intelligence Officer focusing on issues facing Africa. Chris is a graduate of the United States Military Academy at West Point, class of 2021.

Articles are written by Fulbright grantees and do not reflect the opinions of the Fulbright Commission, the grantees' host institutions, or the U.S. Department of State.