On a routine visit to the archive in February 2022, I stumbled upon a letter signed by one of the most famous Belgian artists of the late 19th century, James Ensor. I was at the Archive et Musée de la Littérature in Brussels, looking at documents on performance groups in Belgium's former colony of the Belgian Congo (current-day Democratic Republic of the Congo). It was while sifting through the letters of James Thiriar, a Belgian painter and sometimes–theater producer working in the Congo, that I encountered Ensor's large, scrawled signature at the bottom of a short note from 1937. I was shocked to see, in the space of a few lines, Ensor alerting Thiriar to a new article he had written on "African masks." I double-checked that I was not mixing up the sender and recipient. If there was one thing about Ensor that I had learned at the myriad Belgian art museums displaying his art to this day, it was that the painter rarely left his native town of Ostend. What on earth did Ensor know about Africa?
A week later I took the train up north to Ostend, in no small part because I was seeking answers to this question. I thought that the Ensor House, a museum located in Ensor's lifelong home, might have something to say about the painter's interest in Africa. Ensor was known for his colorful paintings of carnavalesque masks, imbued with both religious imagery and satiric depictions of Belgian politics under the reign of King Leopold II. Leopold's infamous violent invasion and private exploitation of the Congo from 1885–1908 (much critiqued in the international press—and specifically American press—until the colony was taken over by the Belgian state from 1908–1960), I hypothesized, had to have inspired some of Ensor's contemporary cartoonish drawings of Bruxellois elites.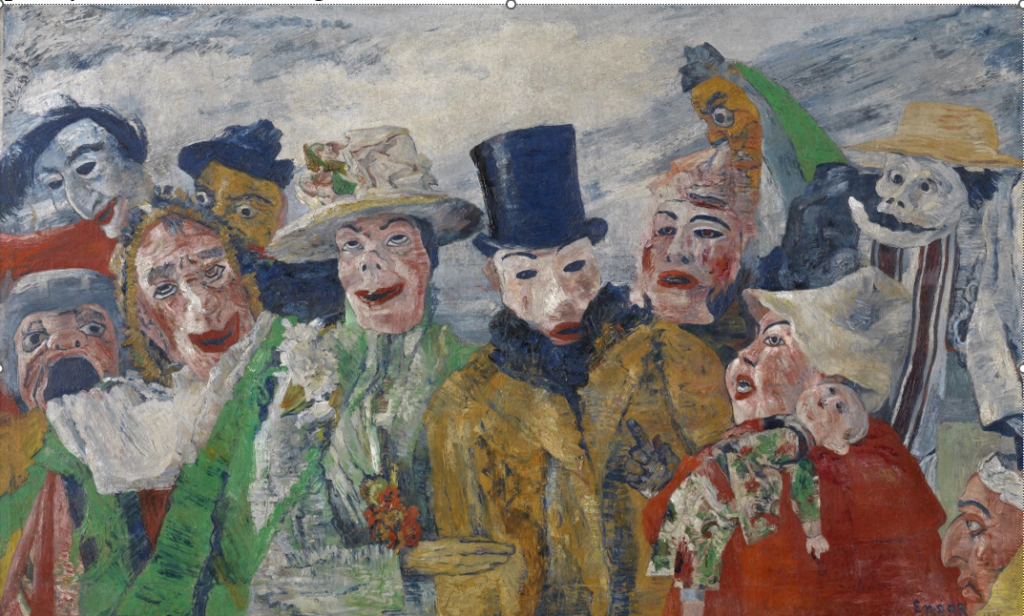 But curiously, the Ensor House's exhibits did not touch much on this or any other political context, opting to focus more on the artists' family and friends and the development of Ostend at the end of the 19th century. Moving between re-creations of salons and bedchambers, visitors learn that Ensor lived most of his life (1860–1949) in his family home in Ostend, situated on top of his uncle's curio shop catering to a tourist crowd that increasingly flocked to the beaches that were only a few steps away. While Ensor trained briefly at the Academie des Beaux-Arts in Brussels between 1877–1880, he returned to Ostend and proclaimed himself to be removed from all artistic influences, be they historical or contemporary [1]. His studio, where he produced some of his most famous mask-riddled paintings, was in the attic of his parents' house, which he only left a handful of times to show work in neighboring France, the Netherlands, and London [2].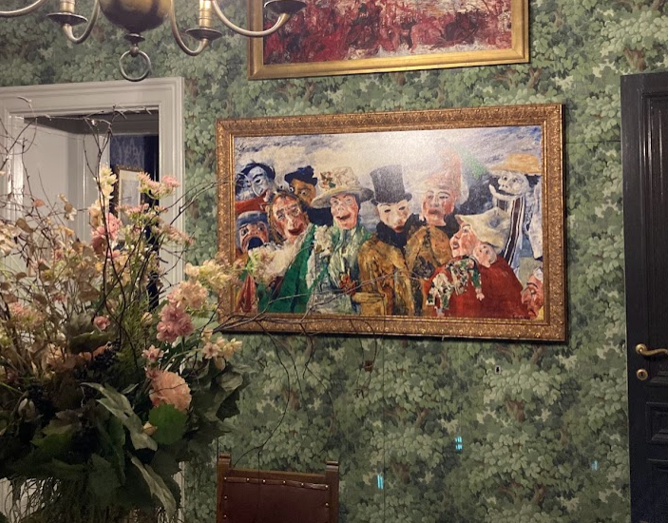 As I moved through the Ensor House, I was beginning to think that the letter I found was just an aberration from the end of the artist's career. After all, I had not yet hunted down any article on "African masks" written by Ensor, and for an aspiring historian, I am laughably bad at deciphering handwriting. Maybe I had misread his scrawled note.
My hunch returned, however, when I entered one of the last rooms at the museum—a re-creation of Ensor's uncle's curio shop, on top of which he had purposefully spent his whole life. Shells, masks from unrecorded locations, animal bones, and taxidermy line the walls. Some of the masks in this shop could have been created in Belgium for pre-Lenten holidays, while others may have been imported. During Ensor's lifetime, these items—referred to as "curios" or "curiosities" —would have made their way to Ostend through its ports and the ships of 19th-century imperial travelers. Although Ensor may have painted his life in Ostend as insular, in reality, Ostend during this period was a rapidly growing tourist destination for European elite, largely due to the money, extracted from his colony, that Leopold II poured into the town.
Soon after my visit to Ostend, I located Ensor's article on African masks, and it became clear to me that Ensor likewise had made this connection between the ports in Ostend, the "curious" objects that came through it, and his own work. More poetic verse than academic reflection, the essay "James Ensor and African and Ostendais Masks" appeared in a May 1937 special edition of the Belgian periodical Les Beaux-Arts specifically devoted to Congolese art. Ensor's depiction of Congolese masks reflected a racist framing of African arts as "raw" or "unrefined" typical for his period. He begins: "I unequivocally condemn the ugly mask from the underworld of Africa, Asia, Oceania," nevertheless continuing on to wax poetic on the mystical and inspirational qualities of these "ugly" masks.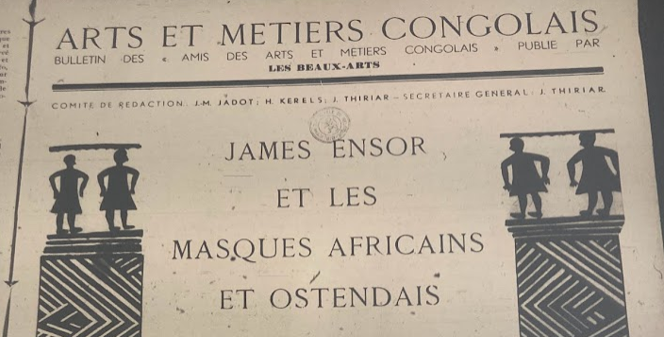 In this essay, Ensor reveals what exactly it meant to be Ostendais in the late 19th century. Rather than the recluse he paints himself to be, Ensor was close to ships coming and going to the colony and the rest of the world, with access to the new colonial objects and aesthetic inspirations. Ensor ends the essay by framing Ostend as a door to elsewhere: "I will repeat open, open all the portholes. Ostend, strange city, to you the keys of your shield of sand, and gold." Although adamant that he was no fan of imported African objects, Ensor's essay nevertheless makes clear that Ensor saw his work as "transfiguring masks vomited up from our infinite seas" into those we see on his canvases [3].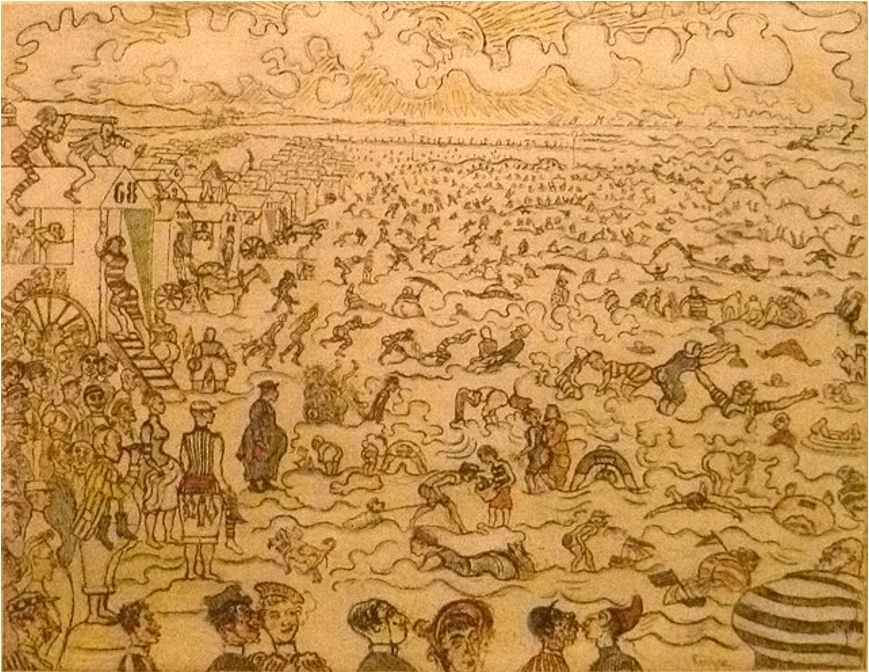 Setting aside Ensor's 1937 essay, I was struck by the contradiction between the artist's denial of the aesthetic value of African masks and his inclusion of colonial imagery in his works, which turns out to be a frequent occurrence once you know to look. For example, art historian Patricia Burman has noted that a mask in Ensor's magnum opus Entry of Christ into Brussels in 1889 closely resembles a version of a Songye mask from southeastern Congo, one that was displayed (and perhaps seen by Ensor) at the 1885 Universal Exposition in Antwerp. Other faces in this painting also resemble West African masks [4]. Likewise, art historian Debora Silverman has pointed to a "tall African figure" on the right side of Ensor's painting Temptation of Saint Anthony (1887), which she sees as part of an influx of Congolese imagery into Belgium caused by press coverage of Leopold II's exploits in Congo and a sign "of a cultural imaginary filling up with Africa" [5].
So, what did Ensor know about African masks? From the shallow dive I had done into the artist's life and work, admittedly little. But my brief investigation nevertheless serves as a critical reminder that Ensor was, of course, a man of his time, embroiled in the Belgian political discourse of the late 19th century, much of which revolved around the imperial dramas of the country's king. Ensor weaponized the imagery of the colony against the very men exploiting it, transforming African masks, often drawing on racist stereotypes, into carnivalesque caricatures to mock Leopold II and the Belgian bourgeoisie.
Although my project and my time in Belgium were not devoted to James Ensor's masks (not at all!), his unspoken colonial connections provided an important reminder as I continued my archival research: not all cultural influences are intentional. Despite his own immobility, locked in his family's apartment in Ostend, Ensor's work was connected to the larger world by virtue of his country's international reach during his lifetime.
This is a connection that has not gone unnoticed. In 2014, Congolese artist Sammy Baloji staged an exhibition at Ostend's Mu.Zee museum called "Hunting and Collecting," in which he specifically juxtaposed Ensor's caricatures of Belgian bourgeoisie with archival photos of similar Belgian elites trophy hunting in Congo during the colonial period. This positioning of Ensor's work next to documents he had never seen is meant, per the exhibit's catalog, as a reimagining "in which individual and local representations are linked to global possibilities" [6]. Despite depictions of self and country as small, insular, or even provincial, Ensor's masks reveal what the artist wanted to deny: the cultural influence of the colonial period on Belgium's metropolitan canon.
References:
[1] Patricia G. Burman, James Ensor: Christ's Entry in Brussels in 1889, Los Angeles: Getty Publications, 2002, p. 49
[2] Ulrike Beck-Malorny, James Ensor, 1860–1949: masks, death, and the sea, 2000. Ensor did, however he may have claimed, spend significant time in Antwerp and Ghent, intellectual and economic hubs in their own right.
[3] James Ensor, "James Ensor and African and Ostendais Masks," Les Beaux Arts, June 25, 1937: 11–12.
[4] Burman, 62–63.
[5] Debora Silverman, "Ensor's Panache," in James Ensor: The Temptation of Saint Anthony, Chicago: The Art Institute of Chicago, 2014.
[6] Phillip Van den Bossche, "Hunting & Collecting Forward," in Hunting & Collecting: Sammy Baloji, eds. Lotte Arndt and Asger Taiaksev, Galerie Iman Farès/Mu.Zee, 2014: 7.
Emily Hardick was a 2021-2022 recipient of an Open Research award to Belgium and a PhD candidate in African History at The Ohio State University. During her award, Emily conducted archival research in Brussels, Tervuren, and Leuven while affiliated with Ghent University's African Studies Program. Her research in Belgium focused on the promotion and transnational circulation of Congolese performers during the Belgian colonial period and the cultural politics of dance in mid-20th century colonial and authoritarian regimes.

Articles are written by Fulbright grantees and do not reflect the opinions of the Fulbright Commission, the grantees' host institutions, or the U.S. Department of State.