My time as a Fulbright Scholar living in Antwerp, Belgium has been one of the most rewarding experiences of my life. Of course, my experience has been amazing because of the opportunity to engage with the important cultural opportunities that are unique to Belgium and Flanders, such as its arts, its architecture, and its history.  But it's been most rewarding because of the chance to engage with its culture in a foundational sense: the experience of daily life in Antwerp. With that in mind, I will share my experience of a typical day during my time in this wonderful city.
The Morning Commute
I start every workday by riding a bike: a great way to start the day because, riding a bike is, well… fun! I've ridden a bike more often during this year in Antwerp than I have since I was in middle school, and I've enjoyed it just as much now as I did then. (Maybe more, because there are fewer hills in Antwerp than where I grew up- as in, Antwerp has no hills.)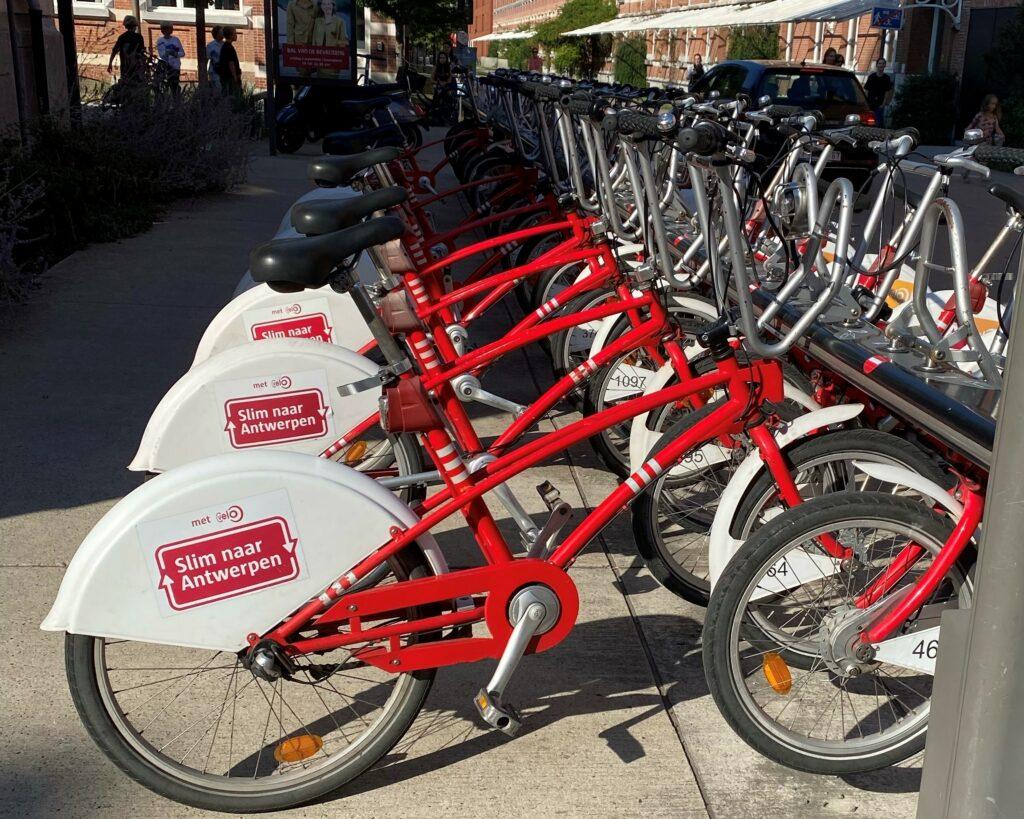 I've used a Velo bike throughout my time in Antwerp, which has given me the opportunity to reflect on the experience of daily life that results from the extensive public transportation system available in Antwerp and Belgium in general, versus my experience in the U.S. Every workday in Antwerp I walk less than a block to a Velo station and then bike about 10-15 minutes to a campus office; every workday in the U.S., I drive 25-30 minutes to my campus. Because I didn't use (or need) a car, my lived experience of getting places within Antwerp involves a close connection to the outside world- to the city, its people, its parks, its streets, and its sights and sounds. Of course, there are American cities that have decent public transportation, and the experience of commuting or running errands in such cities is closer to my experience in Antwerp. But U.S. cites don't have Velo bike racks everywhere, and you don't, on the way to work, get to bike past a center for public transportation as dramatically beautiful as Antwerp Central Station.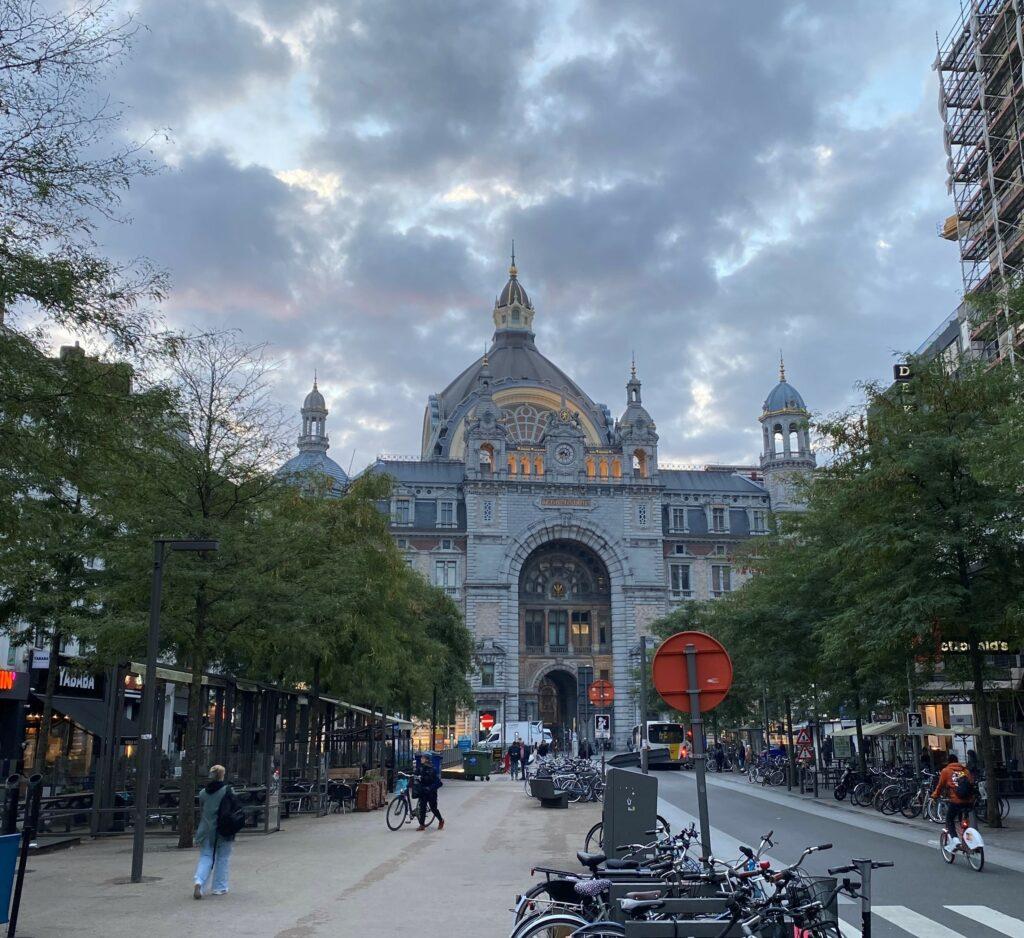 On most days, I head over directly to the University of Antwerp campus, or the co-working space that is available to faculty and staff because of a major fire that took place last summer (more on that later). But, recently, at least once a week I've been going first to a meeting with a university colleague at a neighborhood coffee shop/co-working space.
Meeting with a Colleague Over Coffee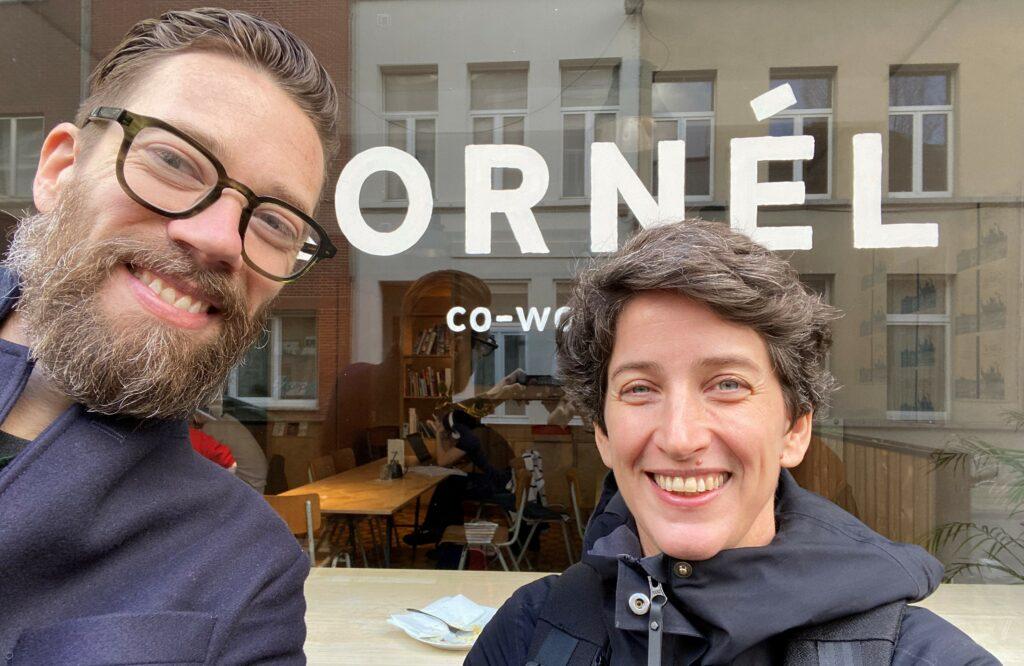 This has been a great addition to my weekly routine- it's been so nice to meet and get work done in a warm and vibrant coffeeshop. Working is just better when you have the opportunity for another cappuccino or pastry treat close at hand. But the most special thing about my work experience here has been the way I've been welcomed and supported by my hosts and colleagues at the University. I've been welcomed warmly since I first sent an email to Professor Luuk Van Waes inquiring about a possible letter of invitation; and since coming to Antwerp, I've been treated as a valued member of the research team that invited me. My weekly coffeeshop meetings with Professor Mariëlle Leijten are just one example of the many ways that my colleagues at the University of Antwerp have made an effort to include me in the collaborative research of the team, but also as part of a community living in Antwerp.
After finishing our work, pastries, and coffee, I usually would bike over to the University of Antwerp campus. There, I might go to another meeting with another team member or just work for a while in an office on campus.
Heading Over to Campus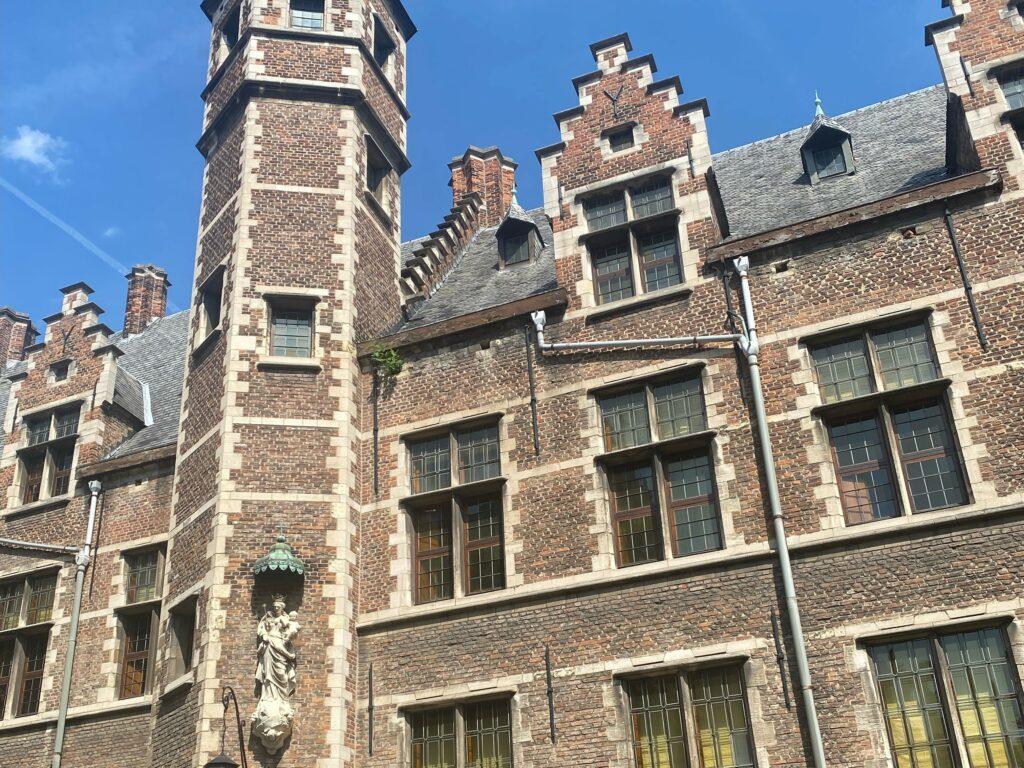 Walking into the University of Antwerp is always an enjoyable experience- it's truly a beautiful campus. It's beauty, however, was marred by a major fire that happened last summer, which destroyed much of a central campus building- one of three buildings surrounding its inner court. Fortunately, the other two buildings, originally constructed in the 16th and 17th century were undamaged; the damaged building was built in 1929 in the same style. In any case, despite the scaffolding on this building, it was inspiring each day to be able to walk into work through a campus with so much historic beauty.
To address the situation and relocate faculty and staff while the building is under repair, some of the university Faculties, including the Faculty of Business and Economics where I have been conducting research, came up with a unique solution: turn all available offices into flexible co-working spaces that can be reserved daily.
This challenging logistical situation was also addressed by the university's leasing of two floors of the Brain Embassy co-working space in central Antwerp. On a typical day, after a meeting on campus (and grabbing some lunch), I would head over to Brain Embassy for the second part of the workday.
I had a favorite desk at Brain Embassy that I liked to reserve. The picture below makes it clear why- this is the view from that desk.
Finishing Up the Day Overlooking Central Antwerp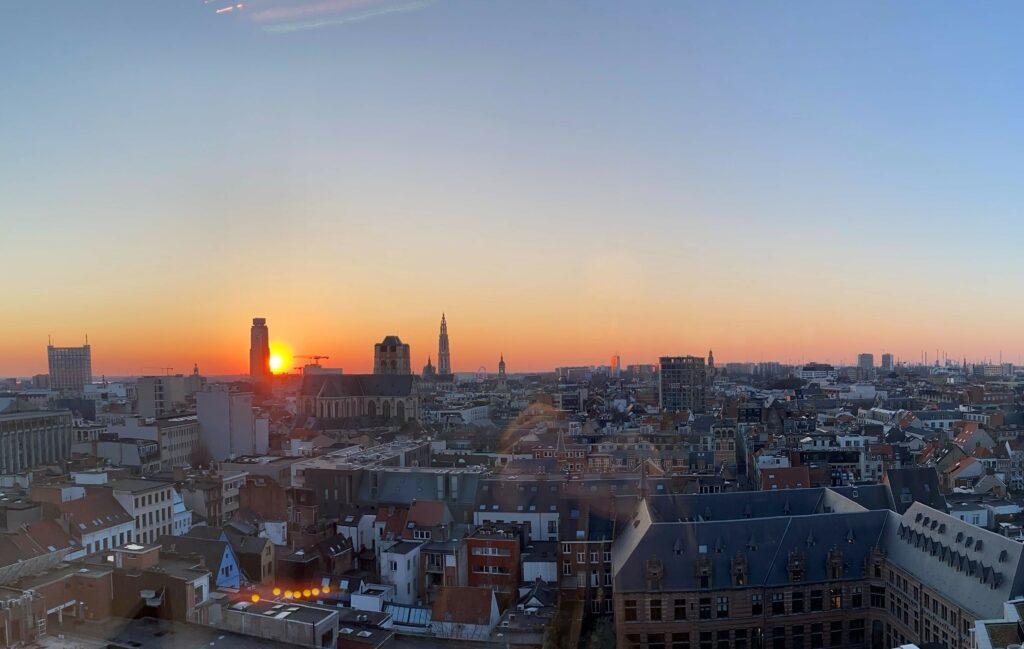 I am so very grateful for every moment I've been able to spend looking out on this amazing view of the city I have come to love most in this world. I had been to Belgium several times before my Fulbright experience, and I immediately loved Antwerp the first time I visited it back in 2018. So, I just can't believe that I've been able to spend many of my typical workdays as a Fulbright Scholar in Belgium at a desk with this view.
I am sure that the scholarly relationships and friendships I've made here are long lasting, and that I will continue to collaborate with my new Belgian colleagues long after I leave. I will, however, greatly miss the culture of Antwerp- the experience of daily life in the city, which has been filled with so much beauty, joy, and kindness.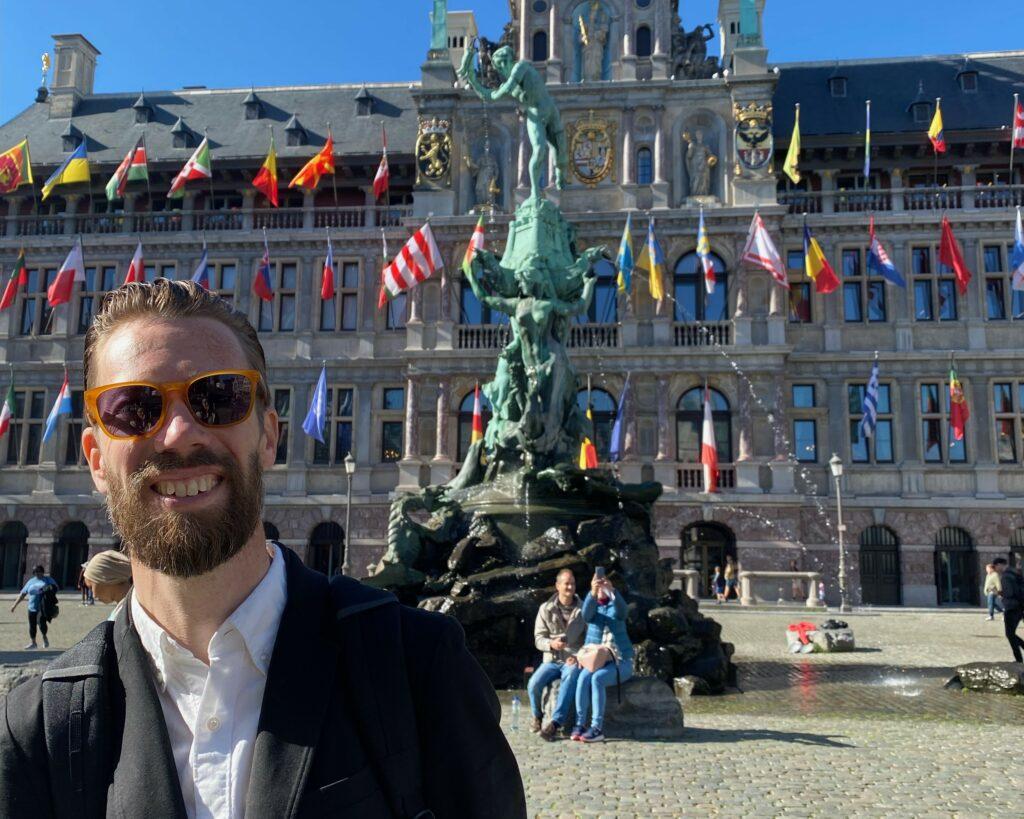 As the recipient of a Fulbright Scholar award to Belgium, Justin Young conducted research on writing education at the University of Antwerp during the 2022-2023 academic year. His research focused on the development of new strategies and software tools for understanding the writing process and improving student writing. Justin is a Professor of English at Eastern Washington University.

Articles are written by Fulbright grantees and do not reflect the opinions of the Fulbright Commission, the grantees' host institutions, or the U.S. Department of State.