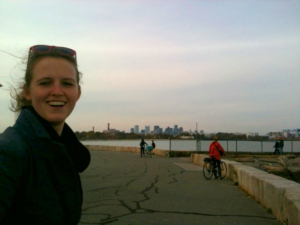 My first semester in the US has been fantastically enriching and I'm really looking forward to have three more semesters in Cambridge and Boston! Many people told me that Boston is the 'most European' of American cities and it's really true. I felt at home from day one. All the international students coming to MIT, Harvard and the many other colleges make Cambridge a very diverse and interesting place to be. This also brings the European habit of biking students into the city, which I love. I bought my bike on the third day I was here and have been biking all around the city ever since. I've also undertaken some biking tours in the weekends with my classmates to explore the city. We've biked 'The minute man', along the Fresh pond, through Mount Auburn and along the Emerald Necklace in the center of Boston. For our design studio we worked on South Boston, which we also explored by bike. It is an interesting site combining some of Boston's industry and harbor activity, Boston's beach and fortress as well as its convention center and institute of contemporary art.
The first semester of classes was very intensive and demanding, but extremely interesting and enriching. We're a class of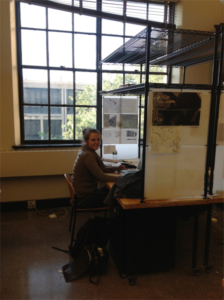 ten students taking the Master of Science in Architecture Studies – Architecture and Urbanism, and we all had to take a compulsory Introductory Design studio, Urban Design Theory Seminar and the SMArchS Colloquium class. Additionally I took Urban Nature and City Design as an elective class. This first semester was a core semester, therefore most of the courses were defined, but in the following semesters there will be less compulsory classes and more electives. For these I can take any course in any discipline at MIT and also cross-register at Harvard, which really stimulates to explore my own interests of how I want to develop my education.
Studying at MIT made me realize the different aspects of education in Belgium and the US. My background as a Master in Architectural Engineering provided me a solid base to come to MIT. We've been stimulated to develop a critical mindset towards coursework and our design and technical capacities are highly developed. The Socratic teaching method used in the US educational system does however make you much more involved in the courses than in the Belgian system. Each student is really stimulated to speak up his or her mind about readings and course content in every class and the small number of students in each class make this intensive interaction possible. I think this is a great advantage. As for studio, the way design questions are approached here is very open-minded. Experimentation and out-of-the-box-thinking is highly stimulated and the high-tech workshop and machines available to all architecture students make experimentation in 3D with models a full part of architectural education.
Next to classes, Harvard and MIT organize multiple expositions and lectures, which provides a fantastic perspective on cutting edge topics and thinkers in multiple fields. I've attended many architecture and urbanism lectures at both institutes. The Center for the Arts at MIT has also organized multiple interesting concerts and artist talks, from which I visited Don Byron's concert, Caracas Brassband and a lecture by Vik Muniz.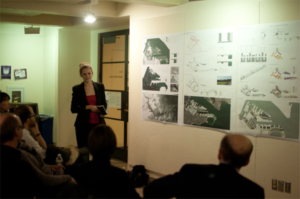 Because of the intensity of classes I haven't had the opportunity to travel much around the US yet, but I've had the chance to travel to Philadelphia on a fieldtrip for my Urban Nature class, and I've had a short trip to New York City. It's fantastic to experience all these American cities and slowly build my 'American map'.
During these trips and also in Boston I must say I've been quite surprised to see how much the car is an intrinsic part of US society and how difficult it is to change habits in the US towards sustainable practices. But I must say that I really appreciate the American enthusiasm and openness, as well as their fantastic educational system. The experience has been great and I'm looking forward to explore even more of American history, culture, nature and cities in the following year and a half.
Phebe Dudek